Today In GOP Outreach: Voting Is Just Like Buying A Dress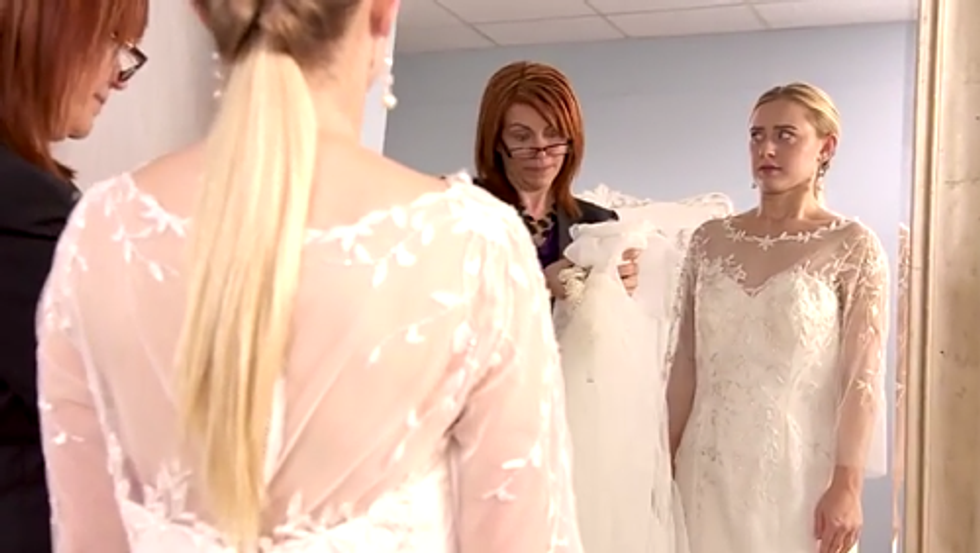 After Democrats ran up the score among female and young voters during the 2012 elections, Republicans vowed that they would redouble their efforts to reach out to these critical consituencies. They haven't had much success. But as the midterm elections draw near, they still aren't giving up.
The latest pitch comes from the College Republican National Committee, which launched a new ad campaign on Wednesday to target young women.
"How do you reach the generation that has their earbuds in and their minds turned off to traditional advertising?" CRNC national chairman Alex Smith asked TheWall Street Journal. "It's our goal to start the conversation by presenting ourselves in a culturally relevant way."
If the campaign's first ad is any indication, they have a long way to go.
The 60-second spot parodies the TLC show Say Yes to the Dress. Except in this version, instead of picking a wedding gown, the bride-to-be decides between the hip, stylish, and affordable Florida governor Rick Scott, and the lame, out-of-date, expensive Democrat Charlie Crist.
"Rick Scott is becoming a trusted brand," she explains. "He has new ideas that don't break your budget."
"Mom, this is my decision," she later tells her nagging, Democratic mother. "And I see a better future with Rick Scott!"
It's not hard to understand why Republicans are trying to sell Scott to young women. According to a WFLA-TV poll released Wednesday, Crist leads the incumbent by 9 percent among female voters, and by 5 percent among voters between the ages of 18 and 34 (the poll has Crist up 6 percent overall). But, much like the recent Americans for Shared Prosperity ad that compared voting to online dating, their "women be shoppin'!" pitch may do more harm than good.
Screenshot: College Republican National Committee/YouTube
Want more political news and analysis? Sign up for our daily email newsletter!