Transit Proposals In Congress Threaten Projects, Jobs, Critics Say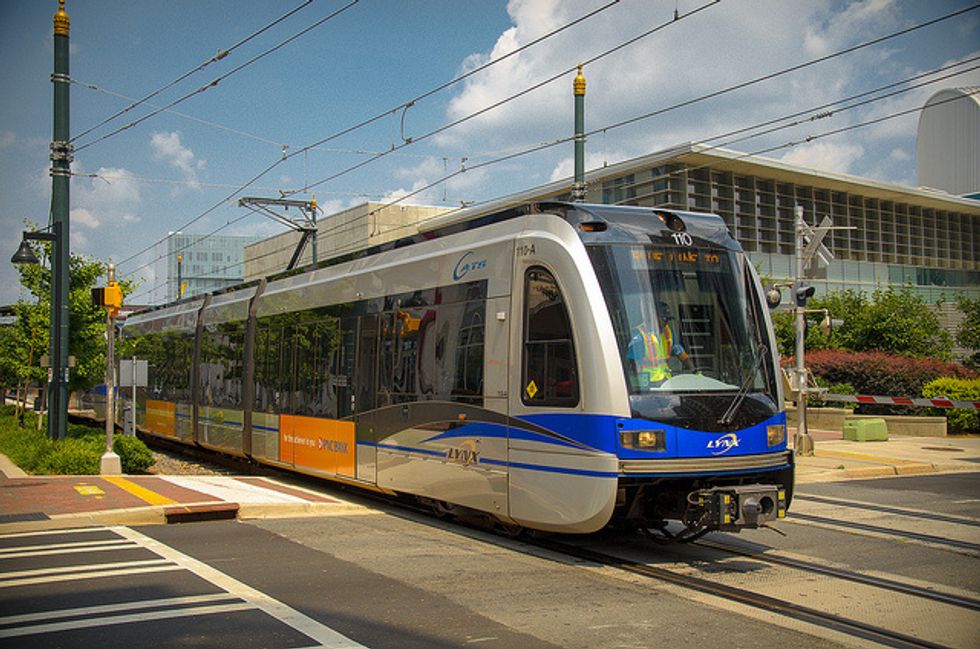 By Curtis Tate, McClatchy Washington Bureau (TNS)
WASHINGTON — Rail and bus systems across the country could lose nearly half their funding under two proposals in Congress to end federal grants for transit projects.
The legislation, sponsored by Republican Representatives Thomas Massie of Kentucky and Mark Sanford of South Carolina, also could affect more than 750 companies in 39 states that produce rail and bus transit components, including manufacturers in those two states.
According to the American Public Transportation Association, eliminating federal transit funding would put 66 projects at risk. They include light rail and streetcar projects in Charlotte, N.C.; commuter rail in Fort Worth, Texas; and bus rapid transit in Fresno, California.
Transit advocates are pushing lawmakers to continue federal funding for these projects as part of a long-term transportation bill Congress needs to pass this year.
The American Public Transportation Association reported last month that public transit ridership hit 10.8 billion trips last year, the largest in nearly six decades. The group projects that the Sanford and Massie bills would result in a 43 percent reduction in transit systems' capital funds.
While some conservatives oppose federal funding for transit because of the perception that it benefits only urban areas, Michael Melaniphy, the American Public Transportation Association's president and CEO, said that rural areas depend on transit systems and transit manufacturing jobs.
"Without federal investment, there will be negative impacts in towns small and large," he said.
One of those towns could be Mount Pleasant, S.C., in Sanford's district, where Hubner, a German company, announced plans in December to expand its manufacturing plant, adding 50 jobs. The plant builds parts for commuter trains, light rail vehicles, and buses.
Proterra Inc., an electric bus manufacturer in Greenville, S.C., has supplied buses to transit systems in Seattle; Worcester, Mass.; Nashville, Tenn.; and Louisville, Kentucky. Louisville's system ordered five Proterra buses in February after receiving a $3.3 million grant from the Federal Transit Administration.
Kentucky also has companies that supply transit systems. Invensys Rail, a subsidiary of Siemens, a German multinational conglomerate, builds signal systems for commuter rail and transit systems and employs more than 500 people in the state.
Since the Reagan administration, 20 percent of the federal Highway Trust Fund has been dedicated to mass transit, or about ten billion dollars a year.
In recent years, however, the highway fund has not been able to cover the cost of annual transportation spending because it relies on a per-gallon federal gasoline tax that Congress hasn't changed since the Clinton administration.
Rather than raise the tax, currently 18.4 cents a gallon on gasoline and 24.4 cents a gallon on diesel fuel, the Sanford and Massie bills would eliminate or phase out the transit funding and redirect it to highways. The Sanford bill would phase out the funds over five years.
"The bill removes mass transit from the trust fund over a five-year period in order to give mass transit systems time to find and develop dedicated funding sources," Sanford said in a statement.
While the idea is popular in conservative circles, Sanford and Massie will not have the support of the Republican chairman of the House Transportation and Infrastructure Committee, of which they're members.
Representative Bill Shuster (R-PA), has publicly said he does not support ending federal support for transit. Nor does Secretary of Transportation Anthony Foxx, who's testified on Capitol Hill recently in favor of more transit funding.
___
AFFECTED PROJECTS
Charlotte, N.C. — CityLYNX Gold Line streetcar Phase 2; Blue Line light rail extension
Durham, N.C. — Durham-Orange LRT (light rail) project
Fort Worth, Texas — TEX Rail commuter rail
Sacramento, Calif. — Sacramento downtown riverfront streetcar
Fresno, Calif. — FAX (Fresno Area Express) Blackstone, Kings Canyon bus rapid transit
Tacoma, Wash. — Tacoma Link light rail expansion
Photo: Richard Gallagher via Flickr