Discredited Trump Ambassador Joins Nevada GOP Senate Primary
@jeisrael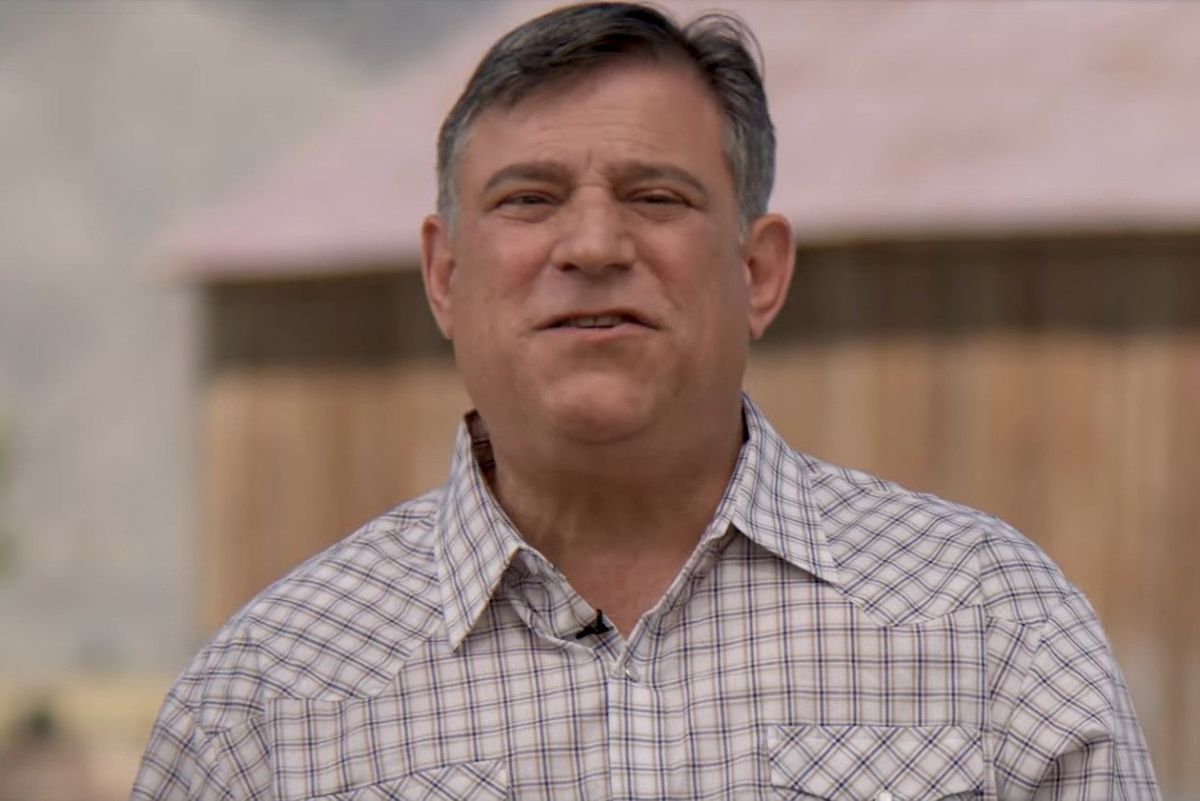 Jeffrey Ross Gunter, a dermatologist and Republican megadonor whose tenure as one of former President Donald Trump's diplomatic appointees was marred by charges of abusive behavior and failure to follow protocol, announced Monday that he will seek the GOP nomination to challenge Nevada Democratic Sen. Jacky Rosen in 2024. Gunter has already indicated that he will run on a pro-Trump right-wing agenda.
In a campaign kickoff video released on Monday, Gunter touted his loyalty to his former boss. "I was honored and humbled to serve as President Trump's ambassador to Iceland, where I fought the deep state, I fought China, and I fought Russia's influence in the Arctic in the great high north," he said.
"I'll fight to support Donald Trump and his amazing and great America First agenda," Gunter added. "I'll work with President Trump to finish the wall to secure our border."
The Daily Beast reported in June that Gunter has only been a registered Nevada voter since 2021 and does not appear to have voted since the 2018 election in California. He told the Nevada Globe on Aug. 5 that he has been a full-time Nevada resident for four years.
According to NBC News , Gunter donated $100,000 each to the 2016 Trump Victory joint fundraising committee and Trump's 2017 inaugural committee. Trump rewarded him by nominating him to be ambassador to Iceland in 2018. Gunter acknowledged in his Senate confirmation hearing that he had never previously visited the country.
While it is not unusual for presidents to select wealthy donors for ambassadorial posts, Gunter's tenure proved problematic. He went through seven different deputy chiefs of mission in a little more than a year. In early 2020, according to CBS News , he refused to return to Reykjavik from his home in California for several months, until told to do so by Secretary of State Mike Pompeo. He garnered negative headlines in the Icelandic press for a July 2020 tweet in which he used a racist term to describe the coronavirus. Using Trump's phrasing, Gunter posted icons of the U.S. and Icelandic flags with the words, "We are United to defeat the Invisible China Virus!"
An October 2021 report issued by the State Department Office of the Inspector General documented numerous problems after Gunter had left his post as ambassador: "OIG found that the Chargé and DCM were focused on rebuilding staff morale and normalizing embassy operations following the former Ambassador's tenure, a noncareer appointee who served from June 2019 to January 2021."
In addition to noting Gunter's "frequent failure to respect diplomatic protocol or to coordinate with the Icelandic Government on policy initiatives and press statements touching on sensitive defense-related subjects," the report said:
Despite several months having elapsed since his departure, OIG found at the time of the inspection that embassy staff were still recovering from what they described as a threatening and intimidating environment created by the former Ambassador. For example, staff reported to OIG multiple instances in which the former Ambassador had threatened to sue Department officials and embassy staff who expressed disagreement with him, questioned his wishes, or were perceived to be "disloyal" to him. In addition, many employees reported to OIG that the former Ambassador threatened reprisal against employees who communicated with Department officials in Washington while conducting their official duties.
On his personal website , Gunter identifies 122 "triumphs" of his tenure, including posting a July 4 Facebook video and having his "congratulatory tweet on President Trump's historic brokering of the Abraham Accords" retweeted by many people, including Trump himself.
Gunter left the post in January 2021 when President Joe Biden was inaugurated. Carrin Patman, the former chair of the Houston, Texas, public transit system, has served as the U.S. ambassador to Iceland since October 2022.
Gunter has remained a Trump loyalist even in the face of the former president's multiple felony indictments. CNBC reported on June 13 that Gunter was among the attendees at a Trump campaign fundraiser at Trump's golf club in Bedminster, New Jersey, hours after Trump's arraignment on 37 federal counts related to improper handling of classified documents and obstruction of justice. Gunter touted his endorsement of Trump in the 2024 presidential election in his campaign announcement on Monday.
The issues page on Gunter's website notes the candidate's far-right views and his opposition to "wokeness."
Using dog whistle language aimed at anti-LGBTQ+ activists, he promises to "protect our children's innocence" and "stand for family values." He pledges both to "teach reading, arithmetic, and science, not political agendas" and to "strengthen civic education so people remember how great America truly is."
He notes his opposition to taking action in response to the global climate crisis and moving away from fossil fuels, calling for an "all-of-the-above strategy in energy sources." Among his promises are to "increase production of all domestic energy resources," "fight the Socialist Green New Deal," and "support building and revitalizing oil refineries – our last one was built in 1976!"
In a section titled "Fair, Transparent and Timely Elections," Gunter proposes several steps he would take to change the way elections are conducted, steps that would in fact make it harder for citizens to vote. After complaining about Nevada's universal vote-by-mail ballots, he says he will force all states to adopt strict voter ID requirements, eliminate early voting, and "ban ballot harvesting (though we will compete with Democrats and beat them at their own game until new legislation is passed)." Ballot harvesting is a misleading term often used to falsely suggest that those who help deliver mail-in ballots for others are engaged in widespread fraud.
Gunter also lays out an anti-public education agenda, including eliminating "the useless and unneeded Dept. of Education," increasing "school choice," weakening certification requirements for educators, and reducing the influence of teachers.
While he has offered few details on his positions on gun safety legislation and reproductive rights, he makes it clear he is against both.
Repeating a widely debunked lie about Rosen's position on abortion rights, he says: "I became a doctor to save lives. I am pro-life and have delivered 14 babies early in my medical career. I cherish each life and I believe Jacky Rosen's position allowing a healthy child with a healthy mother to be killed at 9 months is abhorrent. I will always protect our Constitutional Liberties such as our Second Amendment and Free Speech and fight government encroachment and overreach."
Gunter will face other Republican candidates for the nomination, including unsuccessful 2022 Senate hopeful Sam Brown and unsuccessful 2022 Nevada secretary of state nominee Jim Marchant .
In a press statemen t, Nevada State Democratic Party spokesperson Johanna Warshaw said:
"The Republican Senate primary in Nevada is growing more crowded and more MAGA by the day. No matter who emerges from this extreme field of candidates, it's clear they will be entirely out of step with hardworking Nevadans."
Reprinted with permission from American Independent .