Trump Admits He Lost During Wild Interview With Historians
@CynicalBrandon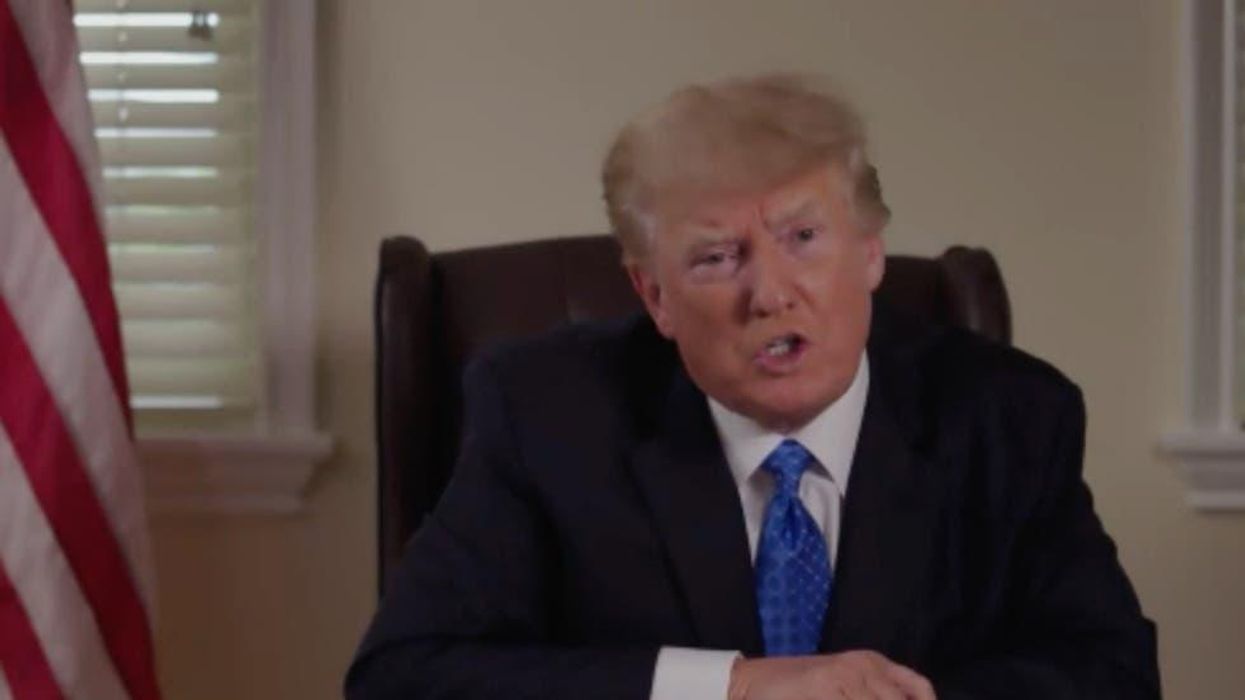 Image via screenshot
Former President Donald Trump admitted on Monday that he lost the 2020 election, undermining is ongoing "Big Lie" that the contest was fraudulent and stolen by President Joe Biden and the Democratic Party.
In a video interview published in The Atlantic with Julian Zelizer, a historian from Princeton University, Trump reminisced about his term in the White House and complained that the "deals" he was making with foreign leaders were disrupted by his defeat:
The former president sat at a wooden desk in his Bedminster Golf Club with an American flag beside him. Over the first 30 minutes, with a single sheet of white paper in front of him, Trump reminisced about his underappreciated negotiating talent in handling the economy, the coronavirus pandemic, and the leaders of China, North Korea, and Russia. 'Nobody was tougher on Russia than me,' he maintained. With regards to the North Atlantic Treaty Organization, Trump recounted how he had compelled other allied nations to pay higher dues after decades when they had not paid their fair share.
Many of Trump's anecdotes came back to how he had talked—or intimidated—powerful actors into doing things that no other president would have been able to. The former president claimed that he had reached a tentative deal with the South Korean government to contribute more to its own defense. (In telling the story, he imitated the accent of South Korean President Moon Jae-In). The historic deal, Trump alleged, was scuttled once Joe Biden became president, after the 2020 election was 'rigged and lost.'"
Trump also attempted to rewrite history by offering his distorted take on the January 6th, 2021 insurrection at the United States Capitol that he incited and for which he was impeached for a second time a week before he left office:
According to his memory, the expert opinion was off. The 'real story,' Trump argued, 'has yet to be written.' When Congress met to certify the Electoral College results, Trump told us, there had been a 'peaceful rally,' more than a 'million people' who were full of 'tremendous love' and believed the election was 'rigged' and 'robbed' and 'stolen.' He made a 'very modest' and 'very peaceful' speech, a 'presidential speech.' The throng at the Capitol was a 'massive' and 'tremendous' group of people. The day was marred by a small group of left-wing Antifa and Black Lives Matter activists who 'infiltrated' them and who were not stopped, because of poor decisions by the U.S. Capitol Police when some 'bad things happened.'
Reprinted with permission from Alternet