Trump Says Followers 'Must Come Out' To Protest Indictment -- While Some Threaten 'War'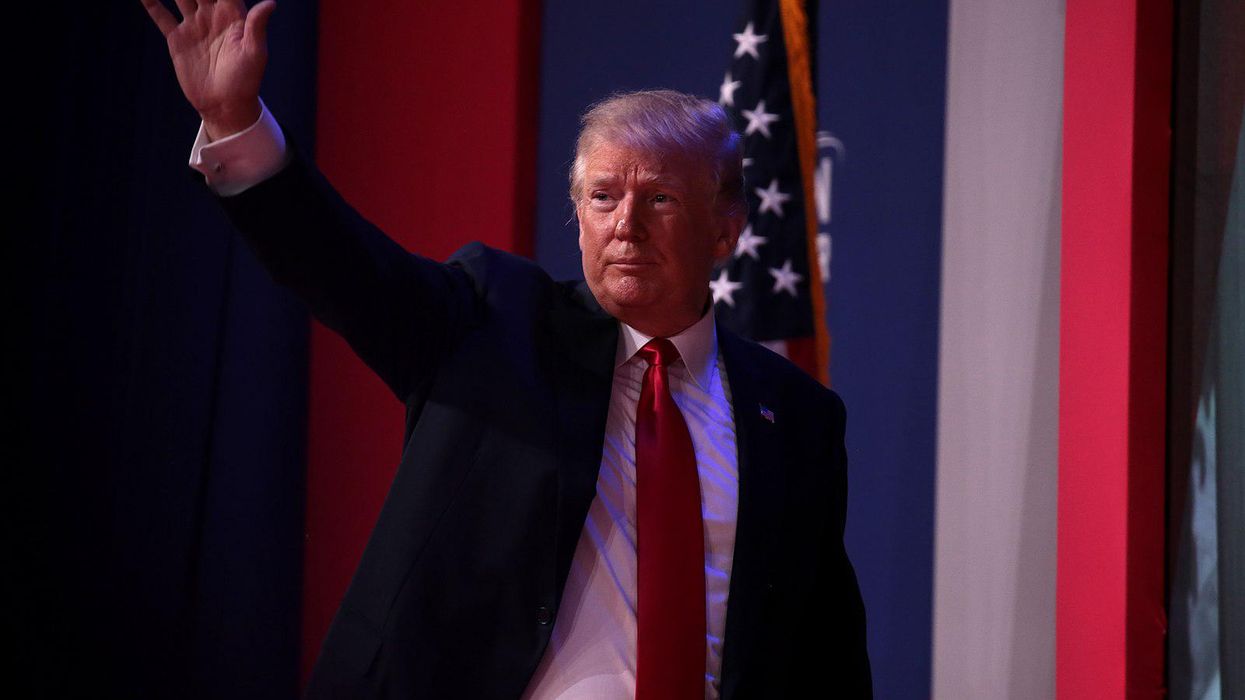 Photo by Gage Skidmore (Creative Commons Attribution-Share Alike 2.0)
More than 24 hours before he was scheduled to be arraigned, Donald Trump's supporters started to show up at the federal courthouse in Miami, where the ex-president will be formally advised of the 37 felony criminal charges against him Tuesday at 3 PM.
\u201cFormer President Trump\u2019s supporters are beginning to arrive near the courthouse in Miami\u201d

— Joe St. George (@Joe St. George) 1686588341
Trump wants a big showing – "See you in Miami on Tuesday!!!" – he posted to his Truth Social account last week, in all-caps.
"This is the final battle," Trump told supporters Saturday, Axios reports, and warned, "our people are angry."
VICEon Monday reported Trump's supporters "are planning mass protests at a Miami courthouse on Tuesday, following Trump's indictment last week. Many are promising to come 'well-armed.'"
It quoted some Trump supporters, including one who said, "MAGA will make Waco look like a tea party."
"I used to laugh when my mom said that she was afraid if she registered Republican she may be arrested one day. I'm not laughing any more. Just buying more ammo," VICE says another wrote.
Yet another over the weekend posted a photo of Attorney General Merrick Garland, and wrote: "America cannot allow this cowardly thug to destroy our democracy. This is what the Second Amendment was made for. Buy a gun or help organize your local militia today."
On the highly-trafficked forum known as The Donald, many posts "directly referenced Trump's own posts on his social media platform Truth Social. Under one screenshot of a Trump post about his aide Walt Nauta also being indicted, one user wrote: 'Revolution Now.' Another added: 'I want blood. I want fucking blood.'"
Trump, VICE notes, "has done nothing to tamp down any potential threats, repeatedly calling for his own supporters to turn up en masse in Miami on Tuesday, just as he did ahead of the January 6 Capitol riot," and he "shared a meme about his indictment with a caption declaring, 'THIS IS NOT A GAME, THIS IS WAR.'"
Pushing for a big showing, Trump spoke Sunday on the radio show of his longtime friend and advisor Roger Stone, whose sentence he commuted.
Our country has to protest," Trump said, as Rolling Stone reported. "We've lost everything."
Real Clear Politics adds that Trump told Roger Stone, "Our country is being taken away from us. Our country is going communist, it's going Marxist, it's going really bad, and the people of our country aren't that way. But the people running it are. And we need strength at this point and everyone's afraid to do anything. They're afraid to talk, and they have to go out and they have to protest peacefully. They have to go."
Reuters posted this live video feed Monday afternoon. Not a big showing.
\u201cLIVE: Donald Trump supporters rally in Miami as ex-president faces classified document charges https://t.co/80PKJcHGIj\u201d

— Reuters (@Reuters) 1686589034
Last week author Jeff Sharlet, who writes about extremism and the religious right, said he was "skeptical" that they would show, after all the January 6 arrests.
\u201cI\u2019m skeptical. Paranoia plus real feds & arrests have made this kind of action a nonstarter. Maybe this will bring them out, but I\u2019m more worried about \u201clone wolves\u201d & \u201ccell groups.\u201d\u201d

— THE UNDERTOW, by Jeff Sharlet (@THE UNDERTOW, by Jeff Sharlet) 1686362360
Sharlet says Trump's remarks, like "Saturday's claim that World War III 'WILL' occur if he's not back, & that he is the 'only one' who can stop the obliteration of the world, are claims to divinity."
Last Friday, The Guardian reported there are 12 million Americans who "believe violence is justified to restore Trump to power."
Reprinted with permission from Alternet.