GOP Judge Sends Capitol Rioters 'Zip-Tie Guy' And His Mom To Prison
@AJPennyfarthing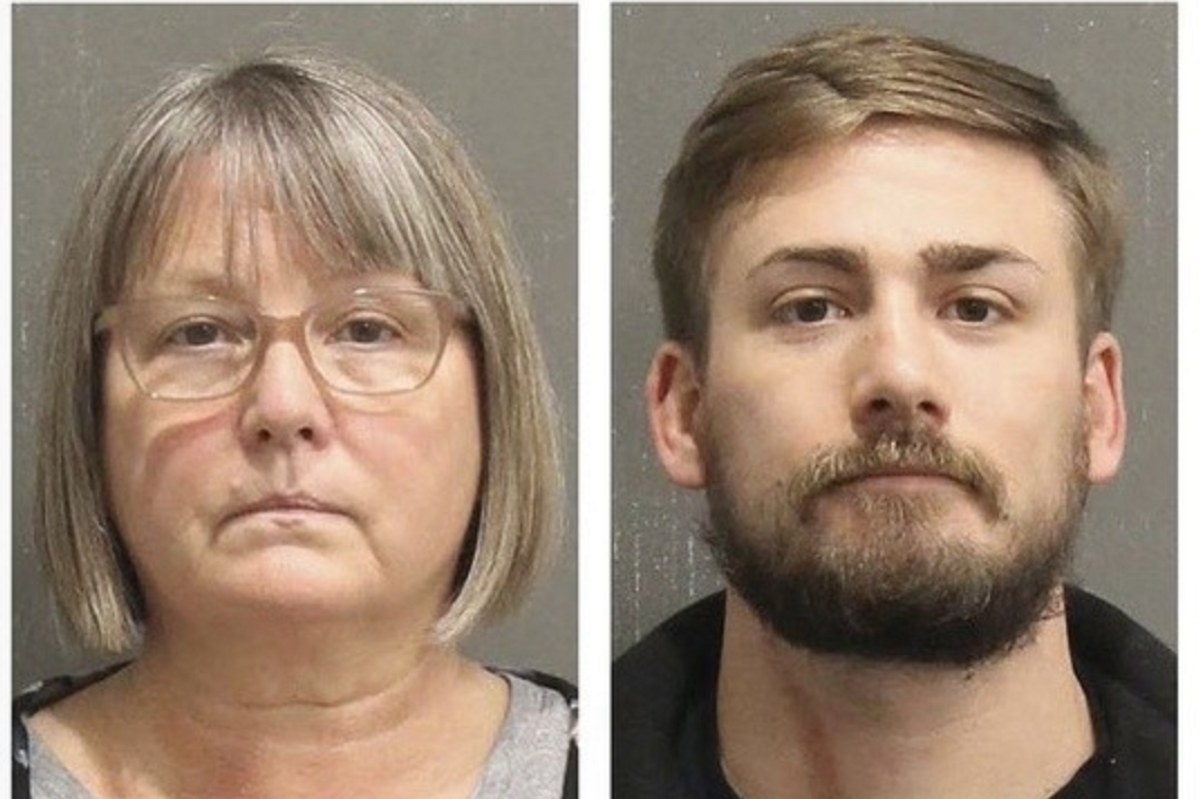 There are some instantly recognizable J6 insurrectionists who aren't Proud Boys or Oath Keepers—think that jabroni in the viking hat, or the Confederate Flag toter, or the lectern-purloining weirdo with the gormless grin.
Then there's the so-called "Zip-Tie Guy" and his mother. A photo of them—chilling in its brazenness, and surprising because, well, dude brought his mom to an insurrection—was widely circulated in the immediate aftermath of the January 6 Capitol riot.
I'm reminded of that old saying: The family that zip-ties Chuck Schumer's hands and feet together and hauls him out to the gallows in a chloroform-soaked gunnysack to pay the ultimate price for betraying Dear Leader ... um, stays together. Possibly in the same prison cell, assuming the younger member of this rugged individualist crime duo is still breastfeeding.
Alas, Zip-Tie Guy and his tactical vest-clad mère failed to capture anyone, but got captured themselves. And found guilty of felonies.
And now they're off to (separate) cells.
Nashville bartender Eric Munchel, 32, was sentenced to 57 months in federal prison on Friday. His nurse mom, 59-year-old Lisa Eisenhart, will have long been freed when her son gets out—she got 30 months. After serving their respective stints in prison, both will also face 36 months of supervised release; both have also been ordered to cough up $2,000 (each) in restitution.
Munchel and Eisenhart were both convicted of conspiracy to commit obstruction and obstruction of an official proceeding, both felonies, as well as entering and remaining in a gallery of Congress, disorderly and disruptive conduct in a Capitol building, and parading, demonstrating, or picketing in a Capitol building on April 19, 2023, following a stipulated bench trial before Judge Lamberth.
Munchel alone was also found guilty of two additional felonies: disorderly or disruptive conduct in a restricted building or grounds with a deadly or dangerous weapon (a Taser), and unauthorized possession of a deadly or dangerous weapon on Capitol grounds.
Munchel and Eisenhart observed police wearing body armor and using chemical irritants and gas to repel rioters like themselves but were not deterred. Instead, even though they were aware their actions were unlawful, they pushed forward, past police lines, and entered the Capitol building. Once inside, Munchel and Eisenhart made their way through the building to the Senate Gallery. Photos and video captured Munchel and Eisenhart carrying flexi-cuffs—plastic zip tie-style handcuffs—that they stole from a closet inside the Capitol.
[...]
Later, both Munchel and Eisenhart gave statements to a reporter in which they acknowledged that their actions were intended to intimidate Congress.

Prosecutors say that the two saw the zip-ties outside the Senate gallery, and Munchel remarked, "Zip-ties! I need to get me some of them motherfuckers." Wait, who says "motherfuckers" in front of their own mom? Some of us were raised differently, it seems.
When I was a kid, moms weren't really into mother-son activities that required matching tactical vests.
Per the DOJ, Lamberth noted that Mommie and Clyde "stole the flexi-cuffs and carried them into the Senate gallery because they intended to take senators hostage, if possible. Luckily, all of the senators and their staffs had already evacuated." According to prosecutors, once he and Eisenhart forced their way into the Senate Gallery, Munchel shouted, "I want that fucking gavel!"
The pair also had some serious firepower when the FBI came to visit just after the failed coup, as reported by Nashville's Fox 17. And they also kept some of "them motherfuckers" as souvenirs of their "beautiful day."
Four days after the Capitol siege, FBI agents executed a search warrant at a home in Nashville where both Munchel and Eisenhart live.
There, agents seized more than a dozen guns, a second tactical vest and items Munchel was seen to be wearing at the Capitol riots, including five pairs of white plastic handcuffs.
In Munchel's bedroom, agents found a Stack-On safe with 15 firearms, including assault rifles, a sniper rifle with a tripod, other rifles, shotguns, and pistols and hundreds of rounds of ammunition was found. Agents also located a drumstyle magazine in the home.

Notably, officials also found indications that the two brought some of those guns to the nation's Capital with them, as well as "evidence that suggests the suspects knew of the legal ramifications and stashed weapons on Capitol grounds before entering the building."
Meh. Lamberth, a Reagan-appointed judge, described the defendants as "basically good people" (i.e., white people who did criminal things they never would have done if they hadn't been nudged into it by a feral, cartoonishly evil racist they somehow assumed was the messiah).
The Associated Press notes that the family of two came ready to rock, donning those tactical vests while still at their hotel. "Eisenhart shouted, 'Treason!' and 'Cowards!' while she and her son stood in the Senate gallery, about 30 minutes after lawmakers fled the chamber," the AP reports. Because shouting at people who aren't there always helps.
Prosecutors also alleged that Munchel was "ready to take hostages" and "the logical inference is that Munchel and Eisenhart wanted to use the zip-tie handcuffs to capture their enemies: the members of Congress voting to certify the election."
Do we really need to infer it? As the DOJ press release reminds us above, they boasted about it to the media!
One more time:
Later, both Munchel and Eisenhart gave statements to a reporter in which they acknowledged that their actions were intended to intimidate Congress.

Prosecutors also "cited their use of tactical gear as evidence they were 'prepared for violence on January 6 and projected their willingness to engage in it.'" (Munchel's attorney insisted that the tactical vests were just demonstrative of "a certain fashion taste.'")
Because hey, they're "basically good people." And even good people falter on occasion. They might cheat just a little on their taxes. Or throw clearly labeled recyclables in the garbage. Or hog-tie Nancy Pelosi in her own office and waterboard her with Evian until she confesses. You know—white people crimes.
Of course, it's been a great week for Jan. 6-related comeuppances. On Tuesday, ex-Proud Boys leader Enrique Tarrio was sentenced to 22 years in prison for his role in the Capitol insurrection. And on Friday, Leo Brent Bozell IV, son of influential right-wing activist Brent Bozell III, who founded the conservative Media Research Center and Parents Television Council, was convicted on 10 charges, including five felonies, after he "bashed in a window, chased a police officer, invaded the Senate floor and helped a mob disrupt the certification of Democrat Joe Biden's presidential election victory" during Trump's bumbling coup.
These "basically good people" will now have plenty of time to think about their very basic treason against the legitimate government of the U.S. Hopefully, they learn the right lessons.
Reprinted with permission from Daily Kos