Ron Johnson Scoffs At 'Bribery' Attack On Biden As Mere 'Claims' (VIDEO)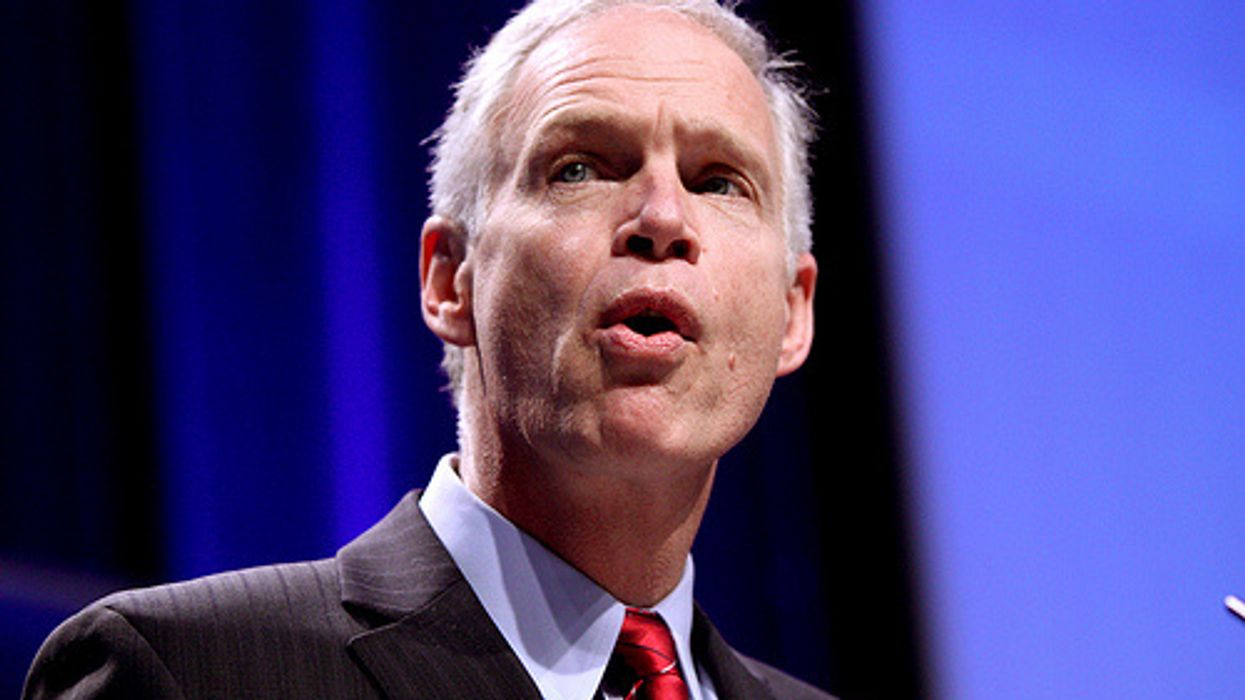 Sen. Ron Johnson (R-WI), who has spent years promoting countless conspiracy theories on topics ranging from COVID-19 to climate change, apparently isn't sold on House Republicans' claim that when President Joe Biden was vice president, he took a $5 million bribe and there are taxes to prove it.
The claims, little more than a conspiracy theory based on a single FBI document used to record unverified statements made by third-parties, have been gobbled up and spewed across far-right media and social media by some of the most extreme Republicans in the House of Representatives, and even a few GOP Senators.
How far out there is Sen. Johnson?
"All told, when it comes to spewing dangerous drivel, Mr. Johnson has displayed a commitment and creativity rarely seen outside of QAnon gatherings or Trump family dinners," The New York Times' Michelle Cottle wrote in an opinion piece last year.
So it's stunning that Sen. Johnson is now apparently walking back the unsubstantiated claims exploding on the right that President Biden took a $5 million bribe when he was President Barack Obama's Vice President.
The latest twist of "evidence," according to Republicans, is that there are now "tapes" allegedly proving the Biden bribe conspiracy theory.
But, in a Tuesday interview with a local Wisconsin right-wing talk radio show host, Johnson – whose outrageously wild claims in the past have crowned him the "Senate's leading conspiracy theorist" a "bagman for Qanon," and "Putin's favorite Senator" – said the allegations he and other Republicans have been spreading now must be taken with a grain of salt.
"We don't even know" if the tapes "exist," Johnson said. "It's a claim, it's an allegation. We don't know whether they really exist or not."
"Make no mistake," Mace falsely declared on Twitter the same day, "at today's arraignment you are watching a sitting President use his DOJ to put his top political rival in jail."
Another of the loudest voices insisting that the Biden conspiracy theory is true: U.S. Senator Marsha Blackburn, Republican of Tennessee.
Even Wednesday, a day after the conspiracy theory leaders walked back and poured cold water on their allegations, Sen. Blackburn had no problem appearing on Fox News to promote the highly-questionable claims — this time couching it in terms of "feelings" and "ifs."
The Intercept's D.C. Bureau Chief Ryan Grim, in a lengthy explainer he published on Substack, concludes, "even if everything in the document is true, there is still an interpretation that would stop short of implicating Joe Biden: Hunter Biden could have been lying in order to extract more money from Burisma."
Reprinted with permission from Alternet.