Under Threat From Far Right, McCarthy Announces Impeachment Inquiry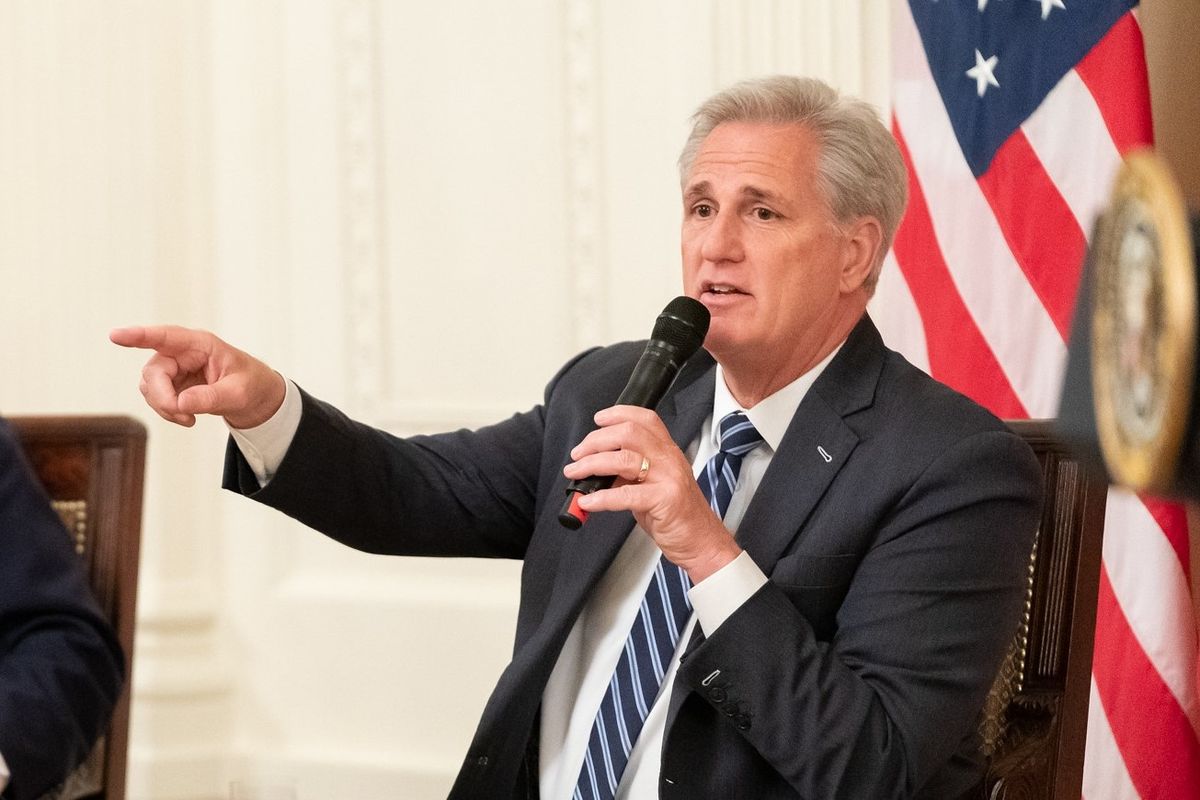 Kevin McCarthy
House Speaker Kevin McCarthy announced on Tuesday that he wants Republican lawmakers to launch a formal impeachment inquiry into President Joe Biden, officially ceding to the demands of a large chunk of the Republican conference that has demanded McCarthy allow such an inquiry or else be stripped of his gavel.
McCarthy made a brief statement from the Capitol, saying, "Over the past several months, House Republicans have uncovered serious and credible allegations into President Biden's conduct — a culture of corruption."
However, House Republicans have not presented any evidence of corruption on the part of Biden, despite their months' worth of efforts.
In fact, McCarthy is not holding a floor vote to officially launch the inquiry, despite saying just 11 days ago that he would hold a vote.
"To open an impeachment inquiry is a serious matter, and House Republicans would not take it lightly or use it for political purposes. The American people deserve to be heard on this matter through their elected representatives. That's why, if we move forward with an impeachment inquiry, it would occur through a vote on the floor of the People's House and not through a declaration by one person," McCarthy told Breitbart News, according to Fox News on September 2.
McCarthy isn't holding a vote because he does not have the 218 votes he needs from his slim majority. A handful of GOP lawmakers have said that there is not enough evidence to warrant an inquiry.
"I think before we move on to [an] impeachment inquiry, we should … there should be a direct link to the president in some evidence," Rep. Don Bacon (R-NE) told The Hill in August. "We should have some clear evidence of a high crime or misdemeanor, not just assuming there may be one. I think we need to have more concrete evidence to go down that path."
Rep. Ken Buck (R-CO) criticized Republican Rep. Marjorie Taylor Greene of Georgia, who has pushed for impeachment, noting that she'd filed articles of impeachment before Biden was inaugurated and calling it absurd to think that she is an expert on such proceedings.
"The time for impeachment is the time when there's evidence linking President Biden, if there's evidence linking President Biden to a high crime or misdemeanor," Buck said on MSNBC on Monday. "That doesn't exist right now. … It's based on the facts. You go where the facts take you."
Some Senate Republicans say they too are not eager for an impeachment inquiry.
"My solution to changing things around here is to win elections," Sen. John Thune (R-SD) toldPunchbowl News' Andrew Desiderio. "But [McCarthy]'s under a lot of pressure over there."
Meanwhile, Congress faces a critical deadline to fund the government and avoid a shutdown.
GOP lawmakers want McCarthy to allow spending bills that include steep cuts to the federal budget, violating an agreement McCarthy made with Biden on spending limits earlier this year. Those lawmakers are threatening to oust McCarthy from the speakership if he doesn't heed their demands.
PBS reported that launching the impeachment inquiry, however, could mollify this contingent of lawmakers.
"We've got to seize the initiative. That means forcing votes on impeachment. And if @SpeakerMcCarthy stands in our way, he may not have the job long," Rep. Matt Gaetz (R-FL) tweeted on September 5. "Let's hope he works with us, not against us."
Polling shows launching an impeachment inquiry could harm the GOP politically.
A Public Policy Polling survey from the end of August found 56 percent of voters believe a Republican impeachment inquiry "would be more of a partisan political stunt," with 51 percent saying the Republican inquiry would be "more about damaging President Biden politically" than about finding the truth.
Democrats, for their part, mocked McCarthy for launching the inquiry.
Rep. Adam Schiff (D-CA), who was an investigator and a manager in the successful impeachments of former President Donald Trump, tweeted: "McCarthy's reading of the Impeachment Clause: The President shall be removed from Office on Impeachment for, and Conviction of, Treason, Bribery, or … when the Speaker, lacking moral authority or control over his members, can't remain speaker or fund the government without it."
The Democratic Congressional Campaign Committee said in a statement that McCarthy's announcement "makes clear that so-called moderate House Republicans and Kevin McCarthy are beholden to Trump and the extremes of their party, not the American people."
"The split-screen of MAGA House Republicans pursuing a purely partisan agenda while House Democrats fight to rebuild our economy and create jobs will show voters once and for all that only one party is focused on the issues facing everyday Americans," DCCC communications director Courtney Rice said.
Reprinted with permission from American Independent.