No, Hunter Biden Didn't Get A 'Sweetheart Deal' From GOP Prosecutor
@zpleat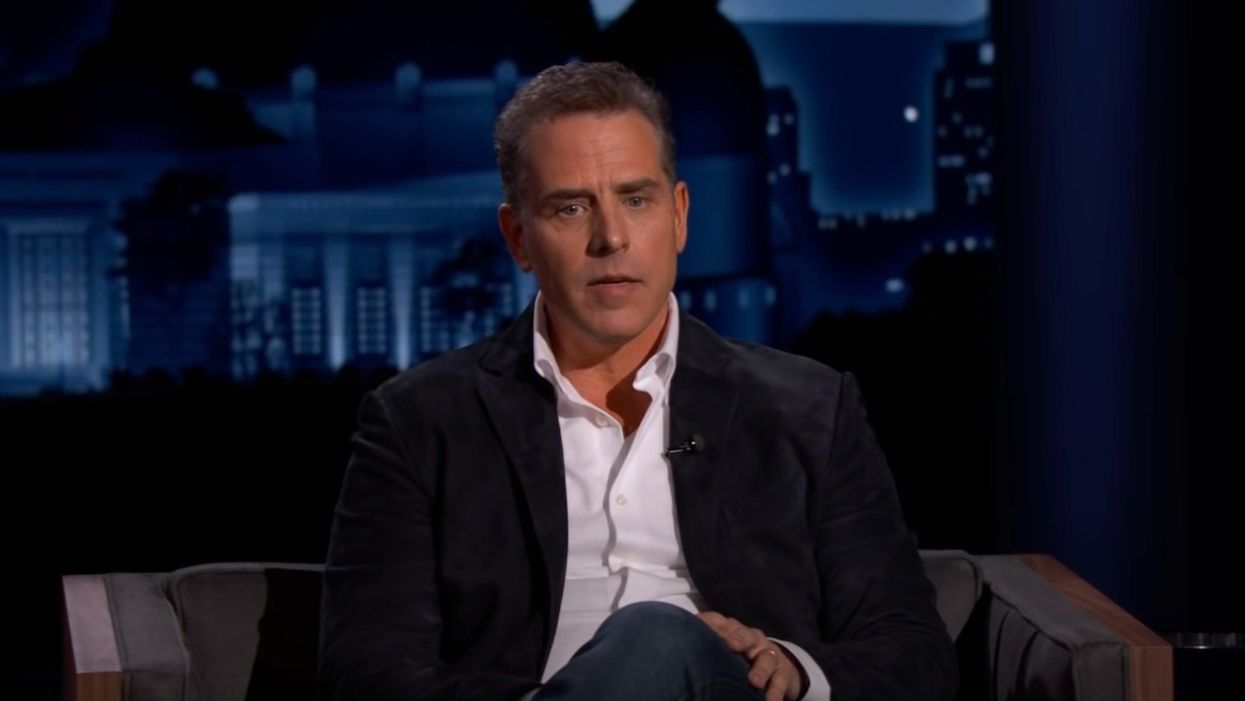 Right-wing media have attacked the plea deal reached for Hunter Biden over his past failure to pay taxes and unlawful possession of a gun, falsely claiming that the president's son got a "sweetheart deal" in comparison with others who faced tax and gun charges and in particular comparing it to the sentencing of musician Kodak Black.
But numerous legal experts rebutted these conservative claims of a "sweetheart deal," with some explaining that his deal is actually "harsh" for his circumstances as a first-time offender.
Legal experts rebutted claims of a "sweetheart deal"
On June 20, Hunter Biden was charged for tax evasion and unlawful gun possession. He pleaded guilty on misdemeanor tax charges, for which he likely faces probation, and agreed to a pretrial diversion program for the gun charge. Even though the U.S. attorney who prosecuted Biden was appointed by former President Donald Trump and was left in place by President Joe Biden to preserve the independence of his investigation, Republican lawmakers were quick to call the agreement a "slap on the wrist" and a "sweetheart deal" for the president's son.
But legal experts interviewed by news outlets explained that the charges against Hunter Biden are rarely prosecuted and even more rarely include jail time. As many experts have explained, given Biden's repayment of the taxes he owed, his lack of a prior criminal record, and the fact that his gun was not used in any crimes, his plea deal may even seem unduly "harsh."
NYU law professor and MSNBC legal analyst Andrew Weissmann: "This is if anything harsh, not lenient." Weissmann wrote on Twitter: "first time tax offenders like this rarely get prosecuted and even rarer to get jail time. And false gun applications sadly also almost never get prosecuted or jail time. So this is if anything harsh, not lenient." [Twitter, 6/20/23]
Former federal prosecutor Shan Wu wrote that "Attorney General Merrick Garland was actually pretty harsh on Hunter Biden." In an opinion piece for The Daily Beast, Wu explained his reasoning:
The truth of the matter is that Attorney General Merrick Garland did Hunter Biden no favors in this case by leaving the original Trump-appointed prosecutor on the case, and approving a plea deal on charges that for anyone else would likely have resulted in no criminal charges being brought.
…
Under the terms of the plea deal, Hunter Biden must plead guilty to two misdemeanor counts of failing to pay his taxes in 2017 and 2018—for which he apparently underpaid by $100,000 each year. (In 2021, he paid the shortfall.) That makes the tax case a bit of an outlier, since prosecutors usually have little appetite for bringing criminal tax cases when the taxpayer has already paid the amount owing.
…
His self-admitted drug addiction likely played a role in prosecutors allowing him to seek pre-trial diversion, as diversion is frequently used as a means of holding drug addicts to accountability while not making them take a felony on the records in light of their addiction. In fact, it is rare for prosecutors to pursue criminal charges for this kind of false information on a gun ownership application form unless the gun was also used to commit some other crime, such as a robbery, to cite one example.
Here, however, there is no evidence Biden used the gun in any crime. He apparently only had the gun for two weeks before his then-girlfriend threw it away in a trash dumpster. [The Daily Beast,6/20/23]

MSNBC legal analyst Joyce Vance said "it wouldn't at all be unusual" for the gun charge to be diverted. Vance said of the tax charges: "It's very typical, the law provides for misdemeanors in cases where a defendant fails to file. And so this would be, I think, within the heartland of the way the department charges these kinds of cases, if that in fact is what the charge is, a failure to file." Vance also called the gun charge "a more obscure portion of the statute," adding that "it wouldn't at all be unusual to see someone put into some form of front-end program." [MSNBC, Morning Joe, 6/20/23]
CNN senior legal analyst Elie Honig: "There's virtually no chance that a first-time offender would get sentenced to prison based on misdemeanors … especially tax-type misdemeanors." Honig further explained that "the vast majority of federal firearms cases are either a firearm used in another crime of violence, or a firearm possessed by somebody who has a prior felony. This is sort of low down on the list of firearms offenses." [CNN, CNN News Central, 6/20/23]
CNN chief legal analyst Laura Coates said that Biden's pretrial diversion for the gun felony "is quite common in the grand scheme of things." Coates explained: "These are oftentimes included in any plea deal to try to use a diversionary program that essentially says, look. If you keep on the up-and-up, if you stay clean, then you will not have this felony charge attached to your record as well. This actually is quite common in the grand scheme of things. What's so uncommon is that it's now a former vice president and current president's child." [CNN, CNN News Central, 6/20/23]
UCLA law professor Adam Winkler suggested that it's unusual for someone to be charged solely for lying on a gun form. Winkler told The Washington Post that "prosecutors typically would not charge lying on a gun form as a stand-alone crime, instead filing it as a secondary charge when someone also may have committed a violent crime with the weapon." [The Washington Post, 6/20/23]
Ohio State University law professor and sentencing expert Douglas Berman told The New York Times that "the average person is rarely prosecuted for" the crimes Biden was charged with. Berman further suggested that far from receiving preferential treatment in this case, Biden was charged only because he's the president's son and prosecutors may have hoped to avoid "the perception that there was some sort of special treatment or leniency." From the NY Times:
Douglas Berman, a professor of law at Ohio State University and a sentencing expert, read the court papers unsealed on Tuesday morning and said that it was difficult to assess from the filings whether Mr. Biden received a sweetheart deal.
The crimes to which Mr. Biden is pleading guilty, Mr. Berman said, are ones that the average person is rarely prosecuted for because they are usually only brought along with more serious offenses.
In Mr. Biden's case, they include a charge stemming from lying about drug use on the government form used for his purchase of a handgun. Current and former officials say tens of thousands of Americans, out of the 25 million who buy guns each year, lie on their forms and are not prosecuted.
…
"If these are the only offenses, most prosecutors are going to say it's not worth a federal case — they would say: Let's not make a federal case of it for the average person because it's not worth it to bring a case unless there's reason to be concerned that there's a public safety issue or the trust that everyone is treated equally under the law is at stake," Mr. Berman said.
Mr. Berman said that in this case, federal prosecutors are in a unique situation because there was a very high-profile defendant who was the subject of investigations for a range of activities. The failure to bring some charges when there is no factual dispute, he said, could create the impression of a two-tiered system of justice.
"Everyone is paying attention and the facts are not in dispute, so a failure to bring charges would create the perception that there was some sort of special treatment or leniency being given to the president's son," Mr. Berman [said]. [The New York Times, 6/20/23]
Right-wing media falsely claimed Hunter Biden got a "sweetheart deal"
Despite the extensive evidence and expert commentary to the contrary, right-wing media ran with the false accusation that Hunter Biden's plea agreement was a "sweetheart deal" arranged by a corrupt Department of Justice.
Conservatives made false comparison between Hunter Biden and rapper Kodak Black
Some conservative media figures and outlets compared Biden's gun charge, described by the Justice Department as possessing "a firearm despite knowing he was an unlawful user of and addicted to a controlled substance," to that of the rapper Kodak Black, who was sentenced to almost four years in prison for ostensibly similar gun charges.
But these comparisons exclude important context: Black already had an extensive criminal record and was facing numerous other criminal charges when he lied on background check forms to purchase multiple guns, and two of the guns he purchased were later found at crime scenes, including one, as The New York Times reported, "with Black's fingerprints and a live round in the chamber — that had been used to fire at a 'rival rap artist.'"
The remainder of Black's sentence, for falsifying information to buy firearms, was commuted by former President Donald Trump during his last full day in office, and months later he received a plea agreement that avoided prison time in a case involving a report of sexual assault.
Conservatives ignored this context in making the comparison to further their false claim that Biden has been treated too leniently:
Devine highlighted the years in jail Black served for his gun charges: "I think David Weiss should come before [Rep. James Comer's (R-KY)] committee and just explain if everything was aboveboard exactly why they made the decisions they did, and why it took five years to come up with these two pretty minor misdemeanor tax charges and a gun charge that has gone away that has had people locked in jail for four years. The rapper Kodak Black was in jail for four years in a federal prison for lying on his background form to buy — he bought four guns in that case." [Fox News, Hannity, 6/20/23]
Fox & Friends hosts claimed that Black merely used a "wrong Social Security number on the gun form" and went to prison, omitting all other context. [Fox News, Fox & Friends, 6/21/23]
Daily Caller chief national correspondent Henry Rodgers wrote a tweet echoing a claim that Black "served 3 years in jail" for the "same crime": "NEW: Kodak Black's lawyer reacts to the Hunter Biden news… Says Kodak was charged for the same crime and had to serve 3 years in jail for it:" [Twitter, 6/20/23]
A FoxNews.com headline repeated the false comparison: "Kodak Black's lawyer slams Hunter Biden plea deal after rapper sentenced to 3+ years for same crime." [FoxNews.com, 6/20/23]
Gateway Pundit also cited the false claim by Black's lawyer that he was charged with the "same federal weapons crime" as Hunter Biden. Jim Hoft, the founder of Gateway Pundit, wrote:
Hunter will serve NO TIME in prison for his latest criminal actions.
The same DOJ sent rappers Lil Wayne and Kodak Black to prison for years on gun charges. Both rappers were granted a pardon by President Donald Trump.

…
Contrasting Hunter Biden's case, Kodak Black, whose real name is Bill Kapri, faced similar charges in 2019.
According to New York Post, the Grammy-nominated artist was found guilty of providing false information on a federal gun purchase form to procure three firearms from a shop in Miami. Given his criminal record, Black was not eligible to buy these weapons.
Despite pleading guilty, Black was handed a sentence exceeding three years in federal prison. [The Gateway Pundit, 6/21/23]
Reprinted with permission from Media Matters.