The Trump Administration Is Giving Cops Unprecedented Power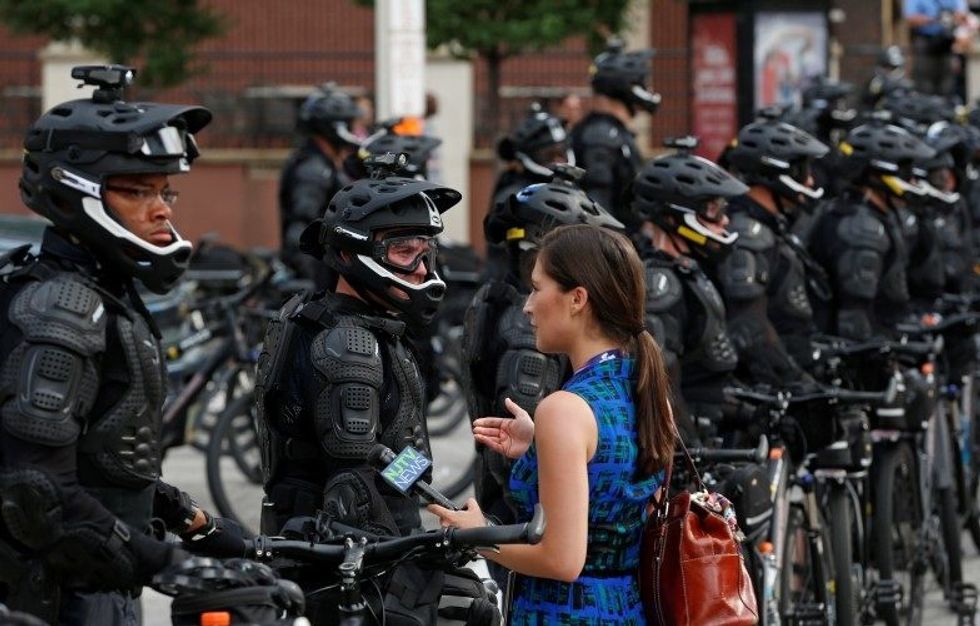 Reprinted with permission from AlterNet.
The Donald Trump administration is off to a rocky start, with multiple damaging reports emerging from the White House alleging disorganization, incompetence, and infighting—but that hasn't stopped the new president from making good on his pledges to the country's police officers. By branding himself the law-and-order candidate who would use his bully pulpit to take down criminals and fight crime, Trump earned himself the support of several police groups, most notably the Fraternal Order of Police, the country's largest police union, which boasts more than 330,000 members.
Trump has already met with several law enforcement groups to make it clear where his priorities lie. Recently, while speaking to the Major Cities Chiefs Police Association (and after whining about a federal judge ruling that blocked his Muslim ban), Trump launched into a speech about what he believes cops in this country care about: crime in cities populated with black people, Mexican drug cartels, undocumented immigrants, and his desire to build a wall along the Mexican border. During the speech he claimed that undocumented immigrants in gangs cause the problems in Chicago and that building a wall along our southern border would stop drugs from "pouring" into our country.
Two weeks after signing two orders on immigration, President Trump signed three orders on crime and law enforcement, including one that targeted transnational drug cartels. Although immigration and drug enforcement have their own federal agencies, many cops seemed eager to jump into the fray, setting the stage to begin rolling back modest gains made in holding police accountable.
One of President Trump's first executive orders on immigration revived a program dubbed Secure Communities and promised to defund jurisdictions known as sanctuary cities that choose not to enforce federal immigration laws. (Notably, law enforcement officials would be exempt from losing funds.) Under Secure Communities, local authorities—like jail officials—would share fingerprints of the individuals arrested in their cities and towns with the FBI, who would then send the information along to the Department of Homeland Security to check if that person is eligible for deportation using Immigration and Customs Enforcement's database. If ICE determines that the individual is eligible, the local authorities are instructed to hold that person in jail until ICE can transfer him or her to a detention center.
The federal government stated that the intent of the program was to target the most serious offenders, but the program was disbanded in 2014 after it led to widespread racial profiling of Latinos, arrests of people who committed low-level offenses and people without criminal records. During the course of Secure Communities, multiple cities chose to opt out.
But despite widespread criticism of the program, some police officers are applauding its revival and the crackdown on sanctuary cities. The Fraternal Order of Police praised the administration's actions, including the revocation of federal funds, alleging that communities are safer when local authorities comply with federal immigration officials.
While police unions appear eager to partner up with federal immigration officials, their relationship with the federal agency that handles investigations into police departments is much rockier. Ramping up Department of Justice investigations into police departments that violate the civil rights of the citizens they have sworn to protect is perhaps Obama's greatest police reform achievement. Investigations usually end with court-ordered agreements dedicated to reform, sometimes called consent decrees. While these investigations are not a cure-all, it was a welcome change for many activists. But just days after the election, police departments started making noise about DOJ-mandated reforms.
The Cleveland Police Department entered into an agreement with the Department of Justice in 2015 after the DOJ issued a damning report on the police department the previous year; the head of the city's police union, Steve Loomis, was not part of the agreement, but that hasn't stopped him from inferring that Trump will help make changes to the consent decree. Loomis said that the Trump administration is "cognizant of the false narrative that's out there and [will] be hesitant to make major decisions based on false narratives." Days before the report was released, a white officer shot and killed 12-year-old Tamir Rice, who was playing with a toy gun in a park. No one was charged for his death.
But now the DOJ will be led by Jeff Sessions, the former Alabama attorney general and U.S. senator, who was deemed too racist to be a federal judge in 1986. The new attorney general voiced concerns about consent decrees at his Senate hearing for the position. Sessions seemed to play into the "few bad apples" rhetoric despite reports from Ferguson, Chicago, and Baltimore pointing to the opposite. "These lawsuits undermine the respect for police officers," he said, "and create an impression that the entire department is not doing their work consistent with fidelity to law and fairness."
Since the inauguration, Americans across the country have taken to the streets to protest Donald Trump's actions. While some law enforcement leaders want to see the Trump administration tackle mass incarceration and enhance community policing, many more cops are embracing the Trump era. The National Sheriffs' Association and Major County Sheriffs' Association released a joint statement after President Trump signed the three executive orders related to law enforcement. "We thank the President and welcome the nation's re-awakening of support for law enforcement, the rule of law, and the need to protect our borders and enhance the nation's criminal justice system."
Cheering moves that enable cops to crack down on undocumented immigrants and alleged gang members, but balking at the federal agency designed to rein in unaccountability, signals deeper trouble up ahead.
Nathalie Baptiste is a freelance writer based in Washington, D.C. Follow her on Twitter: @nhbaptiste.
IMAGE: A reporter talks to police dressed in tactical gear as they block a downtown street during a march by various groups, including "Black Lives Matter" and "Shut Down Trump and the RNC". REUTERS/Lucas Jackson