Trump And Fox News Trade Insults Over Megyn Kelly At Debate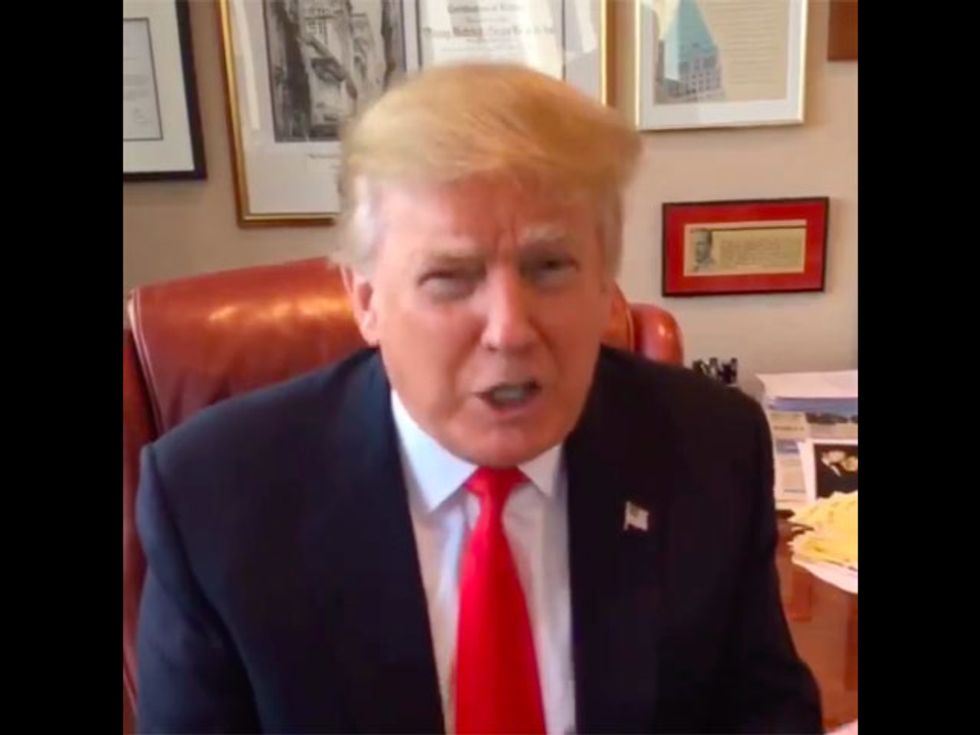 Update: Trump campaign manager Corey Lewandowski has now told reporters that Trump "will not be participating in the Fox debate" as a result of Megyn Kelly being there, and that this decision is "not under negotiation."
At a press conference, Trump said Fox's response to him (see below) was "written by a child," and he declared of his likely debate absence: "Let's see how much money FOX is going to make on the debate without me."
For what it's worth, this writer still thinks Trump is bluffing. Let's wait and see.
Late Update: Actually, Trump is increasingly starting to look like he might really mean it.
Donald Trump is ramping up his threat to boycott this Thursday's Republican debate on Fox News, if Fox anchor Megyn Kelly remains one of the co-moderators. But again, the question remains: Is he serious about ditching the debate — or is this instead the bravado of a pro-wrestling villain, drumming up more ratings for a debate he will indeed attend?
In either case, it doesn't look like the people at Fox are enjoying this.
Trump posted this poll Tuesday on Twitter, asking his supporters/fans whether he should attend the debate.
The Donald also posted an accompanying video to Instagram, in which he says to the camera: "Megyn Kelly's really biased against me. She knows that, I know that, everybody knows that. Do you really think she can be fair at a debate?"
A video posted by Donald J. Trump (@realdonaldtrump) on
In response, a Fox News spokesperson gave this rather interesting statement to Mediaite:
We learned from a secret back channel that the Ayatollah and Putin both intend to treat Donald Trump unfairly when they meet with him if he becomes president — a nefarious source tells us that Trump has his own secret plan to replace the Cabinet with his Twitter followers to see if he should even go to those meetings.
Trump soon responded on Twitter:
Well, that should calm things down.
At the very first Republican debate this past August, Kelly asked Trump about previous offensive comments he had publicly made about women who were adversaries of his, such as calling them "fat pigs," "dogs," "slobs," and "disgusting animals."
Soon after the debate, Trump later commented in the press about Kelly: "You could see there was blood coming out of her eyes, blood coming out of her — wherever." The remark was widely interpreted as a remark about her menstrual cycle — a charge that he has denied. He also said during the ensuing controversy, "she asked me a very inappropriate question. She should really be apologizing to me, you want to know the truth."
Since then, Trump has been in running feud with Kelly that he just won't let go, and has often threatened that he would refuse to appear on the channel at all, which would deprive them of the ratings that would come from the GOP frontrunner. Of course, he's just kept going on the channel, anyway. After all, he's got the ratings — but they've got the Republican voters.