Trump Announces Sanctions On Deceased 'Ayatollah Khomeini'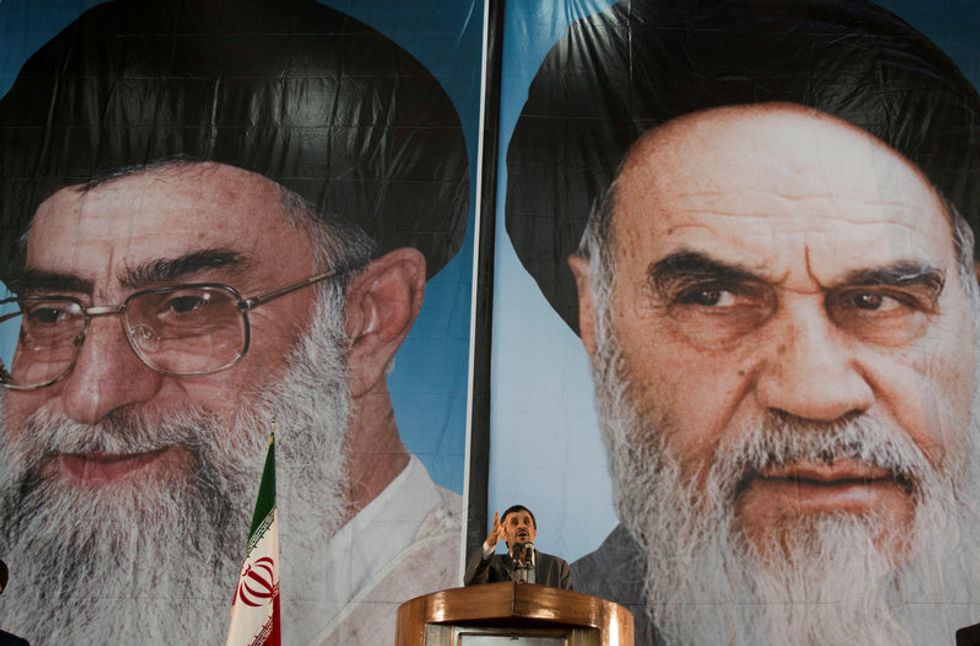 Trump announced on Monday that the United States will be imposing sanctions affecting Grand Ayatollah Khomeini of Iran, who has been dead for three decades.
"The assets of Ayatollah Khomeini and his office will not be spared from the sanctions," Trump said in the Oval Office. A clip of the announcement was also sent out, uncorrected, by the official White House Twitter account.
Khomeini died in June of 1989. He was born in September of 1902 and if he were somehow still alive he would be 116 years old and in contention for the oldest person alive.
The current Grand Ayatollah of Iran is Ali Khamenei. He is 80 years old.
The deceased world leader joins 19th century abolitionist Frederick Douglass on the list of figures Trump has ignorantly spoken about as if they are still alive.
In 2017, Trump hailed Douglass, who died in 1895, as "an example of somebody who's done an amazing job and is being recognized more and more."
If the Ayatollah mix-up (amidst growing concerns of military action) was about pronunciation, it joins other phrases Trump has mangled.
Trump has repeatedly struggled to pronounce simple words. He said "origins" was "oranges." He turned "anonymous" into "anonomus." President Ulysses S. Grant became "Ulucious" in Trump's mouth. Beyoncé was "Beyoncey" on the campaign trail.
Among Trump's many duties as president is international diplomacy, which requires basic competency and clarity as major policies are announced and executed.
To deal with Iran, it would help if he knew the name of one of the country's key leaders.
Published with permission of The American Independent.
IMAGE: Iranian President Mahmoud Ahmadinejad stands under pictures of Iran's Supreme Leader Ayatollah Ali Khamenei (L) and Iran's late leader Ayatollah Ruhollah Khomeini while speaking during a ceremony to mark Khomeini's death anniversary at his tomb at Tehran's Behesht-Zahra cemetery June 3, 2011. REUTERS/Morteza Nikoubazl/File Photo