Don Jr. Will Appear With Hitler-Loving Antisemite On Speaking Tour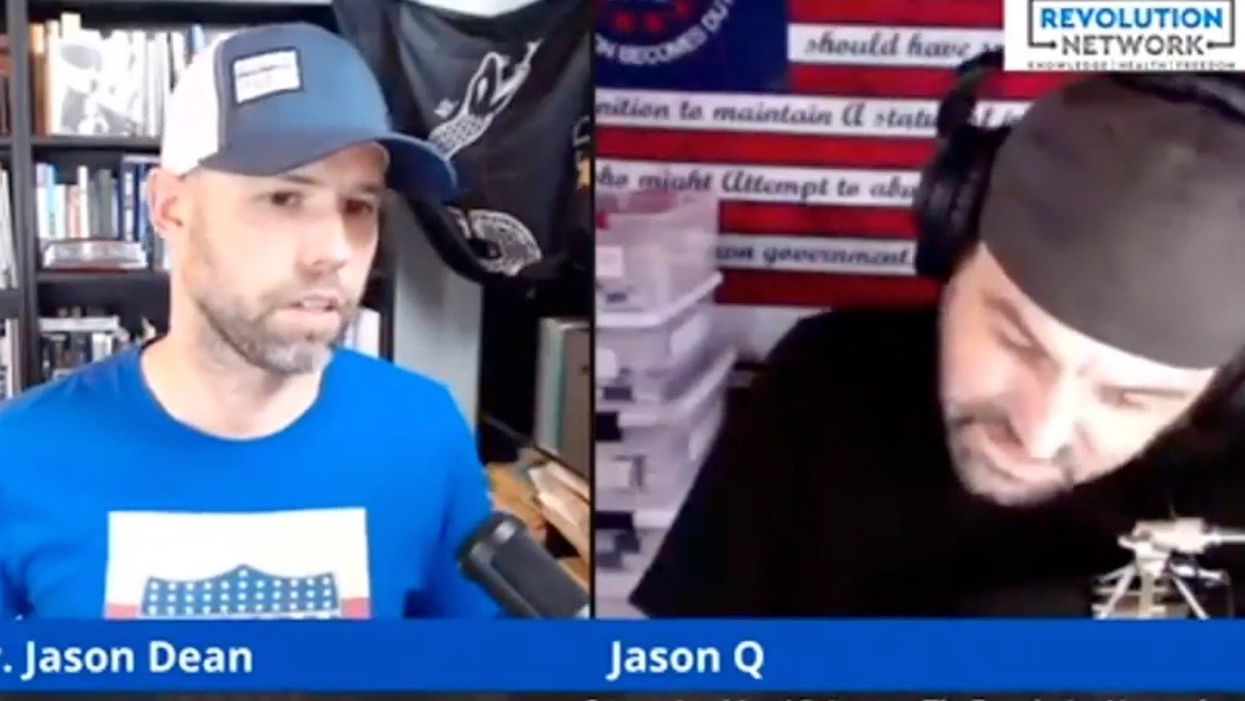 Donald Trump Jr., Kimberly Guilfoyle, Lara Trump, Trump lawyer Alina Habba, and other members of Trump's orbit are scheduled to speak alongside antisemitic streamer Jason Dean this week. Dean, who also spoke at a May Trump hotel event with Eric and Lara Trump, has said that he has "NEVER been able to buy the Hitler/Nazi 'Official Story'" and praised Adolf Hitler for having a "vision" and wanting "to straighten everything out" but "the bankers got him."

He is at least the third Hitler-promoting antisemite that has appeared on the Trump-backed ReAwaken America tour. Two other tour regulars were set to appear at Trump's Miami resort in May but were pulled from the event after widespread media criticism.
Dean is a chiropractor, Rumble host, and fringe conspiracy theorist who believes that the Earth is under the "control" of alien reptiles. He has appeared on One America News and Alex Jones' Infowars network. Dean gained a following during the COVID-19 pandemic by pushing false medical claims and grifting followers by offering his own health "protocol."
Trump allies Roger Stone , Kash Patel , and Mike Flynn , and Arizona state Sen. Wendy Rogers have appeared on Dean's program. He also posted a video of himself having a " strategic meeting " with congressional candidate and former Florida state Rep. Anthony Sabatini .
He is a regular speaker on the ReAwaken America tour and is scheduled to speak this week in Las Vegas. ( Dean , tour co-founder Clay Clark , and the tour's website have confirmed his appearance.) The tour features QAnon conspiracy theorists and Christian nationalist rhetoric. In April 2022, Dean posted a picture of him meeting with tour co-founder Flynn, who also has a history of making antisemitic remarks, and thanked him for "giving me connections to people to meet with for the future."
Members of Trump's inner circle and past Trump administration officials are scheduled to speak at the event along with Dean. They include: Donald Trump Jr. , Guilfoyle , Lara Trump , Devin Nunes , Habba , Flynn , and Stone .
Numerous other toxic commentators will be speakers, including Alex Jones sidekick and January 6 insurrectionist Owen Shroyer ; far-right conspiracy theorist Lara Logan ; COVID-19 conspiracy theorist Sherri Tenpenny, who has promoted antisemitic and Holocaust denying material; and election denier Mike Lindell .
Streaming host Stew Peters , a white nationalist who is virulently anti-LGBTQ, is also scheduled to speak. He has also repeatedly made antisemitic remarks, including stating that Judaism "is a death cult built on the blood of murdered babies" and writing : "It's become socially unacceptable and in some cases even illegal to question or critique Jews, Israel, or the Zionist mob. The murder of Jesus (Read Book of Matthew). The attack on the USS Liberty. 9/11 dancing Israelis. Rothschild family. Who controls international banking, Hollywood, and the entire MSM." He also wrote : "Say what you will about Hitler, but people turned out for his rallies."
The tour invited Peters despite his attacks on Trump allies, including calling Trump adviser Ric Grenell "a sodomite ... who finds the meaning of life at the bottom of a shit hole."
Reprinted with permission from Media Matters .