Hi! I'm Donald And I'd Like To Apply For Membership In The Aryan Brotherhood!
@LucianKTruscott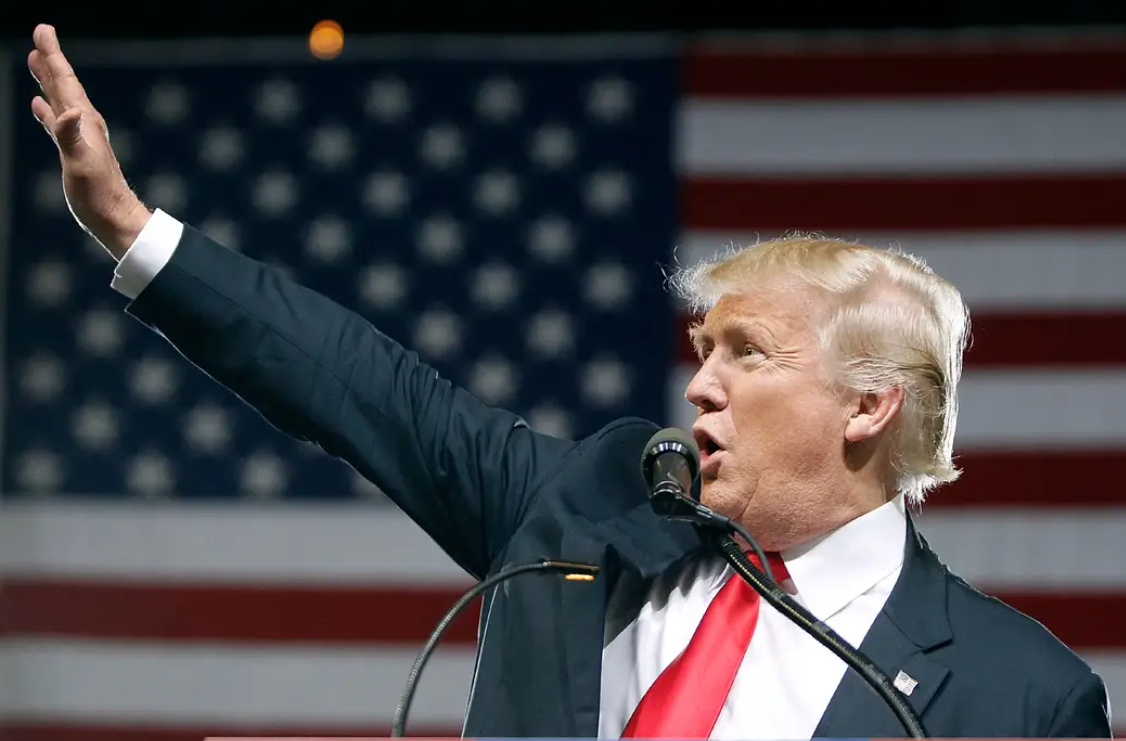 The jaws of a legal vise started to tighten on Donald Trump over the weekend as his former lawyer, Ty Cobb, told CNN that "the feds are coming fast" after Trump, and his former client "will go to jail" on charges brought by Special Counsel Jack Smith in the Mar-a-Lago classified documents case.
CNN also reported last week that the National Archives and Records Administration (NARA) had handed over 16 documents to Smith's investigators that showed Trump and his advisors had specific knowledge of the correct declassification process if Trump had wanted to make public previously secret materials. Trump has insisted that he had declassified all the documents he took with him from the White House to Mar-a-Lago when he left office in January of 2021, a claim that has been proved false by Trump's own statements and actions.
Trump claimed recently at the CNN so-called "town hall" in New Hampshire that the documents were declassified "automatically" when he took them from the White House because of the Presidential Records Act. The act has nothing to do with classification or declassification of documents, and rather than giving Trump permission to take documents from the White House, it sets forth the procedures for Trump or any other president must follow to turn over to the National Archives any and all records, gifts, or other materials that are in the White House at the end of a presidency.
Cobb told CNN that the NARA documents turned over to the Office of the Special Prosecutor would demolish any "legal hurdle" Trump might attempt to erect by claiming that he and his advisors didn't know they couldn't declassify documents with the wave of a wand, or as Trump previously claimed, "just by thinking about it."
In other disappointing news for the former president, another of his lawyers, Evan Corcoran, turned over 50 pages of notes he took of conversations with Trump last year before the FBI searched for classified documents at Mar a Lago. According to The Guardian, Corcoran warned Trump that he could not legally retain any classified documents after Trump was subpoenaed for those documents by the Department of Justice in early May of last year. Corcoran was the lawyer who handled the putative "diligent search" for documents at Trump's residence/club in Palm Beach, Florida after the subpoena was served.
According to the Guardian, "prosecutors have fixated on Trump's valet Walt Nauta, after he told the Justice Department that Trump told him to move boxes out of the storage room before and after the subpoena." A source who described the notes Corcoran turned over to prosecutor Smith told the Guardian that "the notes revealed how Trump and Nauta had unusually detailed knowledge of the botched subpoena response, including where Corcoran intended to search and not search for classified documents at Mar-a-Lago, as well as when Corcoran was actually doing his search."
Special Counsel Smith was able to obtain Corcoran's notes when the Second Circuit Court of Appeals ruled that the prosecutors could "pierce" the attorney-client privilege that existed between Trump and Corcoran because the lawyer's communications with Trump had been "in furtherance of a crime," rather than normal attorney-client work product. Corcoran's notes were seen by the grand jury sitting in Washington D.C. that is considering charges against Trump and others in the classified documents case.
In addition, Corcoran himself testified before the grand jury in March. According to the New York Times, Corcoran told the grand jury that he had been told that the storage room was the only place where documents taken from the White House were stored. Corcoran ended up spending several days going through more than 60 boxes of documents in the storage room as part of his "diligent search" of Mar-a-Lago for classified documents. In June 2022, Corcoran drew up the affidavit given to the Department of Justice during a meeting at Mar-a-Lago that certified the "diligent search" had turned up only 31 classified documents, which were turned over at that time in response to the subpoena. Corcoran arranged for another Trump lawyer, Christina Bobb, to sign the affidavit he had drawn up. Bobb signed it only after a disclaimer had been added that she had not been involved in the search and had only been told that the search was "diligent."
The FBI search of Mar-a-Lago two months later turned up more than 100 additional classified documents that were discovered in the storage room as well as in Trump's personal office. In Corcoran's testimony to the grand jury, he said while Trump had not misled him about where classified documents might be stored at Mar-a-Lago, the only place he suggested Corcoran should search was the storage room. Corcoran's notes indicate that there were times during the several days he searched the storage room that the room may have been left unattended.
The Department of Justice previously subpoenaed tapes from security cameras at Mar-a-Lago that show Trump's valet Nauta carrying boxes from the storage room. Some of the tapes had gaps, according to the Guardian, so to look into whether the tapes were doctored, the grand jury subpoenaed Matthew Calamari Sr, the Trump Organization's security chief, and his son Matthew Jr., who succeeded him as director of corporate security for the Trump Organization. Both Calamaris have testified before the grand jury. It was also reported last week that the grand jury has heard testimony about the classified documents from a "cooperating witness" who worked at Mar-a-Lago. It is unknown who the cooperating witness is, or where he or she worked at Mar-a-Lago or what their job might have been.
In order to charge and convict Trump of obstruction of justice, prosecutors would need to prove that Trump ordered Nauta or others to move boxes containing classified documents after he had received the subpoena from the DOJ on May 11, 2022. It was not until June 3 that the DOJ sent a team of lawyers to Mar-a-Lago to pick up the envelope of 31 classified documents Trump turned over in response to the subpoena, meaning that Trump had almost a month to find the classified documents, or as Smith's prosecutors seem to believe, move them around Mar-a-Lago so they would not be found first by Corcoran during his "diligent search," and then by the Department of Justice when they came to pick up the proffered envelope of documents in June.
Trump's former lawyer Cobb has his own take about why Trump likely faces indictment and conviction in the classified documents case. He told CNN that from what he knew, Smith "has a tight case" that is ready for the grand jury to issue an indictment because Trump has "lied" about the documents with such frequency since the National Archives first asked him for return of the documents way back in 2021.
Referring to what charges the DOJ is likely to bring, Cobb told CNN, "I would not necessarily expand the case to try to prove the Espionage Act piece of it because there is so much evidence of guilty knowledge on the espionage piece that all they really have to do is show that Trump moved these documents at various times when DOJ was either demanding them or actually present." He went on to explain, "[Trump] filed falsely with the Justice Department, had his lawyers file falsely with the Justice Department, an affidavit to the effect that none existed—which was shattered by the documents that they then discovered after the search—and the many other misrepresentations that he and others have made on his behalf with regard to his possession of classified documents."
And Cobb is not the only former Trump attorney with an opinion about the case. This time it's Trump's former Attorney General William Barr with bad news for the former president. In an interview on CBS News, Barr told reporter Catherine Herridge, "It's very clear that he [Trump] had no business having those documents. He was given a long time to send them back and he was— they were subpoenaed. And if there's any games being played there, he's going to be very exposed."
Violation of the federal obstruction of justice statute, which appears to be the charge Smith is pursuing with the grand jury, carries a sentence of 20 years in prison.
Donald Trump had better butter up former White House aide and rabid racist Steven Miller and his Nazi pal Nick Fuentes for endorsements of his own racism and antisemitism, because Trump is going to need them when he applies for membership in the notorious prison gang. He'll be needing to pick a place for his Aryan Brotherhood tattoo as well. An example of a tattoo that might fit on Trump's capacious backside is pictured here: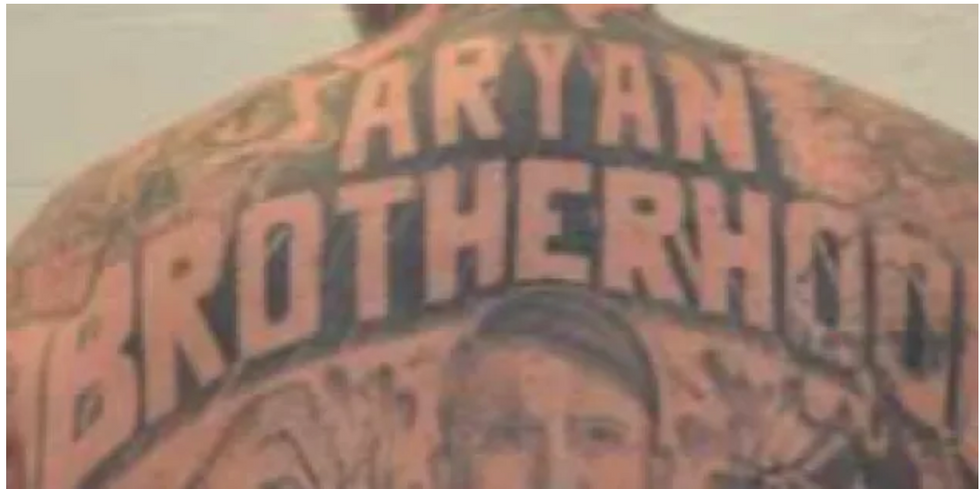 Lucian K. Truscott IV, a graduate of West Point, has had a 50-year career as a journalist, novelist, and screenwriter. He has covered Watergate, the Stonewall riots, and wars in Lebanon, Iraq, and Afghanistan. He is also the author of five bestselling novels. You can subscribe to his daily columns at luciantruscott.substack.com and follow him on Twitter @LucianKTruscott and on Facebook at Lucian K. Truscott IV.
Please consider subscribing to Lucian Truscott Newsletter, from which this is reprinted with permission.