How Trump Became An Online Flop In 2021
@EricBoehlert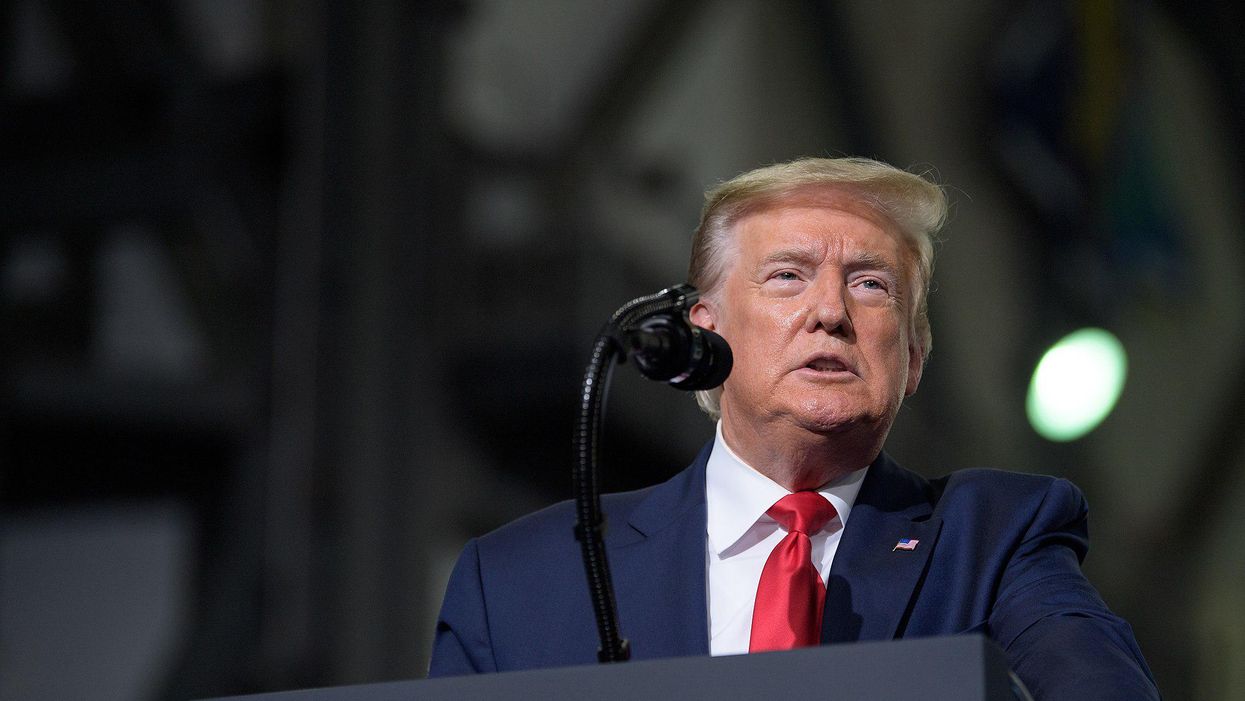 Photo by NASA / Bill Ingalls (Public domain
Reprinted with permission from Press Run
After less than a month of postings, Trump's blog was officially taken offline last week, after drawing an embarrassingly small audience. Loyalists will no longer be able to check on "From the Desk of Donald J. Trump" to read his latest, bitter musings.
The sudden move to unplug the aging Florida blogger came as Trump continues to struggle to attract an online audience after getting de-platformed by Twitter, Facebook, and Instagram in the wake of the January 6 mob attack on the U.S. Capitol. The social media giants rightly accused Trump of inciting violence and of depicting the mob vigilantes as patriots. Once accustomed to seeing his tweets and Facebook posts garnering millions of likes and responses, Trump now finds himself lost in the online wilderness, ignored and rejected.
NBC News last week reported that Trump's blog had "attracted a little over 212,000 engagements," a shockingly small number for someone of his political status. By comparison, when Trump got banned for life from Twitter, he had 88 million followers.
While Trump is widely seen as the odds on favorite to win the 2024 Republican nomination if he decides to run again, competing in a general election campaign with virtually no online presence could pose a major problem for the him.
Although there had been chatter about Trump launching an ambitious media play in his post-presidency years, he's always been lazy. Which is why the idea that he'd undertake the Herculean task of building a social media outpost from nothing always seemed farfetched. To date, it's clear he's taken a haphazard approach to his website.
The Washington Post reported that Trump's blog was taken down because he was upset that people were making fun of its paltry audience. Going back to his days at The Apprentice,Trump has always used ratings as a way to judge a person's worth. One of his favorite putdowns as president was to claim that a particular news network had bad ratings, which means his dismal showing online this year no doubt stings. Especially after his flak Jason Miller had hyped the site as "the hottest ticket in social media, it's going to completely redefine the game."
Why the online collapse this year? Aside from Trump's hibernation down at Mar-a-Lago, he's clearly been unable to reproduce the buzz that his tweets, and to a degree his Facebook posts, generated. Reveling in Twitter's rapid-fire insult style, Trump became a social media star by making news and announcing controversial government policy online. By comparison, his dreary, boring blog posts generated yawns. His namesake site is also seen as being primitive by 2021 standards, and included no comment section for Trump's blog postings.
The site's audience collapse in the last 12 months has been astonishing. "Data provided by right-wing website monitor The Righting revealed that last April, DonaldJTrump.com pulled in 14.4 million unique visitors. Last month, it garnered a mere 161,000," The Wrap recently reported.
It hasn't just been his colossal flop as a blogger. All across the internet, references to Trump have plummeted, even as Republican leaders scramble to placate him.
"Chatter about Trump has fallen across the biggest social media sites to its lowest level since May 2016, when he was just becoming the GOP's presumptive presidential nominee, according to the BuzzSumo data," the Post reported. "On Twitter, data from the online-analytics firm Zignal Labs shows, mentions of him have cratered to an average of about 4 million a week, the lowest since 2016."
The bad online news comes after Trump's recent one-hour sit-down with Steve Cortes and Jenn Pellegrino on NewsMax on May 25 drew just 295,000 viewers, according to Nielsen Media Research data — and just 62,000 viewers in the advertiser-coveted age demographic of 25 to 54. That same night during the 9 p.m. time slot when Trump appeared on NewsMax, his interview got beat badly in the ratings by Chopped, and by HGTV's Unsellable Houses, which pulled 1.3 million total viewers, or nearly four times the Trump audience.
For years, the media loved to portray Trump as a cultural phenomenon who produces bonanza ratings. Of course, Trump pushed that media myth himself. He once claimed that when he appeared on Fox News Sunday in November 2018, the show landed nine million viewers. In truth, 1.7 million people tuned in. The truth is, he often produces shoulder shrugs.
Trump's convention acceptance speech last year was the lowest-rated one in primetime history. The summer before, ABC News aired a primetime Trump special, built around the idea of tagging along with him for 30 hours inside the White House. The special flopped, coming in third place among the three major networks on Sunday at 8 PM ET. Worse, the show produced just half the television audience that ABC's Celebrity Family Feud had attracted in the same time slot one week earlier.
The dichotomy now at play is an amazing one: As Trump fades from public view and generates so little interest online, the Republican Party continues to genuflect in front of him.