Trump Brags About Approval Rating He Made Up Out Of Thin Air
@EricBoehlert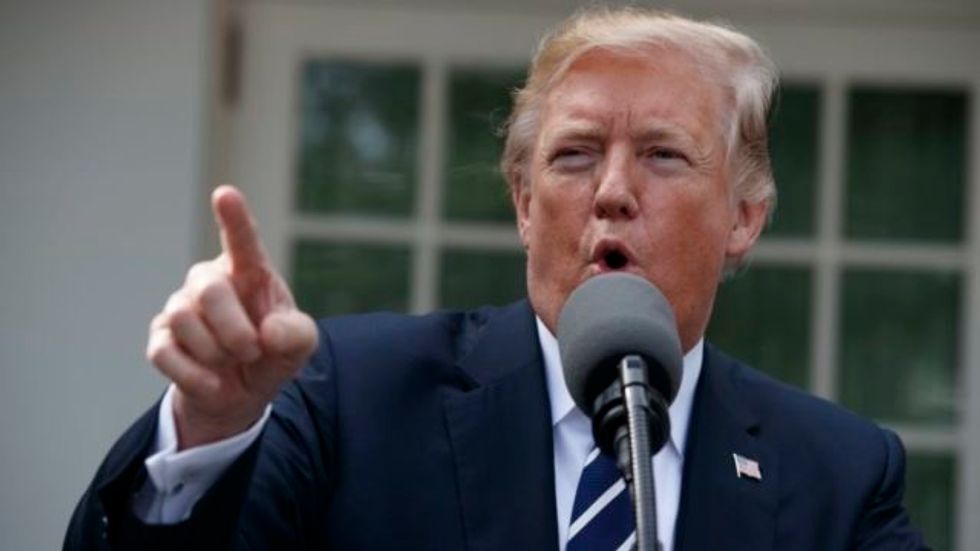 Reprinted with permission from Shareblue.com
From ignoring his top military advisers on Syria strategy, to tossing aside his prepared tax cut statements to wallow in anti-immigration hate rhetoric, to telling supporters on AM talk radio that his real approval rating actually hovers around 60 recent, Trump seems to have retreated even further into a misinformation cocoon within the White House.
Fresh off firing two senior advisers, Secretary of State Rex Tillerson and national security adviser H.R. McMaster, Trump is reportedly relishing the fact that fewer aides now contradict his erratic pronouncements.
If this truly is the let-Trump-be-Trump stage of his presidency, it means madness reigns.
Those two high-profile firings came as as chief of staff John Kelly's Oval Office influence is reportedly in steep decline.
"Trump recently told one confidant that he was 'tired of being told no' by Kelly," the Associated Press reported.
Instead of listening to counsel, he's turning more and more to on-air cable news chatter to gain his incoherent policy insights.
"Aides sometimes plot to have guests make points on Fox that they have been unable to get the president to agree to in person," an administration source told the Washington Post. "He will listen more when it is on TV."
Last weekend, Trump surrounded himself with Fox News misfits, such as Sean Hannity and Jeanine Pirro, which seemed to spark the xenophobic campaign against immigrants he unleashed this week.
Among the people brought aboard is television personality Larry Kudlow to serve as a top economic adviser. But Kudlow comically spent the week not knowing what Trump was saying or doing about launching a reckless trade war with China. (Like everybody else, Kudlow finds out about radical policy initiatives by reading Trump's tweets.)
Nowhere was Trump's growing delusions of grandeur more apparent than when he called into radio morning wake-up show on Friday and claimed that his historically awful approval rating of approximately 40 percent actually stands at 59 percent.
"A poll just came out now, Rasmussen, it's now 51," Trump said, referring to the perennially GOP-friendly polling firm that always posts outlier numbers in his favor. "They say that it's 51, but add another 7 or 8 points to it," he continued.
That's right, Trump thinks his approval rating is just shy of 60 percent. Even though based on science and data and everything else we know it's 20 points lower than that.
The punchline is that even the daily, Trump-happy Rasmussen poll had him down from 51 percent to 47 on Friday. But he still thinks the real number is close to 60 percent — just because.