With Trump-Breitbart Alliance, The Right-Wing Media's Civil War Just Got A Whole Lot Worse
@EricBoehlert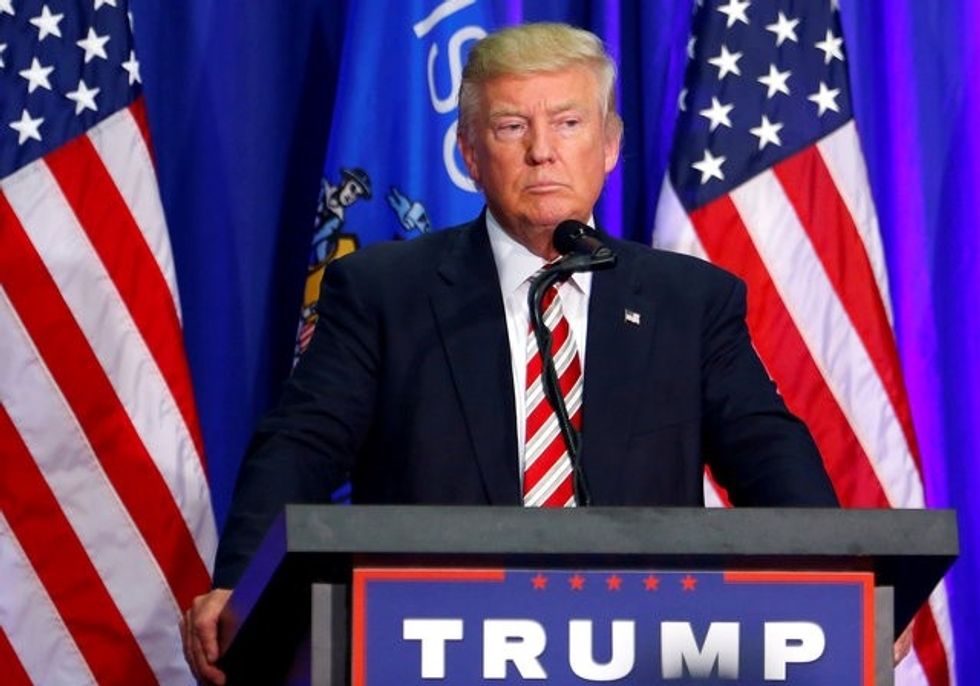 Published with permission from Media Matters of America
A growing list of horrified conservative commentators have watched Donald Trump swallow the Republican Party this year, convinced he's dooming the GOP with a major November loss. One of their key complaints has been that the erstwhile candidate has embraced dark elements of the far-right media; that Trump is just recycling irresponsible nonsense pushed by sites that are blindly loyal to him, like Breitbart News.
Wednesday's news that Trump has tapped Breitbart News chairman Stephen Bannon to help run his campaign will only inflame those concerns, and pundits will likely see the move as yet another nail in the campaign's coffin.
Immediately following the Bannon news, former Breitbart editor Ben Shapiro, who quit the site in March over its obvious cheerleading for Trump, wrote that his former boss "openly embraced the white supremacist" movement of the extreme right. Shapiro added, "It's clear that Breitbart News is indeed Bannon.com and Trumpbart News. That's pathetic and disgusting."
In other words, the Trump-inspired civil war that has consumed the right-wing media for months just got a whole lot worse. And the long-term implications could mean big problems for the movement, long after November.
With Trump's unorthodox campaign igniting especially deep passions among conservatives, the Right-Wing Noise Machine's famously loud megaphone has transformed itself into something of a circular firing squad. "Trump is choosing to end his campaign living in the alternate reality that Breitbart creates for him on a daily basis," The Weekly Standard's Stephen Hayes announced.
The civil war is now consuming the movement. (National Review Online, post-Bannon: "There are no good options left for conservatives, only disputably less bad ones.") The irony is that the non-stop bickering and name-calling threatens to burn to the ground what had been a movement built on message discipline; on everyone singing off the same page. Today, those songs sheets are being torn up day after day.
For decades, it's been a media movement where internal disagreements were virtually always set aside in time for presidential general elections, and where commentators unified around their contempt for the Democratic foe. When finely tuned and focused, the conservative media machine served as a battering ram for the GOP.
Not this year, and not with Trump.
Increasingly, it's Trump who generates the most visceral response among conservative commentators. It's Trump who's viewed and denounced by the right as the looming danger facing America. All the while, Clinton widens her lead in the polls.
Indeed, some of the media attacks on Clinton this cycle seem somewhat muted, or less focused, given the widespread lack of enthusiasm for Trump on the right. Unable to project a unified, anti-Clinton message when they're so busy denouncing their own nominee — and when fighting with his remaining media fans — conservative pundits are unraveling the distinctive fabric of the far-right press: message discipline.
Of course, the Trump-inspired split isn't new. During the wildly fractured GOP primary, Trump was denounced from inside the conservative media as a "vicious demagogue," a "con man," a "glib egomaniac," and "the very epitome of vulgarity."
How bad has the sniping gotten this summer?
Lead Trump cheerleader Sean Hannity has been derided as "pathetic" and "stupid or dishonest." He's Fox News' "dumbest anchor." He's a Donald Trump enabler whose weeknight show resembles a Trump "infomercial." In fact, Hannity might even be rooting for a Clinton win.
And that's just what Hannity's fellow conservatives are saying about him.
And the brawling isn't limited to Trump-specific issues. This week, Breitbart News unleashed a broadside against Glenn Beck, who has been vocal in his contempt for Trump. Breibart belittled Beck for cozying up to Black Lives Matter, accusing him of "actually repeating a talking point of the Black Lives Matter founders themselves."
Meaning, Breitbart has its enemies list and is more than willing to take down conservatives like Beck if they get in Trump's way. And that was before the site's chief took over the Trump campaign. At the same time, Beck has been knocking longtime Trump ally Matt Drudge, calling him unreliable and claiming he's gone to "this weird conspiratorial" place since he starting "hanging out with" radio host Alex Jones, another of Trump's far-right supporters.
In terms of the traditional right-wing media campaign megaphone, the internal feud is diminishing its effectiveness.
For starters, a site like Breitbart has very little mainstream appeal. Unlike The Weekly Standard or National Review, which routinely tout Republican candidates (but now refuse to back Trump) and are viewed as legitimate by the Beltway media, Breitbart's long, and at-times comical, history of concocting falsehoods makes it hard for mainstream media observers to take it seriously.
Another example of the diminishing right-wing media megaphone: Hannity recently rushed out to be the point person of a sloppy, irresponsible smear campaign against Clinton, suggesting her health is in serious decline and that her medical records are shrouded in mystery. It's guttural stuff for sure ("Is it possible she had a stroke?"), but not unusual for a carnival barker like Hannity. Increasingly though, it looks like Hannity led a very small army into battle over Clinton's health record.
Meaning, with large portions of the conservative media openly mocking Hannity for what they see as his disingenuous and sycophantic support of Trump (the same goes for Breitbart), Hannity's foray against Clinton's health failed to pick up much meaningful support.
That's significant because it means the power of the collective right-wing media megaphone, effective when angry voices are yelling in unison, loses its punch. And without its vaunted message discipline, the Noise Machine can't move the campaign needle.
Another long-term effect from the open civil war is that members of the conservative media are finally calling out the avalanche of lies and misinformation the conservative press itself has peddled for so many years. Pushed to the breaking point by the Trump nomination and the lies that fuel it, more commentators are willing to admit, in public, that so much of the conservative media content is garbage.
From longtime conservative radio talk show host Charlie Sykes:
We have the InfoWars, we have the Breitbarts, we have the Drudges, in which information is passed, things that that bear no resemblance to reality whatsoever. So I'm in the position of having on a regular basis to basically say, look, that information is not valid, that's not true, that's not accurate.
And from The Wall Street Journal's Bret Stephens:
If you spend your time listening to certain cable shows all the time, listening to nobody else, if you're prone to the kind of conspiracy theories that whiz around on Twitter or certain fringes of the internet, you end up having this kind of conversation that's just increasingly divorced from reality.
What happens after the election? Are conservatives just going to pretend that all the lies and misinformation shoveled to readers, viewers and listeners weren't denounced from within the conservative press during the campaign?
For now, the right-wing media chorus, that Tabernacle Choir of misinformation where every voice is hitting the same note, has been muted.
Photo: Republican U.S. presidential nominee Donald Trump holds a campaign rally at the Ziegler Building at the Washington County Fair Park & Conference Center in West Bend, Wisconsin August 16, 2016. REUTERS/Eric Thayer/File Photo