One Secret Of Trump's Low-Cost Campaign: Free Labor
@reuters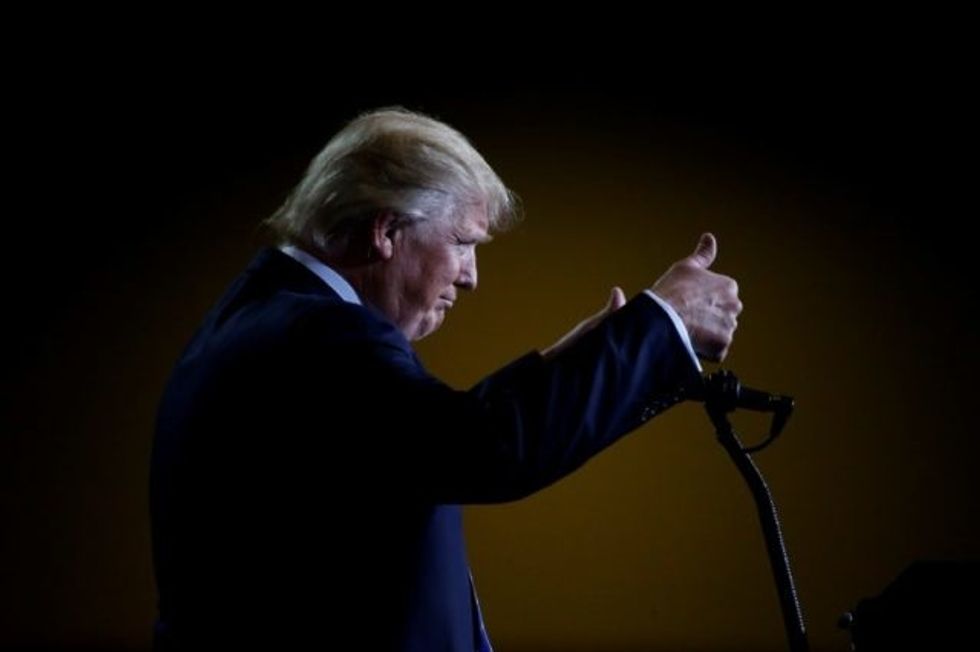 By Michelle Conlin and Grant Smith
NEW YORK (Reuters) – Republican presidential nominee Donald Trump has run an unusually cheap campaign in part by not paying at least 10 top staffers, consultants and advisers, some of whom are no longer with the campaign, according to a review of federal campaign finance filings.
Those who have so far not been paid, the filings show, include recently departed campaign manager Paul Manafort, California state director Tim Clark, communications director Michael Caputo and a pair of senior aides who left the campaign in June to immediately go to work for a Trump Super PAC.
The New York real estate magnate and his allies have touted his campaign's frugality, saying it is evidence of his management skills. His campaign's spending has totaled $89.5 million so far, about a third of what Democratic rival Hillary Clinton's campaign has spent.
But not compensating top people in a presidential campaign is a departure from campaign finance norms. Many of the positions involved might typically come with six-figure annual paychecks in other campaigns.
"It's unprecedented for a presidential campaign to rely so heavily on volunteers for top management positions," said Paul Ryan, an election lawyer with the campaign finance reform advocacy group Campaign Legal Center.
The Trump campaign said the Reuters' reporting was "sloppy at best" but declined to elaborate.
One of the 10 who were unpaid, Michael Caputo, told a Buffalo radio station in June after he resigned from the campaign, that he was not volunteering. Rather, he said he just had not gotten paid. Caputo confirmed to Reuters on Thursday that the Trump campaign has still not paid his invoices.
In another instance, two high-level former Trump campaign advisers, former Chris Christie campaign manager Ken McKay and Manafort lobbying associate Laurance Gay, departed the Trump campaign in June and went to work for the Trump -backed Super PAC, Rebuilding America Now. In June, the Super PAC paid each of them $60,000, the filings show.
Federal campaign law stipulates that people working for campaigns, who may possess strategic knowledge of a campaign or work as a campaign's agents, must wait for 120 days before going to work for a Super PAC, a political spending group that can accept unlimited sums of money from wealthy donors so long as it does not coordinate with a campaign.
Through a spokesperson, McKay and Gay said they were volunteering for Trump and did not possess strategic information so the rule did not apply to them.
LOW PAYROLL
Another example of free labor is Rick Gates, who was Manafort's deputy. According to two former high-level Trump staffers, Gates essentially functioned as the Trump campaign manager for more than two months, all while not collecting a paycheck.
By contrast, Democratic nominee Hillary Clinton's campaign manager Robby Mook earned roughly $10,000 in July, the same amount as President Barack Obama's campaign manager Jim Messina did in 2012. That same year, Republican nominee Mitt Romney's campaign manager, Matt Rhoades, was making nearly $7,000 bi-monthly.
Others who, according to the FEC filings, have not been paid include finance chairman Steven Mnuchin, national political director Rick Wiley and senior adviser Barry Bennett, who were not available for comment. Nor were Manafort, Gates and Clark.
Many campaigns have volunteers who work as low-level ground troops, knocking on voters' doors and passing out campaign buttons. There are instances in other campaigns of senior staff opting not to draw a paycheck. For example, John Podesta, a longtime adviser to Clinton who is now her campaign chairman, considers his role honorary and does not draw a salary.
What is unusual, however, is for a campaign to have such a large group of people in top positions who are unpaid.
After Manafort resigned in August, Trump promoted his senior adviser and top pollster, Kellyanne Conway, to become his new campaign manager.
Before then, Conway ran a Super PAC affiliated with Texas Senator and Republican presidential candidate Ted Cruz. For work from June 2015 to June 2016, the Super PAC paid the firm she owns more than $700,000.
She officially joined the Trump campaign July 1. But so far, according to campaign finance reports that detail spending through July 31, Conway has not been paid by the Trump campaign.
She did not respond to a request for comment.
(Additional reporting by Emily Flitter; Editing by Cynthia Osterman)
Photo: Republican presidential nominee Donald Trump speaks at a campaign rally in Phoenix, Arizona, U.S., August 31, 2016.  REUTERS/Carlo Allegri