Trump Campaign Urges TV Producers To Silence His Critics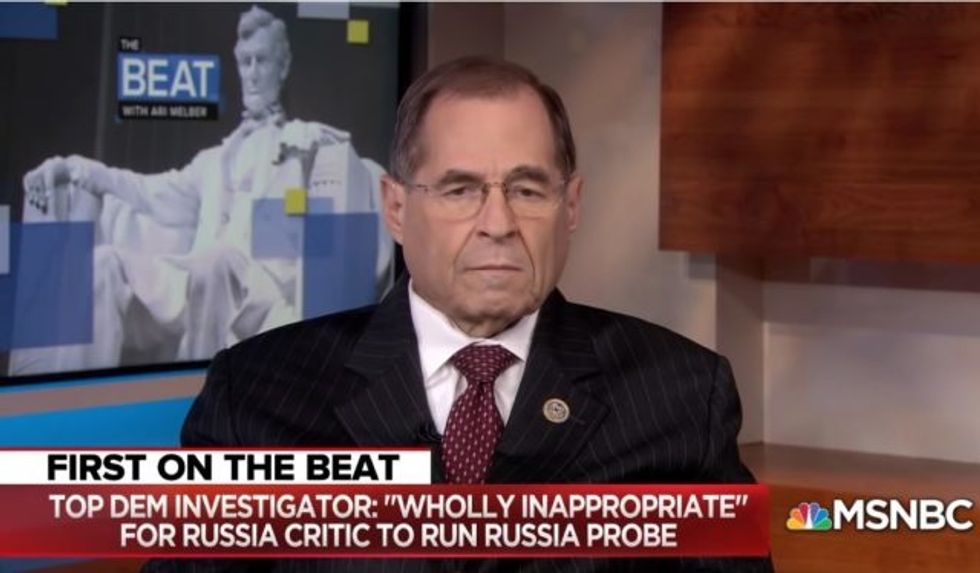 Talk about bad faith.
On Monday, the Trump campaign sent a memo to TV producers arguing that prominent Trump critics — including four Democratic members of Congress, the chair of the Democratic National Committee, and former CIA Director John Brennan — should be banned from appearing on news segments.
The reason? All six people have made comments about Trump and Russia that the Trump team disagrees with.
Tim Murtaugh, communications director for the Trump campaign, claims in the memo that Brennan, DNC Chair Tom Perez, Sen. Richard Blumenthal (D-CT), and Reps. Jerrold Nadler (D-NY), Adam Schiff (D-CA), and Eric Swalwell (D-CA), have all made "outlandish, false claims" about the likelihood that Trump or members of his campaign colluded with Russia on its election-meddling.
Murtaugh then begs producers to "employ basic journalistic standards" when considering whether these members of Trump's enemies list "warrant further appearances" — or, in other words, to never book them again. If producers do decide to book them, Murtaugh begs that anchors at least "challenge them to provide the evidence which prompted them to make the wild claims in the first place."
There's a lot to unpack here.
First of all, Trump is routinely represented on TV by serial liars like Kellyanne Conway, Sarah Huckabee Sanders, and Rudy Giuliani. Even if the claims about Trump critics lying were true, it would take a lot of chutzpah for the Trump campaign to try to take the high road on facts and truth.
But more to the point, the claims about lying aren't true.
The Trump campaign, like the Trump White House, is promoting the bogus idea that the Mueller report has completely exonerated Trump — even though almost no one, including the White House, has gotten the chance to read that report in full.
The only thing made public so far is a four-page summary of Mueller's report that is written by a biased source: William Barr, Trump's hand-picked attorney general.
And even that likely skewed summary included a quote from the Mueller report making clear that the report "does not exonerate" Trump on the question of obstruction of justice.
It's true that Barr's report also says the Mueller report "did not establish that members of the Trump Campaign conspired or coordinated with the Russian government in its election interference activities."
But we don't know what else the Mueller report said about the Trump campaign's dealings with Russia. And being unable to "establish" collusion beyond a reasonable doubt is not the same thing as saying there was no evidence for it.
That's what the six critics on the Trump campaign's list were talking about: evidence of collusion. And there's plenty of that — both in public reports, and potentially as part of investigations still being conducted by Congress.
It's hard to say whether the Trump campaign's stunt is more pathetic, or more scary. It's a chilling attempt to stifle freedom of the press, but it's also a flatly absurd gambit from a group of serial liars.
In other words, it's typical Trump behavior.
Published with permission of The American Independent.