Bill Clinton And Donald Trump Trade Insults In Bizarre Exchange
@reuters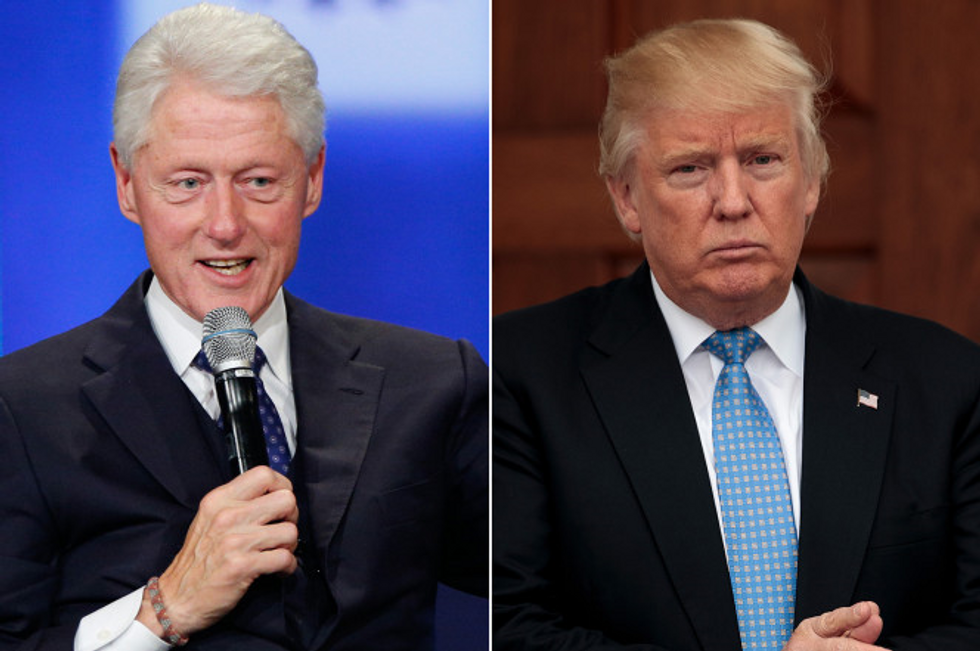 WASHINGTON (Reuters) – Donald Trump pounced on a reported comment from Bill Clinton, the former president and husband of his Democratic rival in the Nov. 8 election, in an usual exchange on Tuesday between future and former U.S. presidents.
Clinton, whose wife, Hillary, lost last month's election after spending millions of dollars more than her Republican rival, was spotted at a bookstore near the couple's hometown a suburb of New York City earlier this month. One person asked him, "Is Trump smart?" according to the editor of a local newspaper.
"He doesn't know much. One thing he does know is how to get angry, white men to vote for him," Clinton replied, according to the Record-Review of Bedford and Pound Ridge. Clinton also said he had received a telephone call from Trump the day after the November election, the newspaper said.
The report of the impromptu question-and-answer session was widely picked up on Monday.
Trump waited until Tuesday morning to hit back.
"Bill Clinton stated that I called him after the election. Wrong, he called me (with a very nice congratulations). He 'doesn't know much'…" Trump wrote on Twitter.
Trump added in a second post: "especially how to get people, even with an unlimited budget, out to vote in the vital swing states ( and more). They focused on wrong states."
Trump has used Twitter regularly as his megaphone on everything from personal beefs to U.S. policy on China. Trump's individual targets have ranged from Fox News anchor Megyn Kelly, whose questions during a presidential debate angered Trump, to the leader of an Indiana steelworkers union who disputed the number of jobs saved by a Trump deal in that state.
(Reporting by Doina Chiacu)