Convicted: A Coup Plotter Is Held Accountable For Contempt
@LucianKTruscott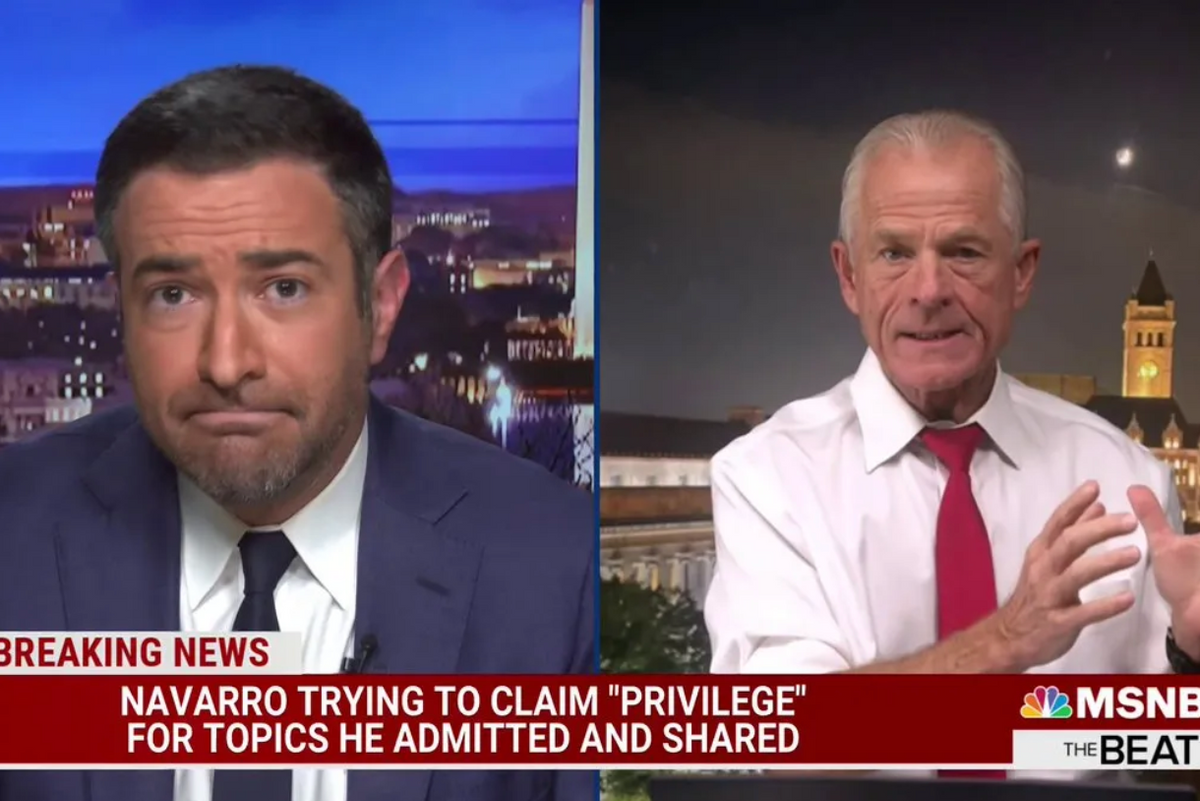 You know who I'm talking about: the human viewfinder image, Peter Navarro, who will show up for any interview on any show he's invited on – just ask Ari Melber on MSNBC – and even the ones he's not invited to, like his courthouse steps appearance after a jury returned a guilty verdict something like two hours after they were sent to the jury room by the federal judge overseeing Navarro's case.
Navarro was charged with contempt of Congress. He didn't bother responding to a subpoena from the House Select Committee on January 6 with even an email or text message. He just ignored their request for a deposition and any materials in his possession relating to his actions attempting to overturn the election results of 2020. It appears that he had a lot to say, spending copious quantities of time on Melber's show in his white shirt and tie with his sleeves pushed up, Jim Jordan-style. I'm surprised he didn't have to be treated for carpal tunnel syndrome from all the slapping of his palm he did with the edge of his other hand, bragging about the plan he and Steve Bannon set up to get fake electors from battleground states to interrupt the certification of electoral ballots on January 6 so that everything would somehow be sent "back to the states," where they could do whatever Bannon and Navarro told them to do, presumably.
They called the plan the "Green Bay sweep," after some long-forgotten football play invented by New Jersey's own Vince Lombardi, whose lifetime as a winning coach is celebrated, appropriately enough, with his name on a service area on the New Jersey Turnpike in Ridgefield Borough. For those too young to remember the brilliance of Coach Lombardi, the Green Bay sweep play went like this: The quarterback would hand off the ball to a running back, who ran parallel to the line of scrimmage behind blockers until turning up-field, continuing to follow the blockers.
It's hard to know how Navarro and Bannon saw themselves in this scenario – was Trump the quarterback running the play, with Navarro and Bannon blocking for the running backs, who were fake electors? Or were Navarro and Bannon the running backs? Even with all Navarro's appearances bragging about his Green Bay Sweep, he never got around to explaining who was who. Melber asked him one night, "You know you're describing a coup, right?"
Navarro just kept on slamming one hand into another explaining that if the play had gone the way it was supposed to, Trump would be president. The look on Melber's face as Navarro admitted to a felony on live television was, shall we say, memorable. Navarro also published a book blatantly describing the Green Bay Sweep and Trump's scheme to overturn the election – in short, all of the information he refused to provide to the House Select Committee.
Continuing the football analogy, Bannon stiff-armed the House Select Committee in the same way, refusing to show up for a deposition and not responding to the committee's request for documents. He was charged with contempt, convicted, and sentenced to four months in federal prison. He has appealed his conviction, and is out on bail. Navarro has announced that he, too, will appeal.
There is much, much more to come. Down in Georgia, the judge overseeing the indictment of Trump and his 18 co-defendants ordered the release of the report from the first grand jury that investigated the plot to overturn the election in that state. Trump, Meadows, and two or three other defendants have filed motions asking to have their trials moved to federal court. Sidney Powell and Kenneth Cheesebro, who asked for speedy trials, also moved for their trials to be severed from one another. The judge denied their motions, and they are scheduled to be tried on October 23. There is a question about whether Georgia law requires that all the defendants, including Trump, be tried on that date.
That needs to be resolved, and much more in Georgia, too.
Guilty verdicts are determined in courts of law, and so was Peter Navarro's. It is a dignified procedure, a judge reading aloud the finding of a jury of 12 citizens passing judgement on one of their fellow citizens. It's part of what pundits and politicians of at least one of our two political parties like to call the rule of law.
It sounds like this: CONVICTED.
Lucian K. Truscott IV, a graduate of West Point, has had a 50-year career as a journalist, novelist, and screenwriter. He has covered Watergate, the Stonewall riots, and wars in Lebanon, Iraq, and Afghanistan. He is also the author of five bestselling novels. You can subscribe to his daily columns at luciantruscott.substack.com and follow him on Twitter @LucianKTruscott and on Facebook at Lucian K. Truscott IV.
Please consider subscribing to Lucian Truscott Newsletter, from which this is reprinted with permission.