Trump Defends 'Incredible Patriots' Who Chanted 'Send Her Back'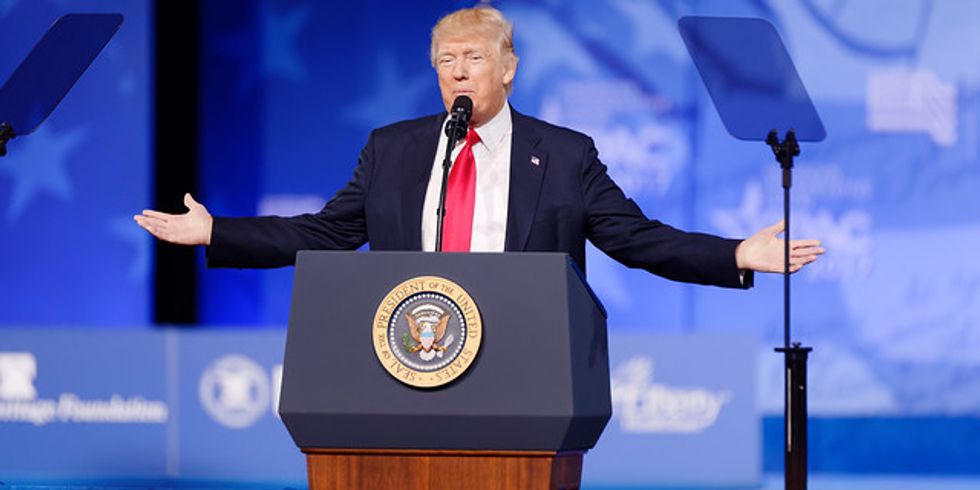 Reprinted with permission from Alternet.
Seeming to backtrack on his disavowal of the racist and fascist 'Send her back!" chants about Rep. Ilhan Omar (D-MN) that broke out this week at his campaign rally, President Donald Trump told reporters on Friday that the crowd was filled of "incredible patriots."
He has said Thursday that he was "not happy" about the chant that broke out the previous day, even though he has clearly prompted the sentiment by saying Omar, a refugee, and American citizen, should "go back" to her home country. He also targeted the attack at other progressive congresswomen of color who were born in the United States.
But on Friday, when asked about his "unhappiness" with the chant, Trump revved up his attacks against Omar and backed the crowd.
"No, you know what I'm unhappy with — the fact that a congresswoman can hate our country," Trump said, despite the fact that Omar said this week that she has "extreme love for every single person in this country."
He continued: "I'm unhappy with the fact that a congresswoman can say anti-Semitic things. I'm unhappy with the fact that a congresswoman, in this case a different congresswoman, can call our country and our people 'garbage.' That's what I'm unhappy with."
Defending the crowd (and grossly exaggerating its size), he said: "That stadium was packed, it was a record crowd. And I could have filled it 10 times, as you know.  Those are incredible people. Those are incredible patriots. But I'm unhappy when a congresswoman goes and says, 'I'm going to be the president's nightmare.' She's going to be the president's nightmare. She's lucky to be where she is. Let me tell you. And the things that she has said are a disgrace to our country. Thank you very much."