WATCH: Trump's Final Campaign Promise Is To Fire Dr. Fauci
@LauraClawson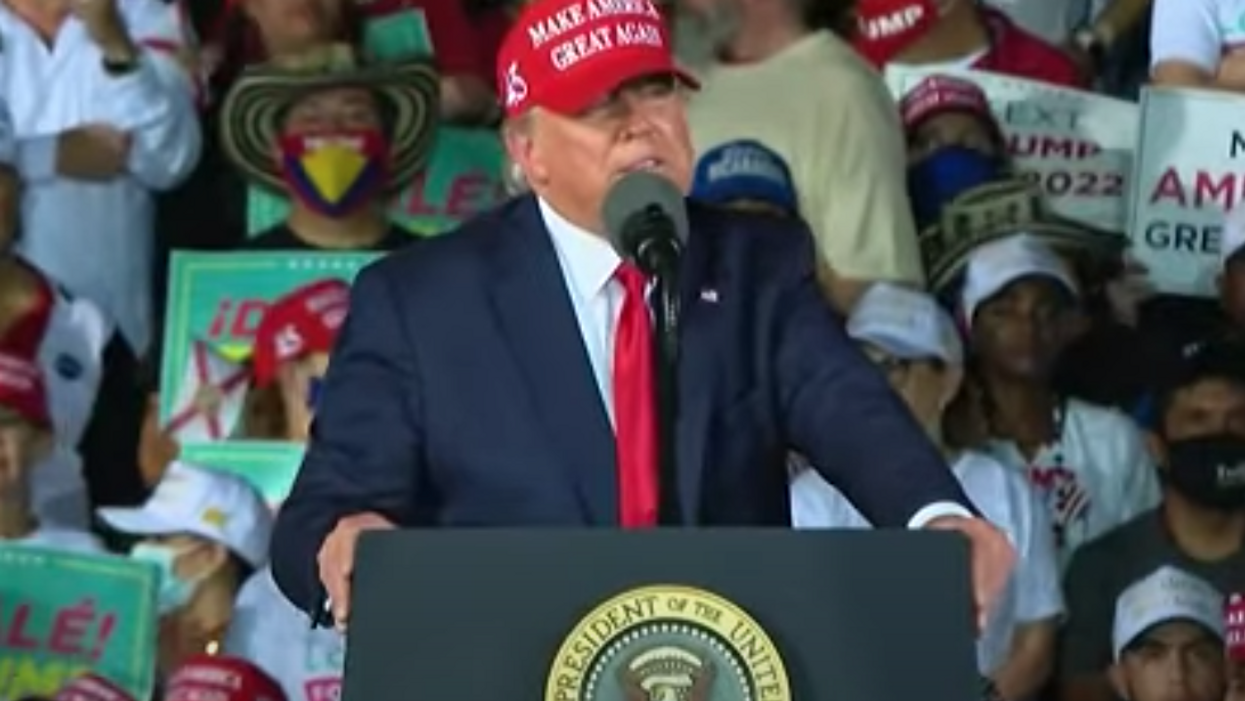 Screenshot from YouTube
Donald Trump is again doing the villain-in-a-bad-movie-giving-away-his-plan thing, coyly telling a rally crowd that yes, he plans to fire Dr. Anthony Fauci. Voters have a much more positive view of Fauci's handling of the coronavirus pandemic than of Trump's, so this is an interesting move in the final days before the election.
At a Sunday night rally in Opa-Locka, Florida, when Trump again falsely promised that the United States is "rounding the turn" on the pandemic, the crowd responded by chanting "Fire Fauci." No doubt just a spontaneous, organic kind of thing. Trump's response: "Don't tell anybody, but let me wait 'til a little bit after the election."Fauci is a career civil servant who Trump cannot directly fire. He would have to pressure a political appointee into doing so, and Fauci could then appeal.
Trump's exchange with the crowd comes after Fauci told The Washington Post that Joe Biden's campaign is taking the pandemic "seriously from a public health perspective," while Trump is "looking at it from a different perspective." The U.S., Fauci said, is "in for a whole lot of hurt. It's not a good situation" as COVID-19 spreads, and: "All the stars are aligned in the wrong place as you go into the fall and winter season, with people congregating at home indoors. You could not possibly be positioned more poorly."
White House spokesman Judd Deere was outraged at the nerve, saying it was "unacceptable and breaking with all norms for Dr. Fauci, a senior member of the President's Coronavirus Taskforce and someone who has praised President Trump's actions throughout this pandemic, to choose three days before an election to play politics." (Where "playing politics" = describing reality.)
But Trump has been taking aim at Fauci for weeks or even months, angry that someone is pushing back against his desire to pretend the virus will go away, and polling better than he is while doing so. Now we have confirmation from his own pursed lips: The post-election plan includes trying to fire Fauci and do away with one of the few prominent voices in the federal government reliably pushing for a true public health response.
Crowd chants "Fire Fauci" and the President says "Don't tell anybody but let me wait till a little bit after the el… https://t.co/Xf41meg7aa

— Acyn Torabi (@Acyn Torabi) 1604293947.0
Biden, by contrast:
We need a president who actually listens to experts like Dr. Fauci.

— Joe Biden (@Joe Biden) 1604323860.0