Trump Tweets Petty Attack On Fauci Over '60 Minutes' Interview
@alexvhenderson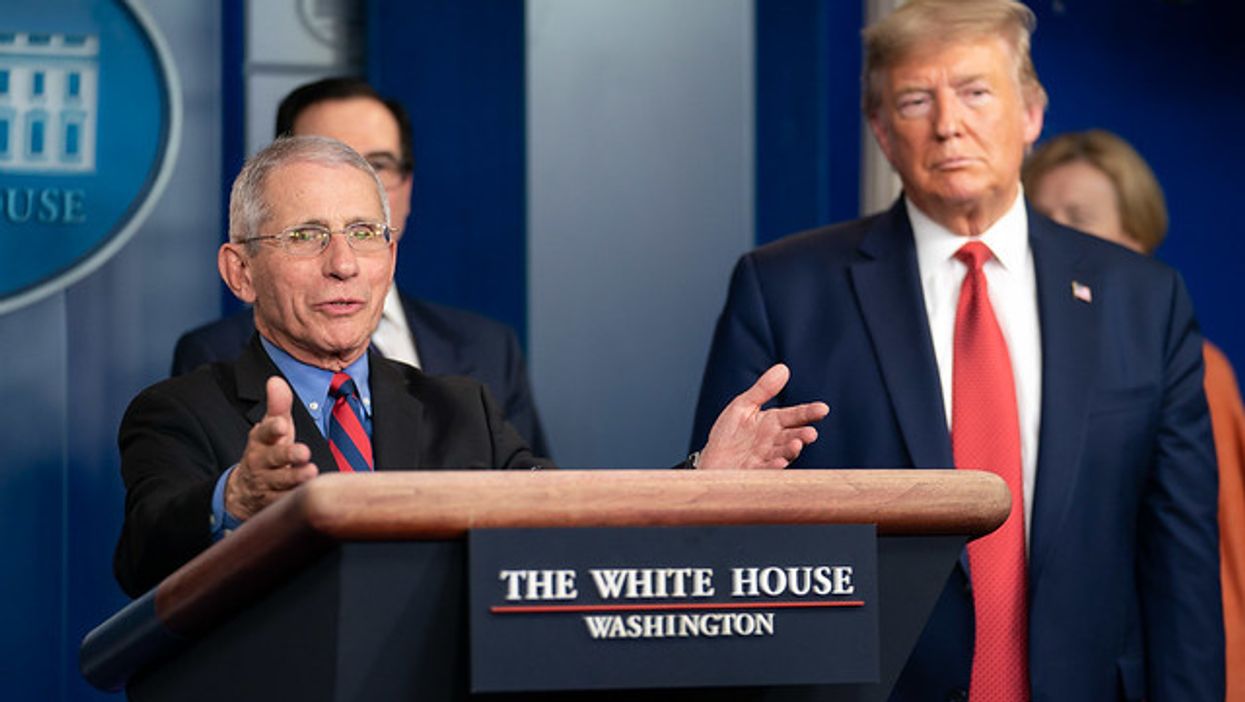 Official White House photo
Reprinted with permission from Alternet
On Monday, President Donald Trump fired off tweets attacking Dr. Anthony Fauci — who has sounded increasingly critical of the president. Fauci has earned widespread trust from the public as one of the top government officials in the response to the coronavirus pandemic, while Trump is seen as an unreliable source of information on the crisis. But Trump decided to attack Fauci — in the last weeks before an election, no less — not simply about policy disagreements but on a petty and personal level.
During an interview for CBS News' 60 Minutes that aired on Sunday night, Fauci candidly said that he wasn't surprised that Trump was recently infected with COVID-19 and that he wishes the president had been more careful. Trump, Fauci emphasized, could be doing a lot more to promote the use of protective face masks. Fauci has also said, as news outlets have reported, that he's been prevented from appearing before the media on numerous occasions.
---
Trump apparently wasn't happy with these remarks, tweeting on Monday: "Dr. Tony Fauci says we don't allow him to do television, and yet I saw him last night on @60Minutes, and he seems to get more airtime than anybody since the late, great, Bob Hope. All I ask of Tony is that he make better decisions. He said 'no masks & let China in.' Also, Bad arm!"
Trump has previously claimed that Fauci opposed the restrictions the president placed on travel from China in late January (he also exaggerates the effectiveness and importance of this move, which quite clearly did not stop the virus from coming to the United States.) But Fauci was on the record in support of the restrictions at the time. It's true that Fauci, like most of the public health community, was slow to realize the importance of widespread mask-wearing and even discouraged its use by ordinary people at the start of the pandemic. But that was the unanimous position of the administration's public health agencies, which Trump oversees, so he cannot escape blame for this grave error. And since public officials changed their minds and advocated universal mask-wearing, Trump himself has continued to cast doubt about the measure and demonstrably discouraged his followed from taking this vital precaution.
The "bad arm" part of the tweet was a baseball reference. Although the 79-year-old Fauci is a Brooklyn native, he has lived in Washington, D.C. for half a century — and in July, the city's baseball team, the Washington Nationals, announced that Fauci would be throwing the first pitch of the 2020 Major League Baseball season.
"Tony should stop wearing the Washington Nationals' Mask for two reasons," Trump continued. "Number one, it is not up to the high standards that he should be exposing. Number two, it keeps reminding me that Tony threw out perhaps the worst first pitch in the history of Baseball!"
Not surprisingly, Trump is being mocked on Twitter for his Fauci-related posts.
Travel author Kyle Robert James, @KyleRobertJames, tweeted, "This is a level of petty I hope to one day achieve." And Twitter user Frank Amari, @FrankAmari2, posted, "With each new day, this President gives new meaning to 'National Embarrassment' — to which @JPaulMurdock responded, "Make that International Embarrassment." Another Twitter user, @aosprague, posted, "That super hip reference to Bob Hope will totally draw in the younger voters."