Is Trump Under Federal Investigation—Or Not?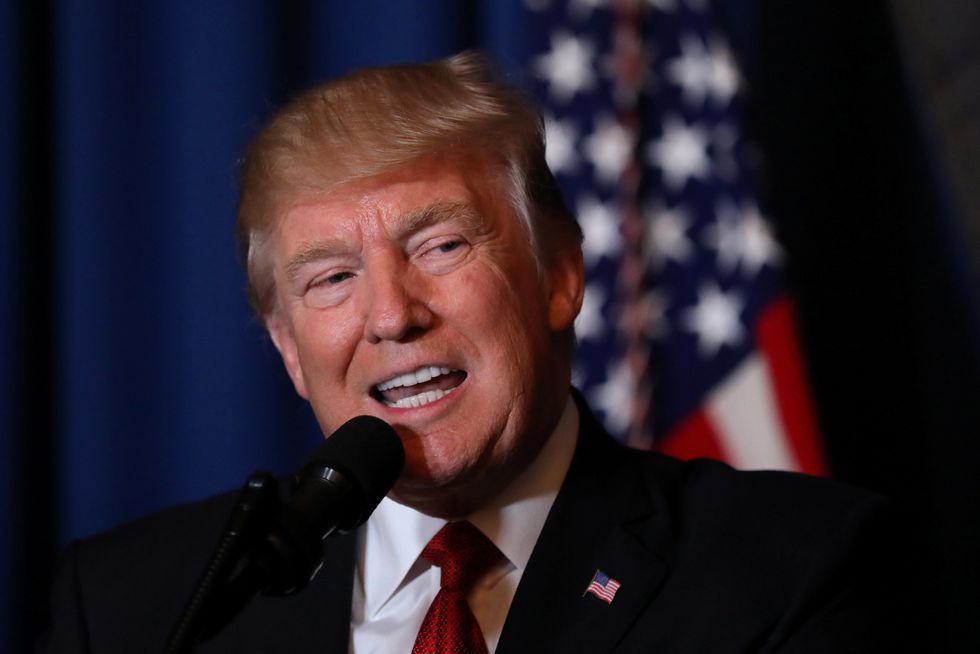 Reprinted with permission from Alternet.
The news out of Washington can be so confusing.
President Trump IS under investigation for obstruction of justice in the ongoing inquiry into possible collusion between Trump's entourage and Russian officials, the  Washington Post reported last week:
The move by special counsel Robert S. Mueller III to investigate Trump's conduct marks a major turning point in the nearly year-old FBI investigation, which until recently focused on Russian meddling during the presidential campaign and on whether there was any coordination between the Trump campaign and the Kremlin.
The Post story cited five anonymous U.S. "officials" as the source.
President Trump is NOT under investigation, former FBI director James Comey told Congress—at least not when Comey was running the investigation. Comey, however, was careful not to rule out the possibility that Trump might become a target in the future.
President Trump IS under investigation, tweeted President Trump last week.
I am being investigated for firing the FBI Director by the man who told me to fire the FBI Director! Witch Hunt

— Donald J. Trump (@realDonaldTrump) June 16, 2017
President Trump is NOT under investigation, said Jay Sekulow, Trump's personal lawyer, the next day.
"Let me be clear here, as it has since the beginning," said Sekulow, "the president is not and has not been under investigation for obstruction."
Confusion
If you are confused, that's the point. In the annals of Washington sophistry, the story of the (non) investigation of President Trump is the story of our times: Rome is burning, and the lawyers are hard to believe.
Comey is a showboating bully and a man prone to flamboyant and inappropriate actions, as Hillary Clinton learned twice during the election. He looks like an NBA All-Star who wants to kick your door down, albeit politely. Since there was no advantage for Jim Comey to say Trump was under investigation, Comey didn't say it.
Sekulow is a hired gun of the Christian right. He has only one job: keep his client out of jail, and his success is far from assured. Like Comey, Sekulow has good reason to deny Trump is investigation (even if he is).
On the other hand, both Trump and the Washington Post have self-interested reasons for their claims. The embattled populist president and the liberal journalistic watchdog both benefit from the idea that the man in the Oval Office is under investigation—even if there's no official confirmation and it's supposedly illegal to talk about such things.
The Post can say it is speaking truth to power. Trump can say he's speaking truth to the Deep State.
It's a Washington version of charades, in which each player does a pantomime and everyone else tries to guess their true meaning.
'Soft Coup'
In fact, there is little doubt that Trump IS under investigation for obstruction of justice. The proof is Mueller's recent reported (and not denied) interrogation of Dan Coats, director of National Intelligence, and Admiral Mike Rogers, director of the National Security Agency.
The two men testified to Congres last week, but refused to divulge the substance of their conversations with the president, much to the annoyance of several senators. So Mueller called Rogers and Coats to provide closed-door testimony where they could be less coy.
According to CNN, Coats and Rogers, "described their interactions with the president about the Russia investigation as odd and uncomfortable, but said they did not believe the president gave them orders to interfere, according to multiple sources familiar with their accounts."
CNN's account echoed Coats' and Rogers' carefully hedged statements to Congress last week, to wit, "Trump behaved strangely, but we never felt pressured."
The beauty of this formulation—at least for Coats and Rogers, who wish to keep their jobs in the Trump administration—is that it won't alienate Trump, while signaling to Mueller that they didn't want to be party to obstruction of justice.
I would not be surprised if Coats and/or Rogers themselves were the leakers.
What's Going On Here?
The story that President Trump is "under investigation" is a cover for deeper machinations, according to former CIA analyst Ray McGovern on the left, and Sean Hannity, Fox News host on the right.
"A Soft Coup Is Underway in Washington," McGovern wrote on Monday.
"A Soft Coup Is Underway in America," Hannity cried on Tuesday.
In this ambidextrous talking point, Mueller is the tool of the secretive government agencies who supposedly want to get rid of Trump because he doesn't like NATO and does like Putin. While rhetorically attractive, the concept of a "soft coup" is glib and ahistorical.
To state the obvious, the special prosecutor is not part of the Deep State. Mueller was not, and is not employed by one of the secretive agencies. He reports to the Justice Department, not the CIA or the NSA. His record as FBI director is a matter of public record. We even know the names of his colleagues and their political leanings. He is required to submit a public report on his findings.
The functioning of America's secretive agencies is rarely so transparent.
Judge Walsh
What's more, the special prosecutor has served as a bulwark against the secret state in the past.
In the Iran-contra scandal of the late 1980s, the special prosecutor was federal judge Lawrence Walsh, a Republican from Oklahoma who had a reputation akin to Mueller's: a stodgy straight arrow, a stickler for the law.
Walsh took on the secret government like few U.S. officials have ever dared. He identified and investigated a high-level conspiracy of Reagan White House, CIA and Pentagon officials who sought to subvert the will of Congress in order to wage counterrevolutionary war in Central America. Walsh even indicted four top former CIA officials, only to see them pardoned by the first President Bush in 1992. His final report on the Iran-contra scandal is by far the most incisive official account of that particular constitutional crisis.
We don't know if Mueller is another Judge Walsh, but to depict him, a la Hannity and McGovern, as a "Deep State" conspirator is a facile favor to the Bannonite ideologues who seek to conflate the Deep State with liberal government and the civil service, the better to discredit Trump's enemies.
Where Is The Story Going?
Other news reports indicate that Mueller also heard testimony from a career NSA official named Richard Ledgett, who is a pure product of the national security bureaucracy. Ledgett recently retired, which means he doesn't have to worry about losing his job.
According to CNN, Ledgett wrote a memo, "documenting a conversation in which President Donald Trump allegedly urged Rogers to help get the FBI to lift the cloud of the Russia investigation."
"Lift the cloud" is what Trump asked Comey to do in May. Comey refused and was fired. Comey's account of his meeting with Trump then became Exhibit A in Mueller's obstruction-of-justice investigation of President Trump.
Ledgett's "lift the cloud" memo is Exhibit B. I expect it will be leaked soon.
This article was made possible by the readers and supporters of AlterNet.