Trump Forced Park Service To Doctor Photos Of Inauguration
@EricBoehlert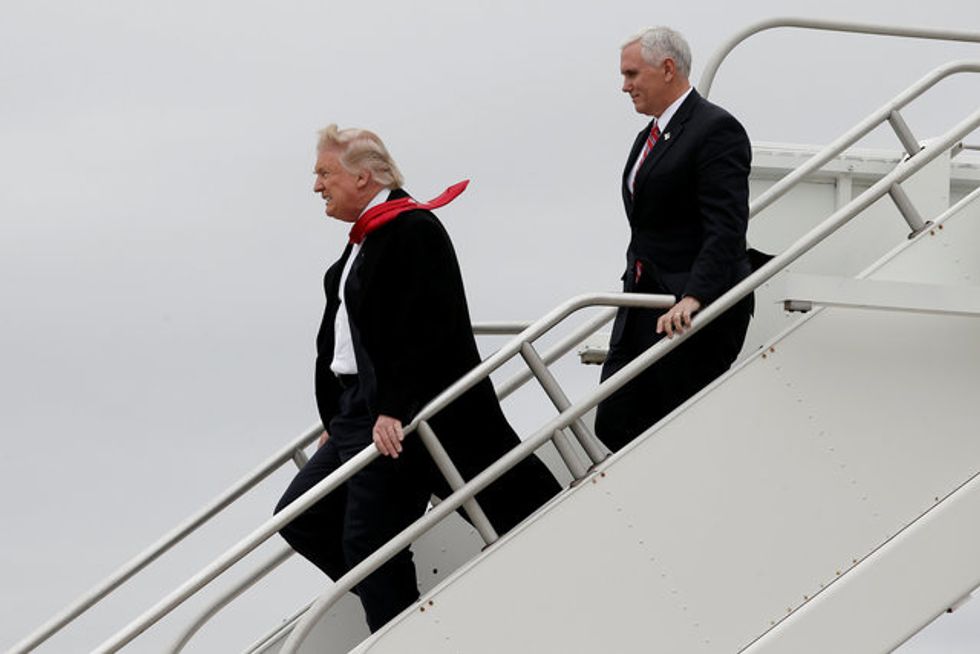 Reprinted with permission from Shareblue.
Trump's anxiety about not being able to measure up to President Barack Obama flared up on Trump's very first day in office.
Angered by images that showed the crowd for Obama's inauguration in Washington, D.C. had dwarfed the embarrassingly small turnout for Trump's, the Republican narcissist immediately demanded a government agency produce new images from the day that made him look more popular.
To pull that off, a photographer for the National Park Service had to crop inauguration pictures to try to eliminate the vast empty spaces and make the event look less sparsely attended.
And that's how Trump's sad first day in office unfolded.
"Sean Spicer, then White House press secretary, called NPS officials repeatedly that day in pursuit of the more flattering photographs," The Guardian reports.
The Guardian filed a Freedom of Information Act request to obtain a report from the inspector general of the US interior department on how the White House's petty obsession took shape that day.
The documents reveal that Trump himself called the head of the National Park Service, demanding new images, after social media lit up with photographs contrasting the huge crowds at Obama's inauguration with the much sparser ones at Trump's.
Soon a government photographer, who had already covered Trump's swearing in, was sent back to his office to work on Trump's request for more favorable images.
"He said he edited the inauguration photographs to make them look more symmetrical by cropping out the sky and cropping out the bottom where the crowd ended," The Guardian reports. "He said he did so to show that there had been more of a crowd."
That evening, Spicer made perhaps his most infamous appearance in the White House press briefing room, when he bizarrely berated the media for not reporting that Trump's inauguration had been a massive, historic success.
"This was the largest audience to ever witness an inauguration — period," Spicer falsely announced, before departing the room without taking any questions from befuddled reporters.
The charade was so absurd, it sparked "Saturday Night Live" to immortalize Spicer's brand of clumsy, angry lies.
For the record, the New York Times conferred with a crowd size expert in 2017, who determined the modest Trump turnout had been "about a third of the size of Mr. Obama's in 2009."
Trump's been falling short of Obama ever since.
Published with permission of The American Independent.