Trump: I Won't Yell Out Curse Words As President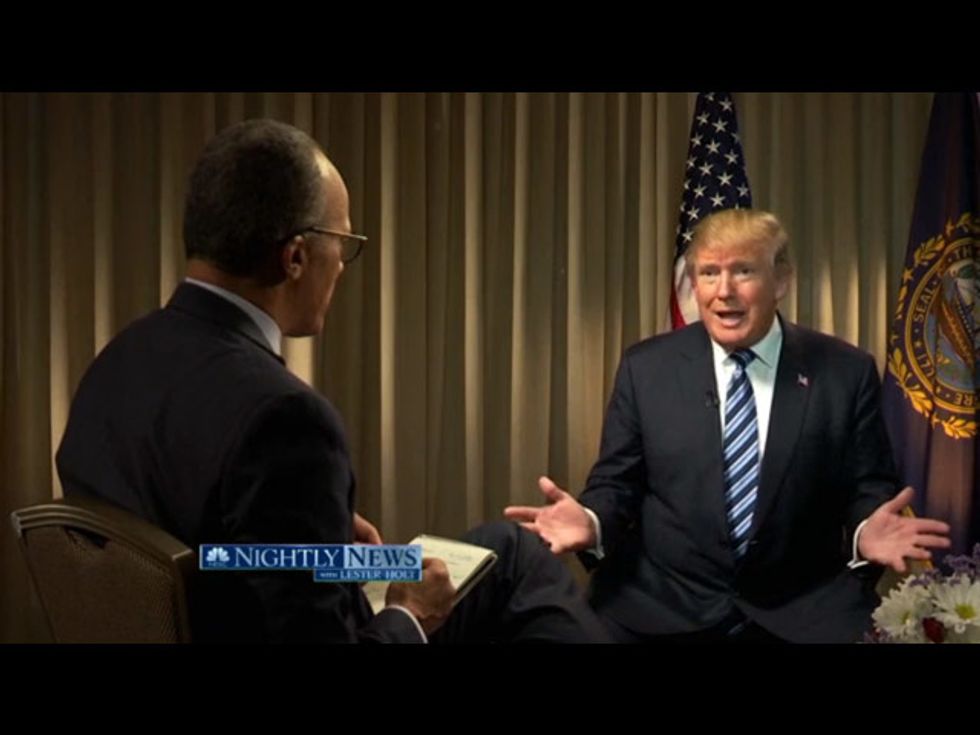 It has come to this.
In an interview Tuesday with NBC News, conducted some time before the polls closed in New Hampshire, Donald Trump sounded as if he was telling Lester Holt that he would stop being the obscenity-spewing carnival maestro that people have come to recognize — once he's actually elected president, that is.
The interview came after Trump gladly repeated a vulgar heckle against one of his main rivals, Ted Cruz. A woman shouted out at a Trump campaign event New Hampshire that Cruz was a "pussy."
"I'm wondering to myself," Lester Holt asked, "would you say that as president of the United States—"
"No," Trump interrupted.
"—with that seal on that podium?"
"Much different, much different."
"So are you gonna be a different guy as president than the one we see on air?" Holt responded.
Trump then reminded everyone of his high-class background — and his high-class genetics.
"I went to the best school, I had — you know, I was a good student. I have an uncle who was, you know, one of the top, top professors at MIT," he explained. "I mean, There's a good gene pool right there. I have to do what I have to do, right?"
"So is this an act?"
"No, it's not an act. Last night I had thousands of people. We had a great time. And it wasn't my word, it was a word that a woman kept shouting," Trump said. "And she was shouting it — and I repeated, I only repeated the word — and the place was wild. A standing ovation, everybody loved it."
"But that doesn't mean it was in good taste."
"No, but I'll tell you what: When you're president, or you're about to be president, you would act differently."
To give some context here: Trump and his audience were inspired to insult Cruz because the Texas senator isn't fierce enough in advocating a return to waterboarding and other forms of torture.