Trump Immigration Policies Are A Boon For Private Prisons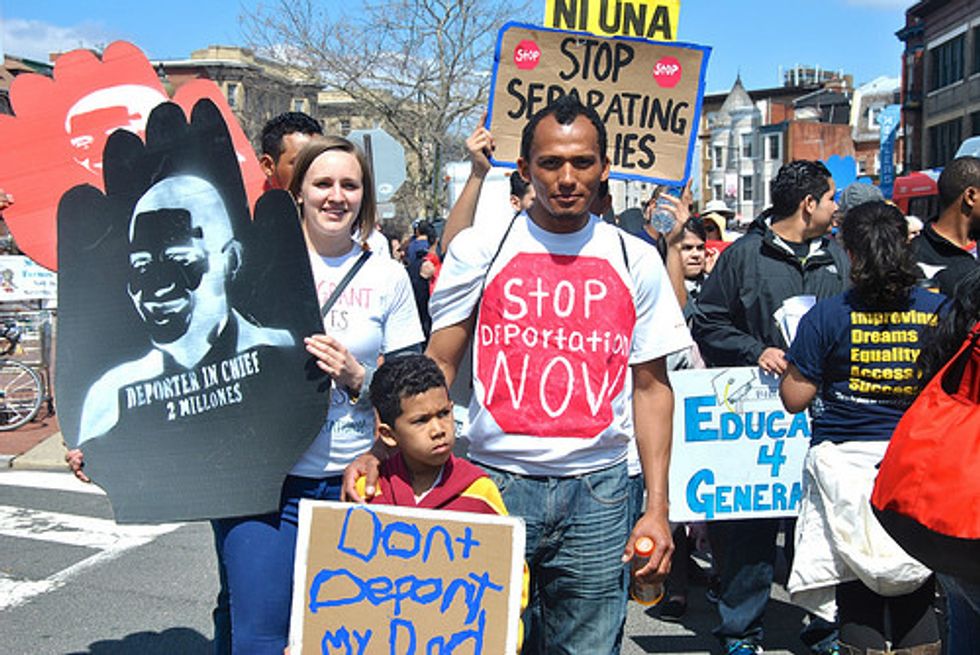 Reprinted with permission fromAlterNet.
While President Trump has repackaged his Muslim travel ban to appease the military and the courts, his administration is expanding the use of private prison facilities to handle a massive increase in deportation and is considering a policy of separating women and children who illegally cross the border, according to news reports.
The revised travel ban has received most of the attention, but the new policies on detention will probably affect many more people.
The expansion of detention facilities, first reported by MSNBC, would increase the government's reliance on the private prison company Corrections Corporation of America (recently rebranded as CoreCivic). Conditions in the facilities have been criticized by immigration lawyers as inhumane.
In a town hall with Department of Homeland Security staffers last month, John Lafferty, chief of the DHS asylum division, said the agency had already located 20,000 beds for the indefinite detention of those seeking asylum, according to MSNBC.
"This would represent a nearly 500 percent increase from current capacity," reported MSNBC's Chris Hayes and Brian Montopoli.
The proposal to separate women from children is designed to deter mothers from migrating to the United States with their children, officials told Reuters.
"The policy shift would allow the government to keep parents in custody while they contest deportation or wait for asylum hearings. Children would be put into protective custody with the Department of Health and Human Services, in the 'least restrictive setting' until they can be taken into the care of a U.S. relative or state-sponsored guardian," said the Reuters report.
A July 2016 federal court decision requires that immigrant children should be released from detention as quickly as possible, but permits continued detention of their parents. To comply with that order, the Obama administration implemented a policy of holding women and children at family detention centers for no more than 21 days before releasing them.
The Trump administration is considering changing that policy. The expanded detention facilities would accomodate the increase in mothers separated from their children.
"Bottom line: separating mothers and children is wrong," said Rep. Henry Cuellar, a Texas Democrat whose district borders Mexico. "That type of thing is where we depart from border security and get into violating human rights."
About 54,000 children and their guardians were apprehended between Oct. 1, 2016, and Jan. 31, 2017, according to Reuters, more than double the number caught over the same time period a year earlier.
Jefferson Morley is AlterNet's Washington correspondent.
IMAGE: ndlon / Flickr