Trump Interview Confirms Again His Awful Character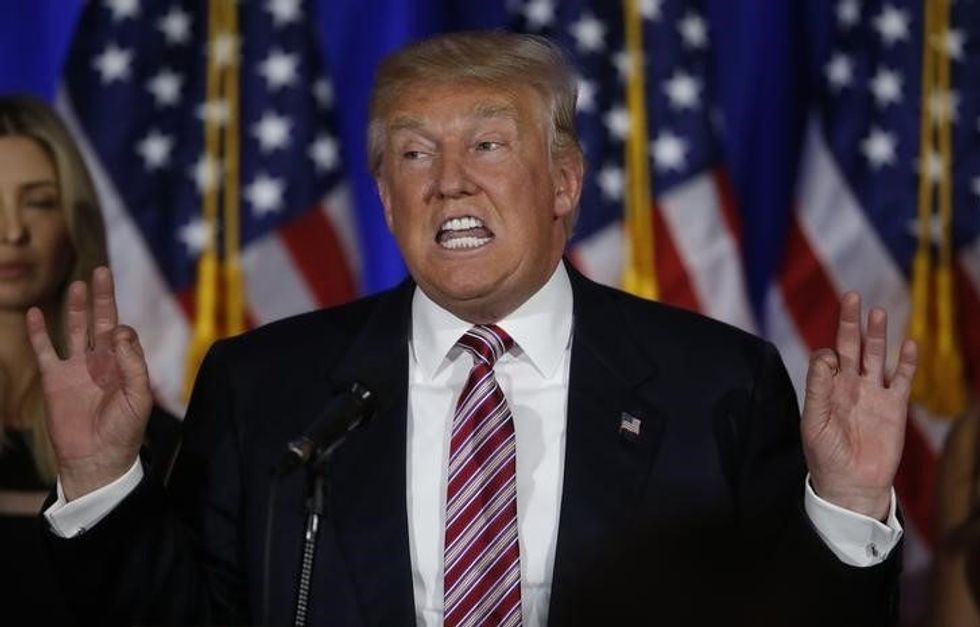 Reprinted with permission from AlterNet .
Donald Trump sat down with Forbes magazine this week, and as with all of his interviews, it's a real doozy. Perhaps the only expectation Trump has ever exceeded is that he'd be the worst president in modern history, and each of these remarks reminds us why. The man is wrong on stats, wrong on facts, incompetent at his job, and just an all-around terrible person.
Here are eight of his more deranged moments, affirming the shallow, petty and ignoble motivations that guide his presidency.
1. He challenges his secretary of state to an IQ test.
Rex Tillerson reportedly called Trump a "moron" (or to be more specific, a "f**king moron"), a phrase that has been uttered about Trump billions of times by people in his administration and around the world . Obviously still smarting from having a staffer state the obvious, Trump suggested perhaps he and Tillerson should take an IQ exam to prove he's smarter, as adult human beings are wont to do.
"I think it's fake news, but if he did that, I guess we'll have to compare IQ tests. And I can tell you who is going to win."
Yes, the winner will be anyone but you.
2. He brought his gauche gold obsession to the White House.
"The Oval Office," Forbes points out, has been "freshly renovated with drapes, carpet and fixtures that lean heavily on gold."
3. He's still lying about his legislative success as a president.
"I've had just about the most legislation passed of any president, in a nine-month period, that's ever served. We had over 50 bills passed. I'm not talking about executive orders only, which are very important. I'm talking about bills."
Like most Trump claims, this is false. Forbes notes it's "a dose of hyperbole"—a nice of way of labeling a lie—"that any student of FDR or even Barack Obama could undercut." The New York Times also previously rebutted this Trump fabulation.
President Jimmy Carter signed 70 bills in [just] the first six months, according to an analysis of bills signed by previous White House occupants. Bill Clinton signed 50….Mr. Truman and Franklin Delano Roosevelt both had signed more bills into law by their 100-day mark than Mr. Trump did in almost twice that time. Truman had signed 55 bills and Roosevelt had signed 76 during their first 100 days.
CNN adds even more on just how hollow and misleading Trump's contention is, noting that the bills he's passed are mostly just congressional rollbacks of regulations imposed by the Obama administration, the erasure of America's first black president's legacy (and if he had his druthers, existence) being Trump's singular obsession. Compare that with the major legislation Obama had passed at this juncture in his presidency, which the Times points out included "an $800 billion stimulus program to confront an economic disaster, legislation to make it easier for women to sue for equal pay, a bill to give the Food and Drug Administration the authority to regulate tobacco and an expansion of the federal health insurance program for children."
4. He displays a general difficulty with words.
While discussing plans to penalize companies that move abroad, Trump attempts to use the word "reciprocity." He fails, to wit:
"What I want to do is reciprocal. See, I think the concept of reciprocal is a very nice concept ."
This isn't the first time Trump has struggled with the word "reciprocity." Back in May, during the same interview in which he lied about coining a phrase that's been in use since the 1930s, Trump also flubbed the term. ("We need reciprocality in terms of our trade deals.")
But Trump isn't one to learn from his mistakes, no matter how insignificant.
5. He lies about the United States' GDP in another failed attempt to diminish President Obama.
At one point, Trump boasts that the gross domestic product last quarter hit 3.1 percent, claiming, "Obama never hit the number." Trump is, as always, wrong, and Forbes reporter Randall Lane sets him straight.
When informed that his predecessor did [hit 3.1 percent GDP], several times, Trump pivots immediately. "He never hit it on a yearly basis. Never hit it on a yearly basis. That's eight years. I think we'll go substantially higher than that. And I think this quarter would have been phenomenal, except for the hurricanes."
6. He lies about praise for his hurricane response efforts, which were abysmal.
"Well, I've gotten very high marks for the hurricanes," Trump tells Forbes, which is patently untrue. As casualties mount and 90 percent of the island of Puerto Rico remains paralyzed without electricity and basic resources, San Juan Mayor Carmen Yulín Cruz has had to plead for aid from this administration, taking to Twitter as recently as Monday out of desperation.
Trump ignored the disaster for nearly a week—he was busy warring with NFL players protesting racial injustice—and when he finally did pay attention, it was to tweet insults, make excuses and demand adulation . On two separate weekends, as Puerto Ricans continued to send out help requests, Trump visited his golf club to chillax. The whole heartbreaking spectacle has motivated other organizations to step up and fill the immense void that is Trump's failure, including Oxfam America and a German renewable power storage company , which are taking on disaster relief the Trump administration neither cares nor can be bothered to provide.
7. He continues to try to make Obamacare a problem.
Trump's fixation with Obama again surfaced during the interview on the subject of health care. Trump refers to Obamacare as "a total mess," which is par for the course with the GOP. But when asked if he will ensure the program serves Americans as well as possible until a better alternative is drafted, Trump suggests his administration will do less than the bare minimum, hinting it will hobble the program to harm his predecessor's legacy.
"What we're doing is trying to keep it afloat, because it's failing," he says. "I mean the insurance companies are fleeing and have fled. They fled before I got here. But with that being said, no, Obamacare is Obama's fault. It's nobody else's fault…I've always said Obamacare is Obama's fault. It's never going to be our fault."
8. Trump admits he couldn't really care less about keeping the country running smoothly.
Sixty-three million people voted for this man (never forget!), who has no scruples or principles, and who couldn't care less how this country fares:
The same approach comes through in foreign policy, again and again, whether it's the Iran deal, the Paris climate agreement or, especially, free-trade deals. Doesn't he feel a responsibility to honor agreements from previous administrations?

President Trump has a quick response: "No."

It's a dangerous precedent: an America where each administration, rather than building on the agreements of its predecessors, undoes each other's deals—effectively undermining the authority of any American head of state. Again, Trump shrugs.
Kali Holloway is a senior writer and the associate editor of media and culture at AlterNet.