Trump Just Catfished Himself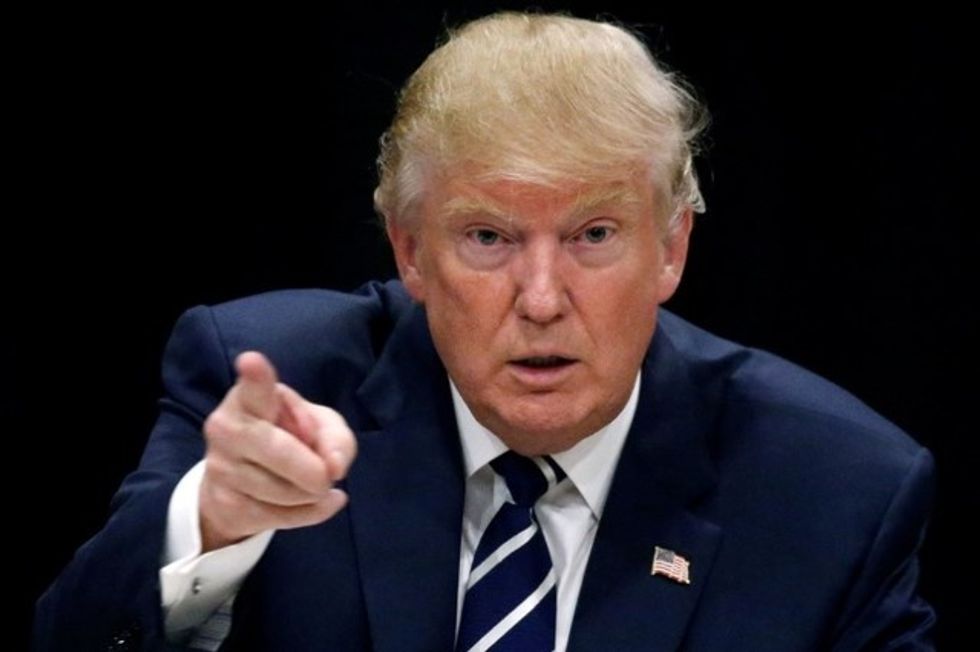 Reprinted with permission from AlterNet.
Like pretty much everything else about his presidency, Donald Trump's Twitter following is a lie. His social media fan base is mostly made of fake accounts; his legion of followers overwhelmingly comprised of automated bots. This weekend, Trump inadvertently reminded us how phony his social media popularity is when he shined a light on what he erroneously believed was an adoring supporter. That Trump booster turned out be a Twitter bot—just one of the millions of fake accounts that exist solely to bolster the popularity of the most unpopular president in American history. On the heels of the president basically catfishing himself, Twitter has since suspended the fake account and a slew of others just like it.
Here's how we got here: On Saturday, a Twitter account with the handle @ProTrump45 tweeted a meme declaring that "Trump fights for us," along with the message, "Trump working hard for the American people….thanks to Trump." In response, Trump sent a thank-you message to the account, which was attached to a profile attributing ownership to a woman named "Nicole Mincey." It didn't take long for the hivemind internet to discover that Nicole Mincey ran a virtual store also named ProTrump45 that sells Trump-branded merchandise.
As Twitter user @Rschooley pointed out in a lengthy but brilliant thread, Nicole Mincey is not a real person. The image of her supposed face actually belongs to a model who appeared on PlaceIt, a site that will put anything you want on the front of a T-shirt. Nicole Mincey was just one of countless PlaceIt models whose images had somehow been transformed into a legion of Trump Twitterbots.
But that's not all. Numerous members of the conservative mediasphere have been duped by these fake bots, and by @ProTrump45 in particular. Because the image associated with "Nicole Mincey"—again, not a real person but a case of online identity theft gone viral—is African-American, right-wing websites fell over themselves to feature her (totally fake) story of a formerly liberal, Obama-supporting black woman who now couldn't post enough about how much she loves Trump.
Tucker Carlson's Daily Caller published a piece by someone using the name "ProTrump45" which fabricates a background for "Nicole Mincey" filled with black stereotypes and white conservative talking points about bootstrap-pulling. In May 2017, a conservative radio program aired an interview with someone pretending to be Nicole Mincey who promised that black millennials were getting on the Trump train. (Another station, WVOX, interviewed the same person, according to Talking Points Memo.) Apparently, right-wingers are having such a hard time finding black Trump supporters that now they're just making them up. White conservatives have never had much use for African Americans, but this seems to take that attitude to all new levels.
Heavy did some digging and located the real woman at the center of all this whose identity has been misused:
Heavy set out to unravel the mystery of "Nicole Mincey" and was able to trace the "Nicole Mincey" persona to a real college student in New Jersey who has a different, albeit similar, name and a social media presence of her own that includes many family and school-related photos. That 21-year-old college student from Newark first asked Heavy to remove her "real name" from a story on the controversy and then alleged her Facebook account was hacked and her identity stolen and used to create the Nicole Mincey persona by some unknown party (her photos do not match that of the model). She also claimed that she has never sold Trump merchandise; among other online links, her name and the name of Nicole Mincey appeared together in the profile description of a GoFundMe site established through the college student's Facebook page to raise money for "Young Black Republican" causes, and the college student's real name appeared on a Trump store contact page tied to the ProTrump45 brand. Furthermore, a press release for the GoTrump45 merchandise site lists "Nicole Mincey" as the media contact person and also lists the address of the real college student's university mailroom in Jersey City, New Jersey. Heavy is not naming her in this article since she claims to be a victim of identity theft, which she said she is taking up with police on Monday.
By Sunday, Twitter had suspended @ProudTrump45 as well as numerous other associated fake accounts. In classic Trump style, despite the kerfuffle of the last few days, his thank-you to Nicole Mincey remains up on Trump's page. Why admit you're wrong or acknowledge what we all know? When you don't actually care about the truth, there's no reason to pretend you even wanted to know it.
Kali Holloway is a senior writer and the associate editor of media and culture at AlterNet.