Trump Keeps Pushing Latinos Out Of The GOP, Despite Their Electoral Significance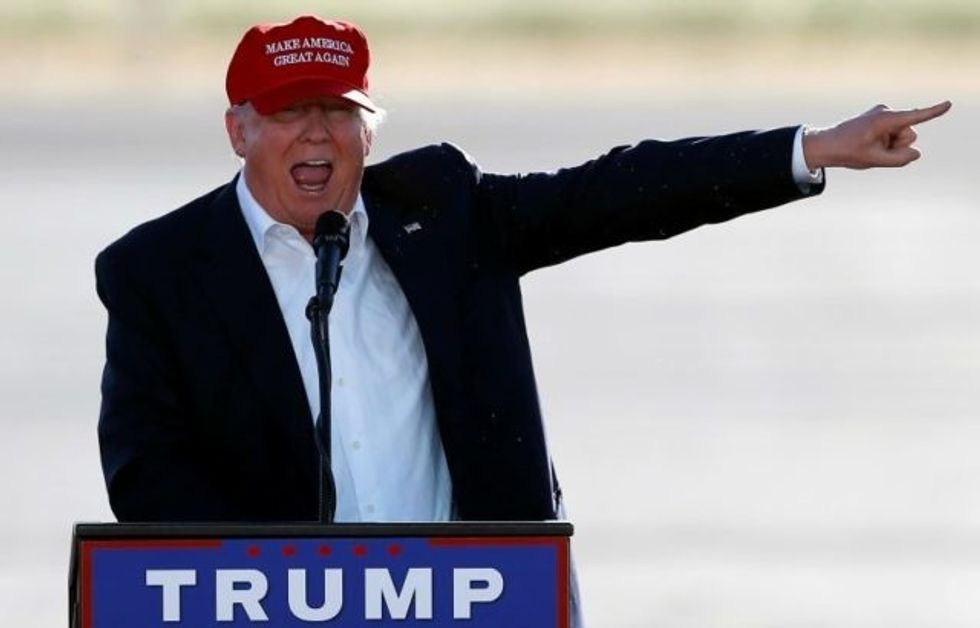 Donald Trump's policy ideas have proven to be pretty fluid: the billionaire business man says wages are too high, and then too low. He says that America's allies are being bullied by the Obama administration, but that he would bully them more. But one of Trump's talking points has remained consistent, and it may be the true engine of his campaign: racism.
Jorge Ramos, the Mexican journalist who was kicked out of a Trump press conference back in August, pointed out in a Tweet that Trump has recently stepped up his attacks against Hispanics, going after four prominent Hispanic figures in the course of just a week.
The latest wave of aggression started in New Mexico, with Republican governor Susana Martinez. After she failed to endorse this candidacy, Trump accused Martinez of doing a poor job, citing the "large numbers" of Syrian refugees set to resettle in the state — a lie. Martinez is the country's first Latina governor, the state's first female governor, and chairwoman of the Republican governors Association.
As the Republican Party's highest-profile Latina, she would be an ideal presence to help Trump make amends with women and Hispanics, the two groups he enjoys belittling the most. But Trump can't miss a chance to reinforce his platform as the candidate who will Make America White Again, even if it means missing a chance to really have a shot at the presidency.
Then came the press conference Trump held on Tuesday to address claims that he had skimped on donating all $6 million he had promised to veterans groups. Trump went after the media as a whole but chose to focus on two reporters who, you guessed it, happen to be Hispanic.
CNN's Jim Acosta, a Cuban American, was called a "real beauty," and Tom Llamas, a Mexican American, was called a "sleaze."
"You're a sleaze because you know the facts and you know the facts well," Trump said to Llamas after the reporter pointed out the discrepancies between Trump's statements on how much money he had really raised for veterans.
Just like Trump used Acosta and Llamas to divert from the actual point of the press conference (what ever happened to the money he supposedly raised for veterans?), he went after Judge Gonzalo Curiel to distract from the fact that Trump University — or, legally, "Trump U." — has been exposed as a complete scam. In statements that provide a scary glimpse into how a Trump administration would deal with judicial independence, Trump blamed Judge Curiel for his bad luck with the two class-action lawsuits against Trump University he's currently facing.
"I have a judge who is a hater of Donald Trump, a hater. He's a hater," he said at a rally in San Diego, before adding that he believed Curiel was "Mexican." It didn't stop there, he then added that the Judge's handling of the case is a "disgrace" and that it would be "wild" if he came back in November to do a civil case as president.
It should come as no surprise that Trump is going after successful, prominent Latinos. The generalization that all immigrants are "rapists and murders" set the tone for his presidential run and is the basis for the narrative that the Trump machine is pushing. Hispanic American governors, journalists, and federal judges don't fit that image.
What does fit that image are cases of undocumented immigrants committing murder — even though undocumented immigrants don't commit crimes at higher rates than legal residents of the United States. Trump rallies often start with the families of victims killed by undocumented immigrants standing on stage, holding up posters with pictures of their deceased loved ones. Jamiel Shaw, who has been onstage at Trump's rallies and even appeared in one if his campaign ads, summarizes one of the main arguments of Trump supporters: "We demand Americans first," Shaw said. "We don't care about illegal aliens. Americans first. First means first."
Trump's campaign is kept alive by the hateful enthusiasm of his core supporters' racism. They might not agree with him on policy issues like his support of Planned Parenthood, taxes, or universal health care, but hey, he hates immigrants and has run on building an ever-taller border wall.
It's no secret that Trump is unpopular among Hispanics. A Gallup poll released in March showed that he was the most unpopular of any remaining candidate, at the time, with Hispanic voters, with more than three quarters viewing him unfavorably. Hispanics are the fastest-growing faction in the electorate, and proved to be an important part of Mitt Romney's 2012 loss. Romney earned just 27 percent of their vote, significantly less than President George W. Bush, who earned 40 percent just eight years before. The flight of Hispanic votes from the Republican Party prompted GOP leaders to reach out to them, releasing a 100-page "moratorium" report on how they would rebrand themselves to get the vote of minorities.
And Hispanics have even more political weight now. According to the Pew Research Center, there are 27.3 million eligible Hispanic voters today — a 17 percent increase in eligible Hispanic voters since 2012. The Hispanic vote has been key in the last two presidential elections, helping Obama win swing states with large numbers of Hispanic voters like Florida and Colorado.
Yet the 2016 presumptive Republican nominee is running not only an anti-immigration campaign, but one in which personal attacks against Hispanics have become the norm. Other than quotes like "I think the Mexicans are going to end up loving Donald Trump when I give all these jobs," Trump has done nothing to mend bridges with the nation's largest ethnic minority.
This has not come without consequences to the Republican Party. Ruth Guerra, the head of Hispanic media relations at the Republican National Committee, resigned her post this Wednesday. According to reports, she resigned because she was "uncomfortable working for Mr. Trump." A month before Guerra's resignation, NBC News reported that Kristal Quarker-Hartsfield, the RNC's Director of African American and the highest-ranking African American in the RNC, had resigned. A few weeks before that, Orlando Watson, Director of Communications of Black Media, also resigned.
But Trump can't change his anti-Hispanic rhetoric because it is what has kept his campaign alive despite the policy blunders, insults to women, and overall obvious ignorance about the country's main issues. He has offered a scapegoat to be blamed for everything that's wrong with America: Hispanics. If he takes that off the table, he alone will remain on it, and a millionaire reality star with weak policy knowledge and reprehensible morals just isn't as attractive.
Photo: U.S. Republican presidential candidate Donald Trump speaks at a campaign rally in Sacramento, California, U.S. June 1, 2016. REUTERS/Lucy Nicholson