Experts: Trump's Legal Threat Against New York Times 'A Pure Loser'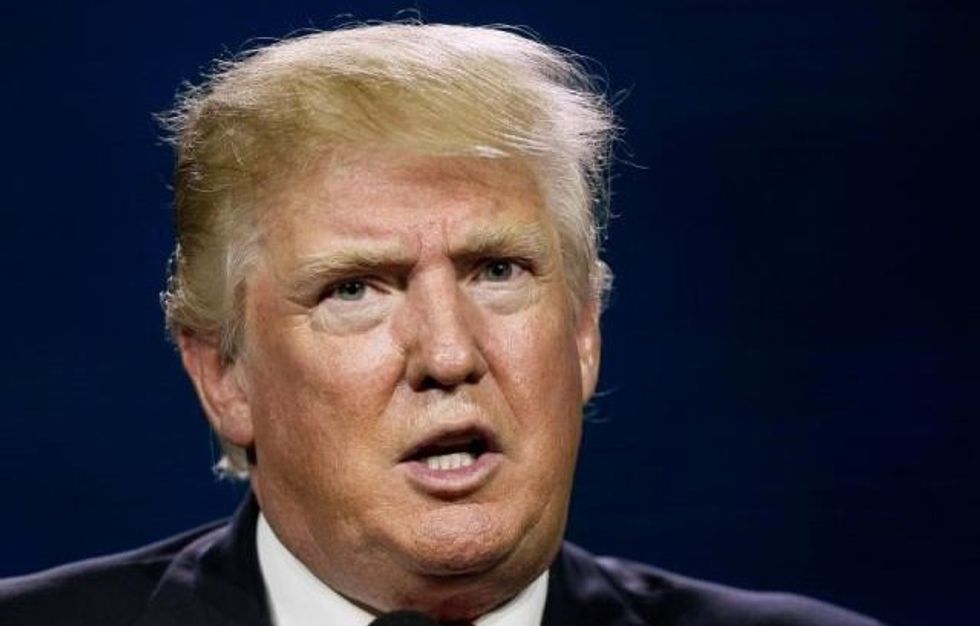 Republican presidential nominee Donald Trump's threats to The New York Times for reporting allegations that he committed sexual assault are legally far-fetched and provide a troubling portrait of how a Trump administration would handle the press, according to experts interviewed by Media Matters.
In just the past 24 hours, outlets including The New York Times, Palm Beach Post, and People magazine have detailed accounts of Trump groping and making other unwanted sexual advances toward women.
Trump's lawyers shot back with threats of legal action against the Times, claiming in a letter that its article was "reckless, defamatory and constitutes libel per se."
Aggression toward media figures and outlets — especially those who have been critical of him and his candidacy — has been a hallmark of both Trump's presidential campaign and his business career. In an "unprecedented" announcement, the Committee to Protect Journalists warned today that "a Donald Trump presidency would represent a threat to press freedom," saying Trump has "consistently betrayed First Amendment values."
Several experts tell Media Matters his latest threats of legal action against the Times are further evidence of what would likely be a problematic relationship between the press and Trump if he were to be elected president.
"It just confirms how difficult he would be with the press and how he would view the press as an enemy," George Freeman, Media Law Resource Center executive director and former New York Times assistant legal counsel, said about the latest attack. "It would be a very contentious relationship in all probability, particularly in that his whole character is built on beating up anyone who attacks him."
Mizell Stewart III, president of the American Society of News Editors (ASNE) and vice president of news operations for USA Today Network, agreed.
"I think it is clear he would take an adversarial position with the press as president," Stewart said. "Mr. Trump has decided that an aggressive posture is his way of dealing with the media. We have seen that in him in dealing with news outlets and coverage."
"From ASNE's perspective, these are tactics that people employ when they choose to try to intimidate the press. We have watched as newsroom leaders across the country have chosen to oppose that intimidation."
David Hudson, a Vanderbilt University law professor and First Amendment expert, said: "It is fair to say it would not be the coziest relationship between the press and the president."
"These are not good signs," Gregg Leslie, legal defense director at Reporters Committee for Freedom of the Press, said about the legal threats. "It is certainly not positive. There have not been any positive signs of how he would interact with the press."
Leslie and others also said Trump would have a nearly impossible time proving libel or slander for these news reports.
"It's pretty clear that he would have a very difficult battle if he brought this as a libel suit. He is one of the biggest public figures and would have to prove they acted with malice, which is one of the toughest to prove," Leslie said.
Hudson added, "As a public figure he has a very high standard to meet. He would have to show that not only are the statements false, but the media would have published them knowing they are false."
"A lot of times people say they are going to sue as an intimidation tactic," he explained. "I would not want to print allegations like that unless I had some concrete evidence of it. [The New York Times] is a very respected newspaper; I would assume they have their own attorneys and vet things like this."
Lucy Dalglish, an attorney and dean of the Philip Merrill College of Journalism at the University of Maryland, said the Times article seemingly went beyond what was necessary to avoid such litigation.
"Because he's a public figure, he would have to show it put him in a bad light and [was done] with malice and with the knowledge it was false and reckless disregard," she said. "It seems to me the Times went well beyond with people who remembered being told about these incidents virtually immediately or in an acceptable amount of time. … He has to prove that the statement that was made was false. The burden of proof is on him to show it is false."
Freeman of the Media Law Resource Center called the legal claim "a pure loser."
"I think it's all bluster," he said. "But it's not surprising given that he is always threatening litigation. As a presidential candidate, he would have to prove actual malice. … It seems to me it would be virtually impossible for Trump to even come close to showing the Times had serious doubts about the claims of groping when the women seem so credible and it was confirmed and substantiated by many other people they had spoken to."
The Times' legal team responded to the lawsuit threat in a letter concluding that if Trump "believes that American citizens had no right to hear what these women had to say and that the law of this country forces us and those who would dare to criticize him to stand silent or be punished, we welcome the opportunity to have a court set him straight."
Reprinted with permission from Media Matters for America.
IMAGE: U.S. Republican presidential candidate Donald Trump speaks at the Western Conservative Summit in Denver, Colorado, U.S., July 1, 2016. REUTERS/Rick Wilking