Trump Names Foreign Policy Team Led By Alabama Senator: Report
@reuters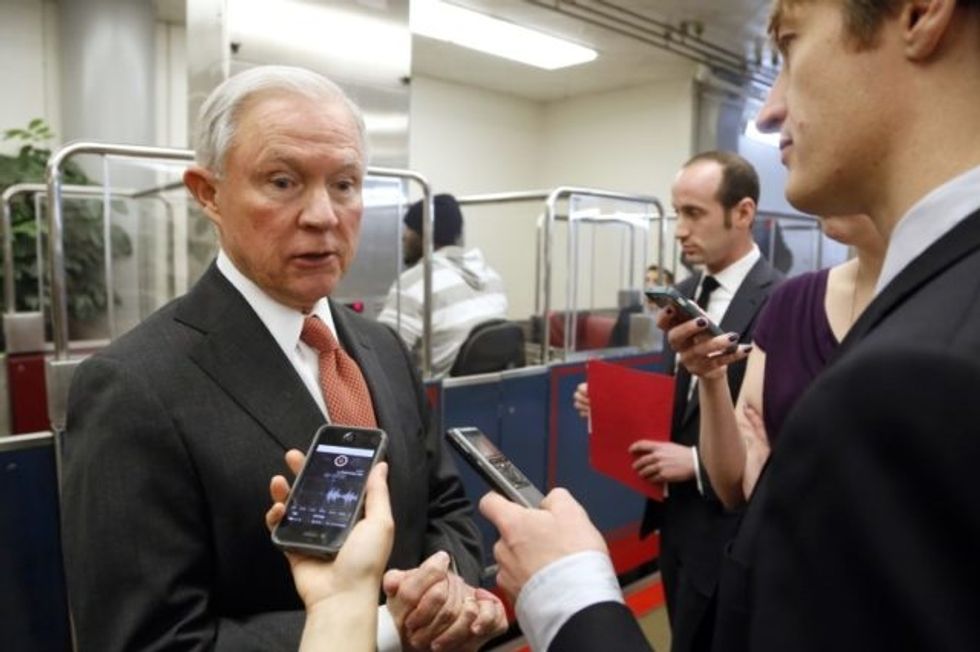 WASHINGTON (Reuters) – Republican presidential candidate Donald Trump on Monday unveiled a partial list of his foreign policy advisers in an interview with The Washington Post, after saying last week that he mostly consults himself on international affairs.
The advisory team includes terrorism expert Walid Phares, energy industry executive Carter Page, international energy lawyer George Papadopoulos, former government inspector general Joe Schmitz, and former Army Lieutenant General Keith Kellogg, he told the Post in an on-the-record editorial board meeting, the media company said.
Trump said he would soon unveil more people who are helping him shape his foreign policies as part of the team, led by U.S. Senator Jeff Sessions, a Republican from Alabama who endorsed Trump last month.
Most of those named by Trump are not well known in foreign policy academic or expert circles.
Phares told Reuters he began advising Trump on Friday. He previously had served as a national security adviser to former Republican presidential candidate Mitt Romney, who has roundly criticized Trump.
Phares said in an email he has not met Trump in person since last year.
Others named by Trump could not be immediately reached to confirm their role with Trump's campaign.
Schmitz was a Pentagon inspector general during the George W. Bush administration and has worked for Blackwater Worldwide, a now-defunct private U.S. security firm whose personnel were involved in a deadly shooting that killed Iraqi civilians in 2007.
Kellogg has considerable military experience, having served as the chief operating officer of the Coalition Provisional Authority, the U.S.-run provisional government imposed on Iraq after the U.S.-led invasion under Bush. He works at CACI International, a Virginia-based intelligence and information technology consulting firm, the Post reported.
According to the Post, Papadopoulos previously advised Trump's former rival Ben Carson, who has now backed Trump. The London Center of International Law Practice's Center website lists him as the head of its Center for International Energy and Natural Resources Law & Security.
Page serves as a managing partner of Global Energy Capital, a private energy services company, the Post said.
Sessions, who in February became the first sitting U.S. senator to endorse party front-runner Trump, is also not seen as an influential foreign policy or national security player in the U.S. Congress. He does not serve on the influential Senate Foreign Affairs Committee, although he is a member of the Armed Services Committee.
Last week, Trump said in a television interview on MSNBC, which has been pressing the Republican front-runner to name his foreign advisory team, that he relies on his own instinct.
"I'm speaking with myself, number one, because I have a very good brain," he told MSNBC. "I know what I'm doing. … My primary consultant is myself."
(Reporting by Mark Hosenball; Additional reporting by David Alexander, Susan Heavey and Jonathan Landay; Editing by Chris Reese and Grant McCool)
Photo: U.S. Senator Jeff Sessions (R-AL) speaks with reporters ahead of the weekly Senate Republican caucus luncheon at the U.S. Capitol in Washington February 10, 2015. REUTERS/Jonathan Ernst