Trump Has Already Pathetically Responded To Meryl Streep's Epic Takedown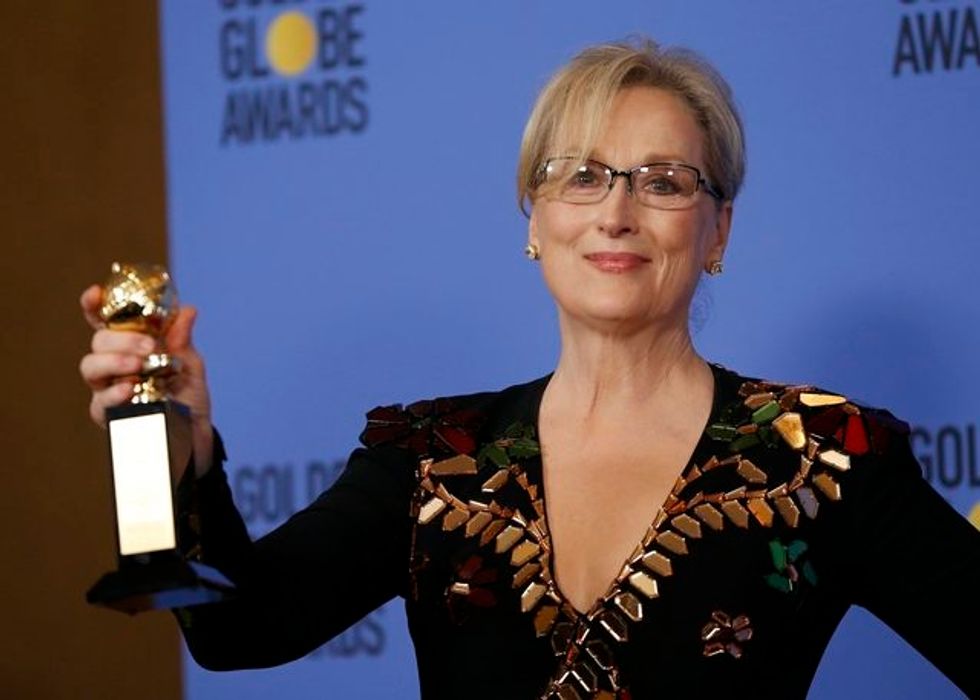 Reprinted with permission from AlterNet.
Meryl Street delivered a passionate political speech upon receiving the Cecile B. Demille award for her lifetime achievement at the 74th Golden Globes on Sunday.
"All of us in this room, really, belong to the most vilified segments in American society right now," Streep said. "Think about it, Hollywood, foreigners and the press. But who are we and what is Hollywood anyway?"
The actress then broke down what ascending to the elite meant for the several hundred present, as well as those watching at home. The room represented America at large in many ways.
"It's just a bunch of people from other places," the actress noted.
"I was born and raised and educated in the public schools of New Jersey; Viola [Davis] was born in a sharecropper's cabin in South Carolina, came up in Central Falls, Rhode Island; Sarah Paulson was born in Florida, raised by a single mom in Brooklyn; Sarah Jessica Parker was one of seven or eight kids from Ohio; Amy Adams was born in Vicenza in Italy; and Natalie Portman was born in Jerusalem," she rattled off, before taking another covert dig at the president-elect.
"Where are their birth certificates?" she asked. "Hollywood is crawling with outsiders and foreigners. If we kick 'em all out, you'll have nothing to watch but football and mixed martial arts which are not the arts…"
Streep called on journalists to defend a free press and not give bullies a pass no matter how powerful they may be. She also drew on Donald Trump's mocking of a disabled reporter, calling the attack a performance that "stunned" her.
"There was one performance this year that stunned me — it sank its hooks in my heart," Streep said. "Not because it was good; there was nothing good about it. But it was effective and it did its job. It made its intended audience laugh, and show their teeth."
"It was that moment when the person asking to sit in the most respected seat in our country imitated a disabled [New York Times] reporter, [Serge F. Kovaleski]," she explained. "It kind of broke my heart when I saw it, and I still can't get it out of my head, because it wasn't in a movie. It was real life."
The room applauded her decisive anti-Trump tone, and fans were quick to point out the obvious to critical Trump supporters.
Trump supporters saying #MerylStreep should stay out of politics cause she's a rich celebrity. Didn't they vote for a rich celebrity??

— James Night (@RealJamesNight) January 9, 2017
Donald Trump himself dismissed Streep's remarks by pointing out her active support for Hillary Clinton, particularly at the Democratic National Convention. Absurdly, he called her an "over-rated actress" and denied making fun of Kovaleski "for the hundredth time."
Meryl Streep, one of the most over-rated actresses in Hollywood, doesn't know me but attacked last night at the Golden Globes. She is a…..

— Donald J. Trump (@realDonaldTrump) January 9, 2017
The awards show marked the last high-profile event before Trump takes office on January 20.
Watch:
Alexandra Rosenmann is an AlterNet associate editor. Follow her @alexpreditor.
IMAGE: Meryl Streep holds the Cecil B. DeMille Award during the 74th Annual Golden Globe Awards in Beverly Hills, California, U.S., January 8, 2017. REUTERS/Mario Anzuoni