Trump Is Playing Dangerous Military Gambit In Central America
@AlterNet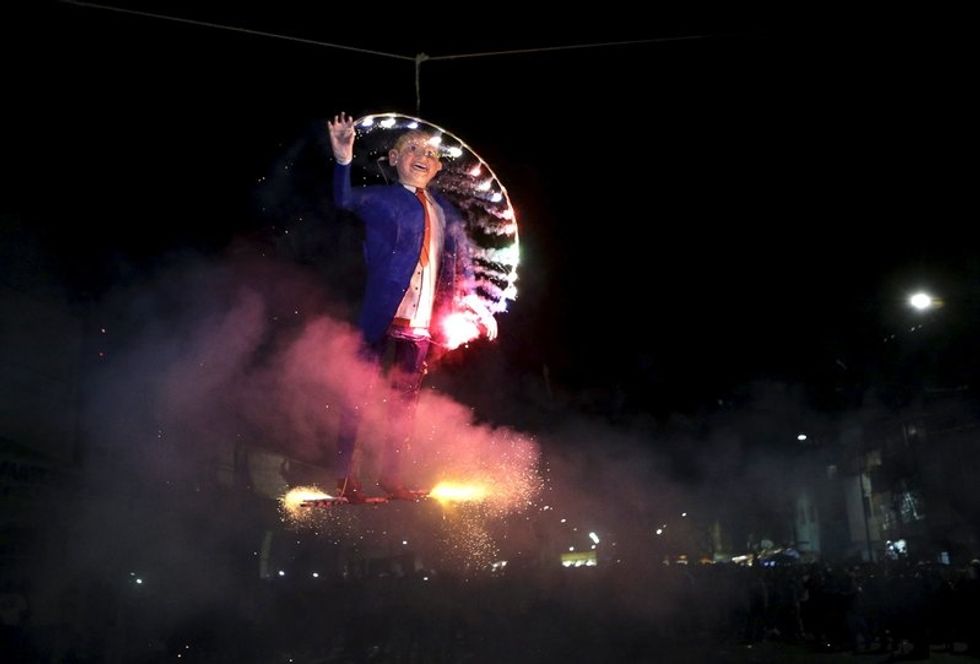 Reprinted with permission from Alternet.
There has been a flurry of Trump administration activity around Central America recently. Most prominently, several cabinet members and Vice President Pence traveled to Miami last month for the administration's "Conference on Prosperity and Security in Central America" that the United States cohosted with Mexico.
The signals so far are not encouraging. In the Trump White House's proposed 2018 budget, we can see a shift toward trying to spur private sector investment in Central America, while increasing "defense" spending to more than half the overall budget. State Department and USAID programs for Central America are cut by over 30 percent, while additional security assistance is expected to come from the Pentagon budget. The new official emphasis, as reiterated by US officials throughout the Miami conference, is to encourage Central American, Mexican, and Colombian leadership on Central America.
While the USAID programs are themselves controversial, and their effectiveness in reducing crime and increasing social inclusion is often debatable, the emphasis on military solutions to complex problems of poverty, violence, crime, and outward migration is even more troubling.
A lot of what we're seeing is rebranding of old initiatives and Obama administration policies that continue under Trump. The antidrug and anticrime part of the strategy is explicitly modeled on Plan Colombia, which Secretary Kelly has described as "a miracle" in terms of its impact. The Trump administration is also doubling down on Plan Frontera Sur, which critics have described as the "outsourcing" of apprehending and deporting Central Americans, fleeing violence, back to their home countries. The economic components of the approach rely on the Obama-era Plan for Alliance for Prosperity in the Northern Triangle and continuing Bush-era plans for massive infrastructure, energy, and communications development (originally known as Plan Puebla Panama, later folded into Proyecto Mesoamérica).
These projects now have a greater focus on the Central American governments' role, while international financial institutions (IFIs) are expected to play a big part, via Inter-American Development Bank and World Bank loans and grants and the setting up of other avenues to push through policy changes. Just as the military component of the Central America strategy was symbolically presented by holding day two of the conference at the US Southern Command, the IFI role was made clear by a preconference event in Coral Gables where corporations interested in investing in the Northern Triangle were in attendance.
In short, the Trump administration is continuing to push a grand neoliberal project in the region. Infrastructure development, regional energy, transportation networks, and telecommunications to encourage foreign investment are all big components of this, and the various high-level government officials speaking at the Miami conference mentioned them again and again.
Then there is the "War on Drugs." Among the key US priorities for Central America that Pence outlined were "destroy[ing] gangs and criminal networks," and stopping illegal drugs from coming into the US. To these ends, there are plans for greater information sharing among governments, including of biometric data, files, information on migration "flows," and "early warning protocols." The administration plans to continue militarization and US training and funding of security forces in the region. As under Obama, there is a strong emphasis on reducing "illegal" immigration to the US.
Ostensibly, the Central America policy of both the Trump and the Obama administrations is driven in large part by concerns over a surge of people fleeing the Northern Triangle region and heading north, toward the US-Mexico border. Yet we can see how various aspects of these plans will exacerbate, not reduce, the migration push factors in Central America.
We are likely to see more displacement of communities as infrastructure and other projects move forward (there was much talk in Miami of a coming massive migration to urban areas). There is little indication that jobs will be created that offer people more lucrative options than what they can find in criminal networks. Gangs, and "wars" on crime are migration push factors, with both criminal networks and security forces perpetrating violence that forces people to flee their communities, as Colombia's recent history so clearly demonstrates. More people have been displaced internally in Colombia than anywhere else in the world — even Syria ― with internal displacement estimated at about 300,000 people each year from 2000 to 2013.
Trump administration officials such as Tillerson and Kelly touted officially lower homicide statistics in the Northern Triangle countries. Yet these (sometimes questionable) rates are still 81 murders per 100,000 inhabitants in El Salvador, 58 in Honduras, and 27 in Guatemala (compared to just 7 in Nicaragua), according to data compiled by Insight Crime. Doctors Without Borders reports estimates that 500,000 people flee the Northern Triangle every year.
Will the "tax reform" discussed in Miami shift more of the burden onto the wealthiest? It's doubtful, certainly, that taxes will be increased on corporations, and especially on foreign investors, so governments will still face revenue-generating challenges. The loans that governments take to make their countries "business friendly" must be paid back, so governments (i.e., working people's tax dollars) end up subsidizing private sector profit.
Will deregulation benefit working people? Lowered safety standards and increased environmental pollution and harm are also not likely to keep people in-country.
In Miami, there was the usual lip-service paid to cracking down on corruption, but no serious attempts to curb corruption in Honduras have taken place yet, with an OAS-backed Support Mission Against Corruption and Impunity having produced slim results since its creation over a year ago. Similar to the notoriously compromised police and military in Mexico (which the Trump administration nevertheless is pushing to take more leadership on Central America), criminality in Honduran security forces goes to the top. A DEA informant recently testified in a US court that Honduras' security minister, Julian Pacheco Tinoco, is linked to drug trafficking, along with the son of the post-coup president, Pepe Lobo.
Nor was there any indication of concern for human rights. Secretary Tillerson heaped praise on Honduras for creating a new human rights ministry, but this will be the second one since Honduras' 2009 military coup, and no more likely to do anything than the first.
Or consider Guatemala, where the government has just won a CAFTA labor dispute case filed by the AFL-CIO and six Guatemalan labor unions claiming that Guatemala violates labor rights, including freedom of association, the right to bargain collectively, and to have acceptable working conditions. How will the Trump administration respond? Does anyone expect it to weigh in on the side of the workers? Assuming they don't, what kind of precedent does this set? Consider also that Honduras is still working to set up "model cities" where labor rights would not apply.
There was little attention to how women, in particular, are affected by economic inequality and by violence, even though women and children were the media face of the Central American migration "crisis" three years ago. Women continue to take the risk of traveling to the US, even though one-third reported being sexually abused on the journey, according to Doctors Without Borders.
It seems likely that US officials know that migration is likely to increase. So part of the strategy involves Plan Frontera Sur ― Mexican authorities' apprehension of Central American and other migrants before they can reach the US-Mexican border. A new SOUTHCOM operation in Petén, Guatemala is planned "to coordinate Mexican and Guatemalan military forces along the border."
What can we do?
First, we should push members of Congress to cosponsor the Berta Cáceres Human Rights in Honduras Act. Congressional and activist pressure to end impunity by the Honduran security forces and to show support for communities and rights defenders is important to demonstrate that these projects cannot just be rammed through. The US-Central America strategy is likely to make conditions worse for many people in the region, and we need policymakers to propose alternatives. We must work, in solidarity with people on the ground, to prevent the US government from continuing disastrous neoliberal and military projects.
The Berta Cáceres Act would support these goals by suspending funding for Honduran security forces until there is accountability for human rights crimes they are involved in ― such as Berta Cáceres' assassination, the investigation of which is still being stonewalled and the higher-ups responsible for the crime allowed to escape justice.
To encourage accountability in Honduras, the US can start by modeling it at home. To that end, we also need to push for CARSI transparency. Much of the US funding for Central America falls under the opaque Central America Regional Security Initiative, where Honduras funds are bundled together with those for other countries.
Specifically, Congress should demand a detailed description of each program carried out under CARSI to date, including the program's geographical location and the amounts committed, obligated, and disbursed for each program. US taxpayers also have a right to know the US foreign assistance account source for each program's funding and the program implementing partners, at both the prime and subprime levels (so that project funds are not obscured when the original project grantee turns around subcontracts with someone else). Congress should also require that each program's goals and benchmarks are clearly defined, and that there is a description of monitoring and evaluation efforts being used to measure each program's impact.
The unaccountable Honduran security forces rely on US funds for much of what they do. It's time we made them accountable.
Dan Beeton is International Communications Director at the Center for Economic and Policy Research (www.cepr.net) in Washington, DC.
This article was made possible by the readers and supporters of AlterNet.