Trump Praises Sen. Kennedy For Spreading Kremlin Propaganda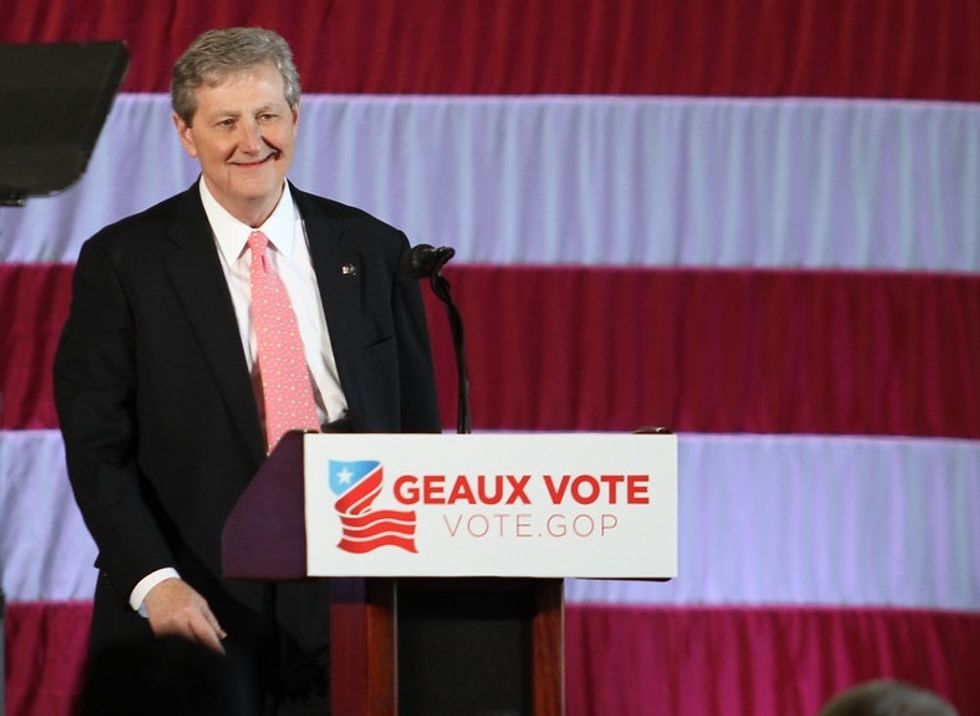 Donald Trump on Monday thanked a Republican senator for appearing on national television and spreading Russian propaganda.
"Thank you to Great Republican @SenJohnKennedy for the job he did in representing both the Republican Party and myself against Sleepy Eyes Chuck Todd on Meet the Depressed!" Trump tweeted Monday morning, referencing Kennedy's appearance on NBC's "Meet the Press" with host Chuck Todd.
In his appearance, Kennedy wrongly claimed that Ukraine was "meddling in our elections."
"Russia was very aggressive and they're much more sophisticated," Kennedy told Todd. "But the fact that Russia was so aggressive does not exclude the fact that President Poroshenko actively worked for Secretary Clinton."
There is absolutely no evidence that former Ukrainian President Petro Poroshenko worked for Hillary Clinton, nor that Ukraine interfered in the 2016 election. Experts have said such claims are effectively Russian propaganda, and Fiona Hill — a former national security aide — testified in the House impeachment inquiry last month that Republicans who push that false claim are only aiding Russian President Vladimir Putin.
Putin himself said in November he was happy with the GOP's conspiracy-mongering, saying, "Thank God no one is accusing us of interfering in the U.S. elections anymore; now they're accusing Ukraine."
Todd himself made this point to Kennedy during the interview.
"Wait a minute, Senator Kennedy," Todd said. "… You realize the only other person selling [the argument that Poroshenko worked for Clinton's campaign] outside the United States is this man, Vladimir Putin?"
Todd then asked Kennedy if he was "at all concerned that [he had] been duped."
Kennedy said he was not concerned.
This is not the first time Kennedy has spread debunked conspiracy theories on television.
Kennedy was forced to backtrack last week, when he wrongly claimed that he didn't know if it was Russia or Ukraine that meddled in the 2016 election. The U.S. intelligence community has unanimously concluded that Russia was behind the interference and propaganda campaign in 2016, and earlier this year, special counsel Robert Mueller laid out in detail how Russia conducted that meddling in his 400-plus page final report on the matter.
Republicans have attempted to paint Ukraine as hostile to Trump in order to defend him against impeachment. They claim Trump was justified in withholding security aid to Ukraine because of concerns over corruption, as well as concerns that some Ukrainian politicians did not support Trump's 2016 candidacy.
Ukrainian President Volodomyr Zelenskiy broke his silence this week, saying Trump's attacks on the country are wrong and could hamper Ukraine's efforts to ward off Russian aggression and become a western democracy.
Published with permission of The American Independent Foundation.