Trump's New Press Tactics Follow The Old-School Authoritarian Model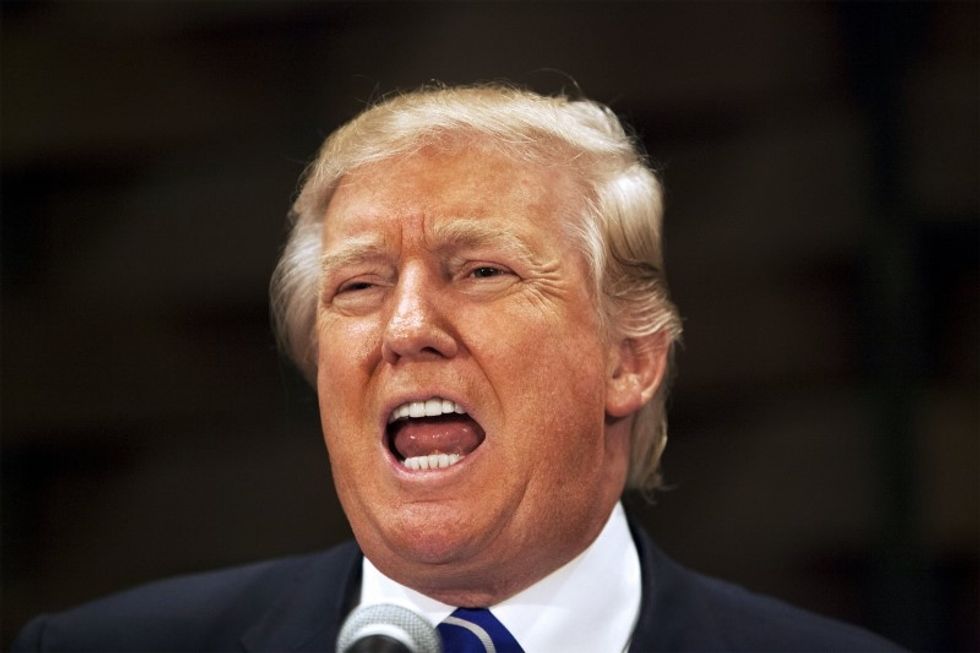 Reprinted with permission from AlterNet.
Donald Trump is fulfilling the role of an authoritarian demagogue so thoroughly that if this whole disaster were a movie, it would be criticized for being formulaic and cliched. His frequently expressed hostility toward the media comes right out of a well-worn copy of the Dictator's Playbook, and he has repeatedly revealed himself to be an enemy of a free press.
The latest example comes as Trump and his team attempt to alienate the media by shutting down the White House press room, which has been in operation since the Nixon years. Trump's war on the press is also attracting candidates to his administration who are helping PEOTUS devise ways to make journalists' jobs harder, including by mandating that those who cover the White House undergo biannual drug tests.
Esquire was the first to report that Trump, on the heels of his first press conference in six months—which he used to denigrate the media for occasionally doing their jobs—is mulling over the prospect of evicting the press corps from the West Wing. According to the outlet, the move would relocate the press corps to digs in the nearby White House Conference Center or the Old Executive Office Building.
Trump's press secretary Scott Spicer suggested the move is being considered because the last media briefing showed a uniquely high interest in covering Trump. "When we had that press conference the other day, we had thousands of requests, and we capped it at four hundred," said Spicer, who is definitely pretending not to know that PEOTUS's refusal to answer press questions for an unprecedented amount of time had exactly the effect the team intended, in terms of demand for access. "A question is: Is a room that has forty-nine seats adequate?…Is there an opportunity to potentially allow more members of the media to be part of this? That's something we're discussing."
Trump's chief-of-staff Reince Preibus repeated this talking point during a tour of Sunday morning news shows. But another senior official didn't bother pretending that the relocation is anything other than what it appears: a transparent attempt to block press access so Trump can avoid explaining, defining, defending, or detailing the what, when, where and how of his administration's plans.
"They are the opposition party," a senior official reportedly told Esquire. "I want 'em out of the building. We are taking back the press room."
Effectively shutting out and shutting down the news media would allow Trump's voice, in concert with propagandistic platforms such as Breitbart, the Enquirer, Fox News and other right-wing echo chambers, to ring out the loudest.
Attempts to appeal to Trump's anti-free speech stance inspired at least one potential hire to propose a tactic intended to turn journalism into an endurance test.Buzzfeed News reports that David Martosko, the U.S. political editor of U.K.'s Mail Online, applied for a job as press secretary for Trump's incoming administration.
"Journalists who are at the White House more than one day per week should be subject to drug screenings," Martosko wrote, according to New York PostPage Six columnist Richard Johnson, who broke the story. "Refusal to comply should exclude them from credentialing entirely."
Martosko wasn't hired, and the job went to Spicer instead. Both Martosko and the Daily Mail declined to comment to Buzzfeed when contacted.
Kali Holloway is a senior writer and the associate editor of media and culture at AlterNet.
IMAGE: U.S. Republican presidential candidate Donald Trump gives an address at an event organised by the Greater Charleston Business Alliance and the South Carolina African American Chamber of Commerce in North Charleston, South Carolina, September 23, 2015. REUTERS/Randall Hill