At Meeting With Ireland's Taoiseach, Trump Promotes His Irish Golf Course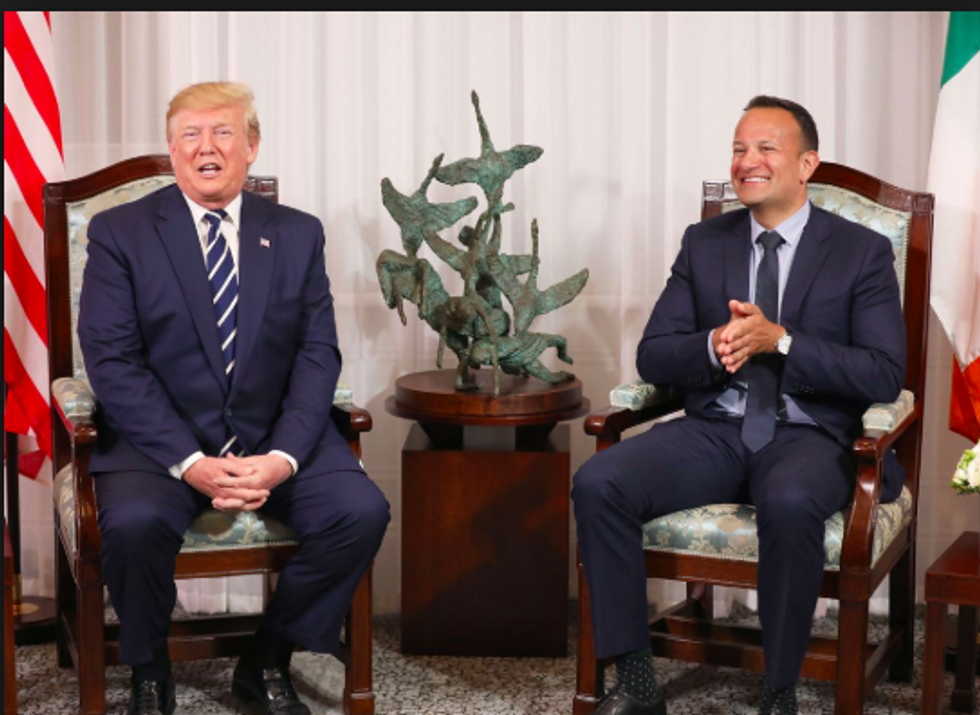 Trump on Wednesday turned a photo-op with the prime minister of Ireland into an infomercial for one of his money-losing golf properties.
It was yet another brazen attempt by Trump to try to profit off his presidency.
"I'll be leaving from Doonbeg," Trump told reporters in Ireland of his plans to travel to Normandy, France, on Thursday morning to commemorate the 75th anniversary of D-Day.
Doonbeg is a Trump golf property in Ireland that is currently operating at a loss, losing $100,000 in 2018, according to the Irish Times.
"I love to come to Ireland and stay at Doonbeg," Trump added — throwing in a nice little promotion for the property.
Trump initially wanted to meet with Irish Taoiseach Leo Varadkar at his Doonbeg golf course, and threatened to cancel a visit to the country if Varadkar refused to meet him there.
The meeting with Varadkar ultimately took place at an airport in Ireland, and Trump will simply travel alone to his golf property and stay there overnight.
Trump often tries to stay at properties he owns when traveling around the country and the globe. And when he does so, it means the U.S. government is putting money into Trump's own pockets.
One reporter at Wednesday's photo-op with Trump and Varadkar specifically asked if Trump only traveled to Ireland in order to promote the club.
Trump claimed he hadn't, and that he simply wanted to travel to Ireland because it was "very important" because of the "relationship" he has with the Irish people.
Published with permission of The American Independent.