Trump Pushes Back At Nikki Haley: No VP Slot For You!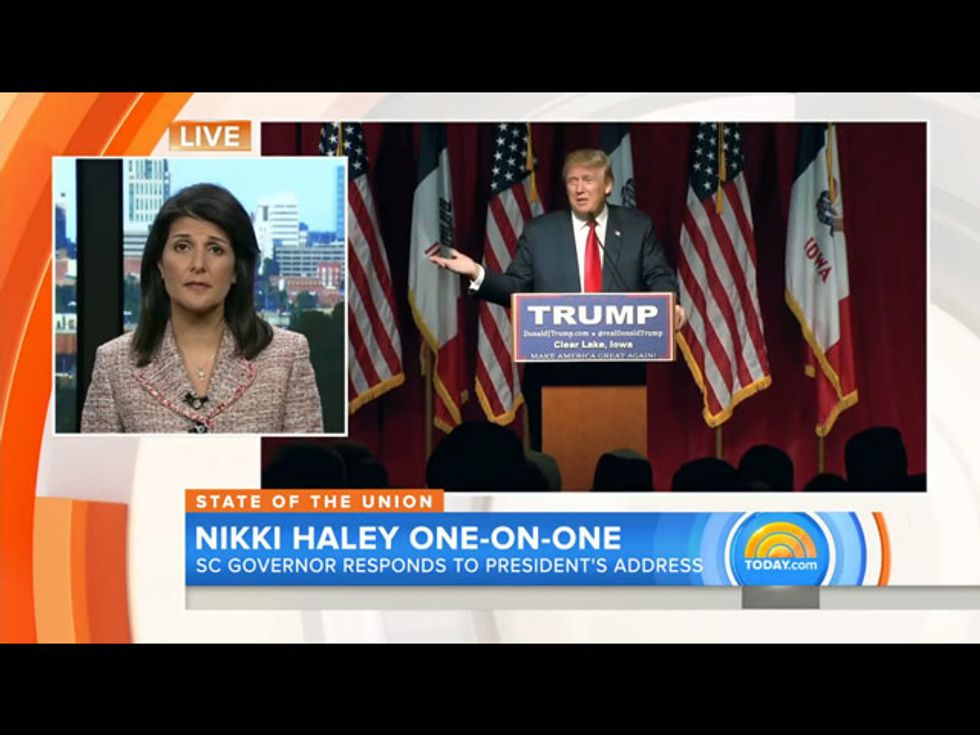 Donald Trump's vicious battle with the Republican establishment is expanding beyond mere skirmishes with his rival candidates. The newest gladiator thrown into the arena is South Carolina governor Nikki Haley — who, in a very unusual step, used her starring role in Tuesday night's State of the Union rebuttal speech to hammer not only at President Obama, but also the national frontrunner of her own party.
"Immigrants have been coming to our shores for generations to live the dream that is America," Haley said, invoking her own background as the daughter of Indian immigrants. "They wanted better for their children than for themselves. That remains the dream of all of us, and in this country we have seen time and again that that dream is achievable."
"Today, we live in a time of threats like few others in recent memory. During anxious times, it can be tempting to follow the siren call of the angriest voices. We must resist that temptation," Haley said. "No one who is willing to work hard, abide by our laws, and love our traditions should ever feel unwelcome in this country."
"We must fix our broken immigration system. That means stopping illegal immigration," she added. "And it means welcoming properly vetted legal immigrants, regardless of their race or religion. Just like we have for centuries."
The remark about not turning away immigrants on the basis of religion seems to have been a clear shot at Donald Trump, who has called to ban all Muslim immigrants.
During an interview Wednesday morning on the Today show, Matt Lauer asked Haley: "I just want to be clear here that when you were talking about those loudest voices, those angriest voices, in that context you were referring to Donald Trump, correct?
"He was one of them, yes," Haley responded "He was one. There's other people in the media, there's people in my state, I think we're seeing it across the country. But yes, Mr. Trump has definitely contributed to what I think is just irresponsible talk."
For his part, The Donald responded during a phone-in interview on Fox & Friends, after the hosts played that Today clip back to him.
"Well, I respond a couple of ways. Number one, she's very weak on illegal immigration — and you know, I've known that for a long time — she's weak on on illegal immigration," Trump said. "And she certainly has no trouble asking me for campaign contributions, because over the years she's asked me for a hell of a lot of money in campaign contributions. So you know, it's sort of interesting to hear her. Perhaps if I weren't running, she'd be in my office asking me for money. But now that I"m running, she wants to take a weak side on immigration.
The key exchange comes at about the 4:10 moment below:
And oh, Trump noted, he's winning in South Carolina.
"I feel very strongly about illegal immigration; she doesn't," he continued. "And I think the people in her great state — I love her state, I'm there a lot. And by the way, I have a massive lead — in South Carolina, we have a massive lead. They're incredible people, and they feel like I do, believe me, because they don't like what's happening in our country."
Trump was then asked about all the talk going around that Nikki Haley is an early favorite for the Republican VP slot. But would he still consider her?
"Well considering I'm leading in the polls by a lot, I wouldn't say she's off to a good start, based on what she has just said," he responded with his typical bravado. "So let's see what happens. We'll pick somebody, but we'll pick somebody who's very good. But whoever I pick is also going to be very strong on illegal immigration."