Trump Replaces Sessions With Mueller Antagonist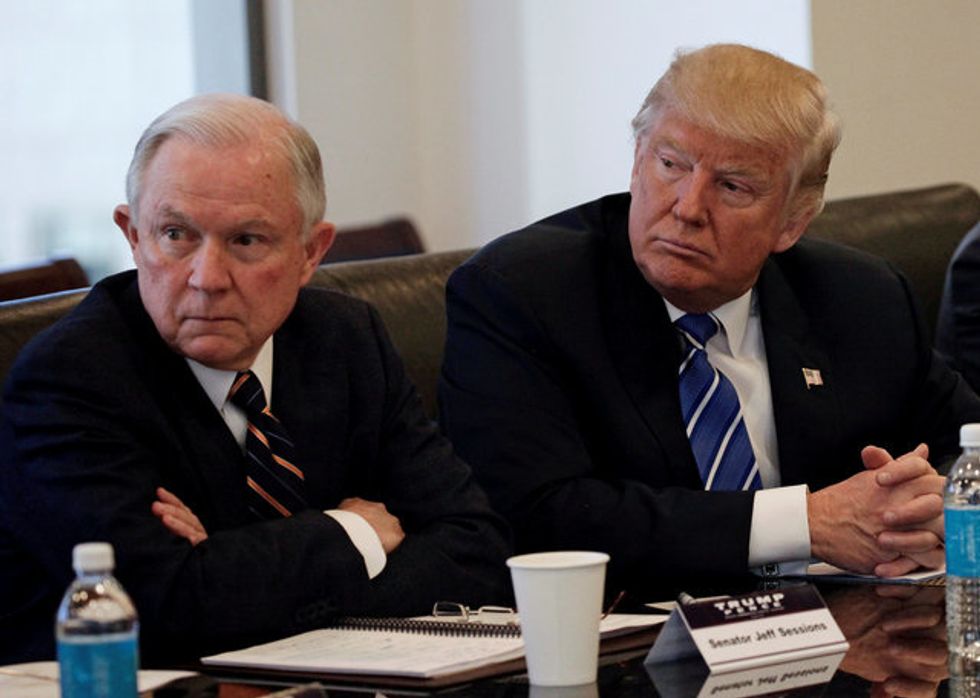 Reprinted with permission from AlterNet.
President Donald Trump announced that Jeff Sessions will no longer serve as attorney general Wednesday afternoon, the day after the crucial midterm elections.
Sessions resigned after having been publicly derided by the president for over a year. The letter made clear that the "resignation" itself was a mere formality — Sessions was fired.
"At your request, I am submitting my resignation," Session wrote.
"We are pleased to announce that Matthew G. Whitaker, Chief of Staff to Attorney General Jeff Sessions at the Department of Justice, will become our new Acting Attorney General of the United States. He will serve our Country well…." Trump wrote in a tweet.
He continued: "We thank Attorney General Jeff Sessions for his service, and wish him well! A permanent replacement will be nominated at a later date."
Sessions' removal is significant because, due to his recusal from the Russia investigation, Deputy Attorney General Rod Rosenstein has overseen Special Counsel Robert Mueller's probe. It is not immediately clear if Whitaker will immediately take control of the investigation.
Whitaker has been publicly critical of the Mueller investigation. He wrote an op-ed for CNN headlined "Mueller's investigation of Trump is going too far." He wrote of the special counsel's decision to examine Trump's finances: "Mueller has come up to a red line in the Russia 2016 election-meddling investigation that he is dangerously close to crossing."
However, as some observers noted, Whitaker's view may actually not diverge that sharply form Mueller's. The special counsel eventually sent an investigation of Trump's finances to the U.S. Attorney of the Southern District of New York — presumably because he felt it was outside his mandate.
But the CNN op-ed is not the only time Whitaker made troubling comments about the probe. Appearing on CNN in July 2017, Whitaker once floated the idea that Trump could impede Mueller without firing him by simply allowing the attorney general to defund his operation.
Cody Fenwick is a reporter and editor. Follow him on Twitter @codytfenwick.