Trump Rips Up Rule Book Of U.S. 'Retail Politics'
@reuters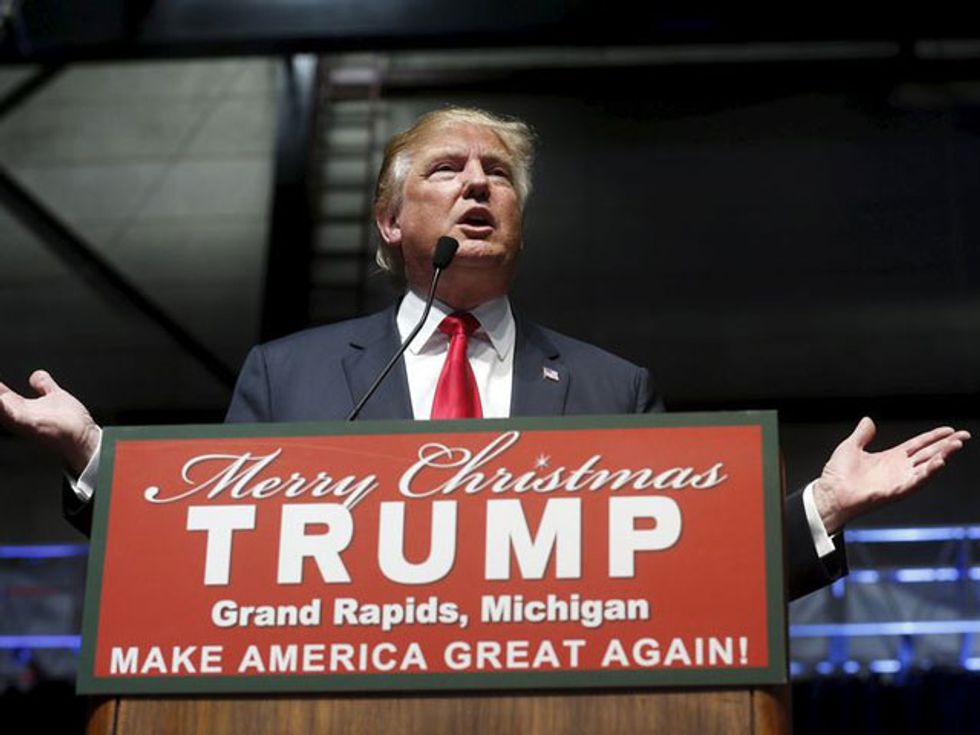 By Ginger Gibson
PORTSMOUTH, N.H. (Reuters) — U.S. Republican presidential front-runner Donald Trump swung into New Hampshire for a few hours one evening earlier this month to pick up an endorsement from a small police union.
"I don't normally do stops like this," Trump said during his brief remarks, highlights of which featured heavily that night on cable television news. "But for you, I came."
It was indeed unusual for Trump. While many of his rivals for the 2016 Republican nomination are devoting many hours to shaking hands with voters at diners and corner stores in the early-voting states of Iowa and New Hampshire, Trump is eschewing such traditional "retail politics" in favor of large, high-profile rallies and television appearances.
The jury is still out on whether the strategy will work. While Trump leads in polls of Republicans nationally, he is lagging behind Ted Cruz in Iowa, which kicks off the Republican nominating contest on Feb. 1 for the November 2016 election.
However, Trump is leading the polls in New Hampshire, which holds its primary election on Feb. 9 and he is proving the state may be winnable without spending too much time there.
Part of Trump's unorthodox strategy includes making highly controversial statements that keep his name in the headlines, such as his call for a ban on Muslims entering the United States. Trump dominated television coverage after using a vulgarity when speaking of Democratic presidential front-runner Hillary Clinton's election loss to President Barack Obama in 2008.
While many voters regard his comments as offensive, Trump's supporters find his candor refreshing as he addresses crowds at large venues such as athletic centers after arriving in his private jet.
"Trump is an anomaly because of the overwhelming frustration voters have of Washington," said Michael Dennehy, a New Hampshire Republican strategist who worked previously for Rick Perry's presidential bid. "He simply is tapping into that and voters are overlooking the heavy retail component that Trump has not been able to engage in – partly because of his strong popularity and large crowds."
In New Hampshire, Chris Christie is among the candidates who has followed the traditional model of retail politics most closely. While the large number of days he has logged in the state has driven the New Jersey governor higher in the polls in recent weeks, he has yet to catch up to Trump.
CHRISTIE CONTRAST
In a stark contrast to Trump's quick stop in Portsmouth to pick up the endorsement of the New England Police Benevolent Association, Christie spends hours in coffee shops and has held numerous town halls where he fields questions on everything from Syria to healthcare to taxes.
Whereas Christie has spent more than 50 days in the state, Trump has spent fewer than 20, according to schedules and multiple outlets tracking the candidates whereabouts.
And while Trump continues to ride high in the polls despite his controversial statements, Christie, who has long been known for his brash, in-your-face personality, has toned down his style and works to show voters he can listen as well as talk.
"You are the most powerful voters in the world," Christie told a recent town hall in the town of Wolfeboro, New Hampshire.
Trump has appeared on the conservative cable outlet Fox News more than any other candidate. Between May and December 15, the liberal group Media Matters has logged 22 hours, 46 minutes and 40 second of airtime for Trump on Fox News. By comparison, Christie had only 9 hours, 51 minutes and 19 seconds.
Many of Trump's visits to New Hampshire have involved television interviews or multi-candidate forums. The last town hall he held here was in September.
That is a departure from not only Christie's campaigning strategy but also that of former Florida Governor Jeb Bush and Ohio Governor John Kasich who are both working the Granite State's town hall circuit.
Republican Marco Rubio, however, is starting to draw attention for his lack of time in New Hampshire. Christie, in fact, criticizes the U.S. senator from Florida for what he says is Rubio's inattention to the state.
Retail politics has long served as the counter to big money in U.S. elections. The strategy has a long track record of success in early-voting states such as New Hampshire.
Republican Rick Santorum, considered a long-shot White House contender in 2012, pulled off an upset victory in Iowa by visiting all of its 99 counties. Santorum later lost the nomination to Mitt Romney.
In 2000 and 2008, John McCain traveled New Hampshire on his "Straight Talk Express" bus and coasted to victory in the state despite being outspent by rivals.
But Trump is betting that the lessons of past campaigns won't necessarily hold true for his 2016 campaign.
His speech to the police union, for example, lasted less than 15 minutes as the union's board voted to endorse him.
"There will be nothing that is more important to me than this night," Trump said. "Thank you very much from your board and thank you very much."
For more on the 2016 presidential race, see the Reuters blog, "Tales from the Trail" (http://blogs.reuters.com/talesfromthetrail/)
(Editing by Caren Bohan and Alistair Bell)
Photo: U.S. Republican presidential candidate Donald Trump addresses the crowd during a campaign rally in Grand Rapids, Michigan December 21, 2015. REUTERS/Rebecca Cook