Trump's Stolen Valor Attempt Evokes Fury, Disgust And Mockery
@next2godwin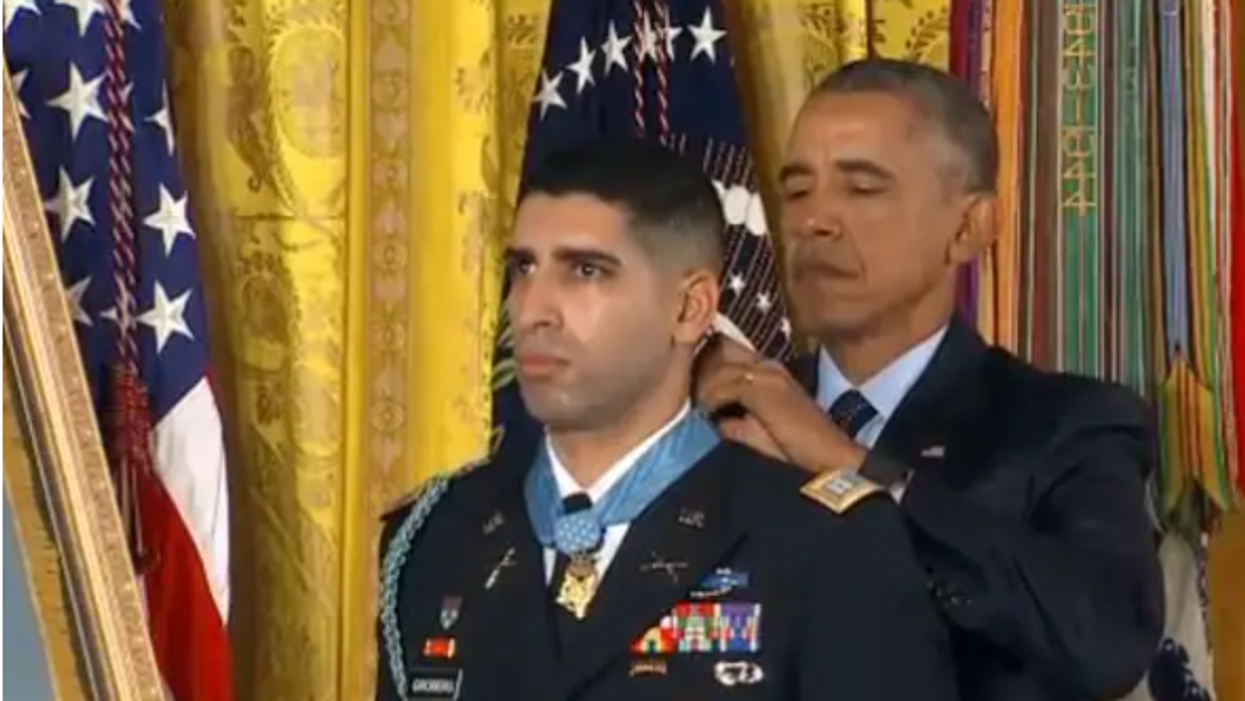 Former President Trump, who is under investigation for inciting a far-right mob into storming the halls of Congress, was blocked from granting himself the highest honor the nation can bestow for distinguished military achievements.
Speaking to a crowd of conservative student activists last Saturday, Trump, a draft dodger, admitted he was dissuaded from awarding himself a Medal of Honor — the country's most prestigious award for military valor in action — while in office.
"As president, I wanted to give myself the Congressional Medal of Honor, but they wouldn't let me do it…they said that would be inappropriate," Trump said at the Turning Point USA Student Action Summit in Tampa, Florida (using a common but incorrect term to describe the award, which is simply the "Medal of Honor").
The Medal of Honor, which the president generally presents on the nation's behalf, represents the values displayed by distinguished individuals in service of the United States — bravery, courage, sacrifice, and integrity.
3,515 Medals of Honor have been awarded since the medal's creation in 1862, and only 66 of the recipients are still alive, including Paul W. Bucha, a veteran who was honored in 1968 for "conspicuous gallantry and intrepidity in action at the risk of his life above and beyond the call of duty" in the Vietnam war.
When given a chance to fight in the Vietnam war as Bucha did, Trump, whose draft number was drawn in 1968, got four student deferments and one medical deferment to dodge the draft and party in New York City.
Trump's statement, which he made during an unhinged rant to his conservative supporters, infuriated a legion of netizens on Twitter.
MSNBC political analyst and author of "TrumpNation," Tim' O Brien, jeered at Trump's longing for a prestigious military award despite avoiding the call of duty a shocking five times. Many denounced the former president's disrespect of the award's legacy of honoring military valor in action.
Many denounced the former president's disrespect of the award's legacy of honoring military valor in action.
Others derided Trump's apparent lack of knowledge of how the award is conferred.
President Biden, unlike his draft-dodging counterpart, was awarded an Israeli Presidential Medal of Honor by Israeli President Isaac Herzog for his decades of commitment to fruitful relations between the United States of America and Israel. He also received the Presidential Medal of Freedom from President Barack Obama in January 2017.
"As a leader, I can say without hesitation that being known as a friend of Israel and receiving this award today is among the greatest honors of my career. And I mean that from the bottom of my heart," Biden said.