Trump Says He Wanted To Punch A Protester — Canada's Leader Once Actually Did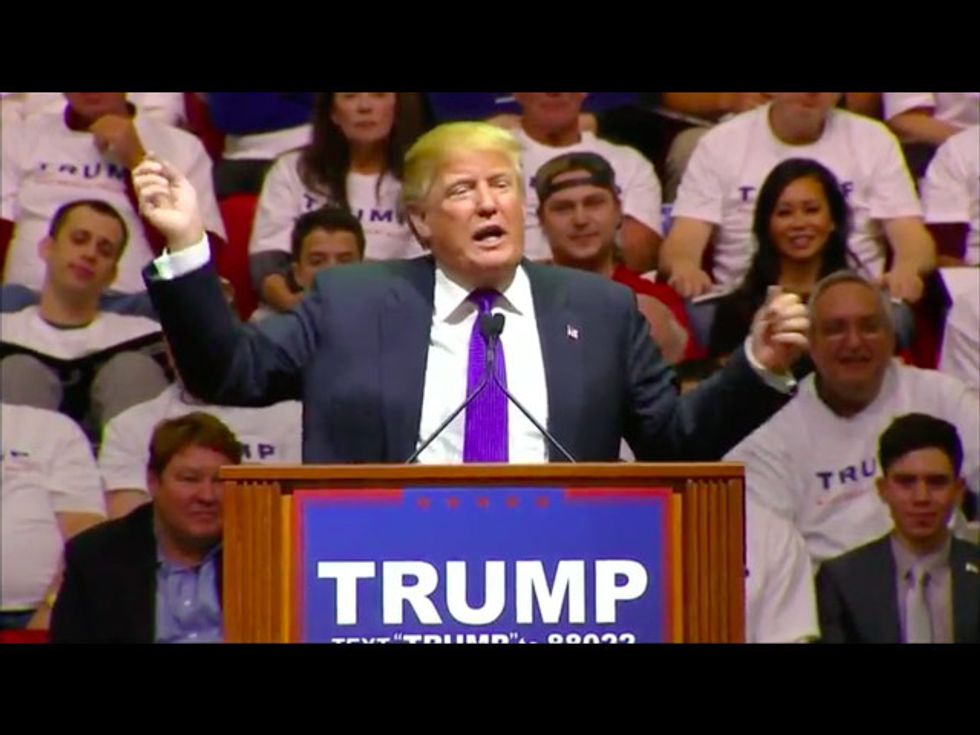 Donald Trump made waves yet again when he declared Monday night at a rally in Las Vegas that he wanted to punch a protester. But can't America do better than a leader who merely wants to do that? Believe it or not, there is an example — up in Canada.
"Look, see? He's smiling. See, he's having a good time. Oh, I love the old days, you know? You know what I hate? There's a guy, totally disruptive, throwing punches, we're not allowed to punch back anymore," Trump said, as the demonstrator was being removed. "I love the old days. You know what they used to do to guys like that when they were in a place like this? They'd be carried out on a stretcher, folks. Oh, it's true.
"You know, I love our police, and I really respect our police, and they're not getting enough — they're not," Trump continued. "Honestly, I hate to see that: Here's a guy, throwing punches, nasty as hell, screaming and everything else, when we're talking, and he's walking out, and we're not allowed — you know, the guards are very gentle, he's walking out, like big high-fives, smiling, laughing. I'd like to punch him in the face, I tell you."
But wait a second. There goes Trump, telling the crowd about how he'd like to punch a protester in the face — or sometimes relying on the crowd to beat up protesters for him. But he never actually does it himself!
Let's face it, Donald Trump is exactly what he likes to call his political rivals: He's all talk, and no action!
By contrast, our neighbors to the North have a great example in recent history of a real political leader, who could deal with a disruptive protester face-to-face — or by the neck.
Back in February of 1996, Canadian Prime Minister Jean Chrétien presided over the first ever Flag Day celebration, which he and his Liberal Party created in part to counter a wave of secessionist political movements in his native province of Quebec. His speech was disrupted, however, by left-wing protesters who reportedly had a combined message of opposing changes to unemployment benefits combined with Quebec separatist fervor.
As Chrétien made his way back to the car, his way was blocked by a demonstrator who got right up in his face — at which point the prime minister grabbed the protester by the neck and pushed him to the ground. The event took place in the Quebec town of Hull, but soon became as the "Shawinigan Handshake," named after Chrétien's own hometown.
"Some people came in my way — it might've been — I had to go, so if you're in my way Im walking," Chrétien nonchalantly told reporters at his car right afterward. "So I don't know what happened. It happened — something to somebody who should not have been there."
In the election held the next year, Chretien won the second of his three terms in office, eventually retiring from office in 2003. The man that he had grabbed, Bill Clennett, later ran unsuccessfully in Quebec provincial elections for the far-left separatist party, Québec Solidaire.
Meanwhile, back in Chrétien's hometown of Shawinigan, a local brewer and political admirer crafted a special "Shawinigan Handshake" beer, complete with a label depicting a cartoonish Chrétien choking the Devil.
And yes, Jean Chrétien himself has endorsed the beer.