Trump Says Nobody Warned Him About Flynn — But Obama Did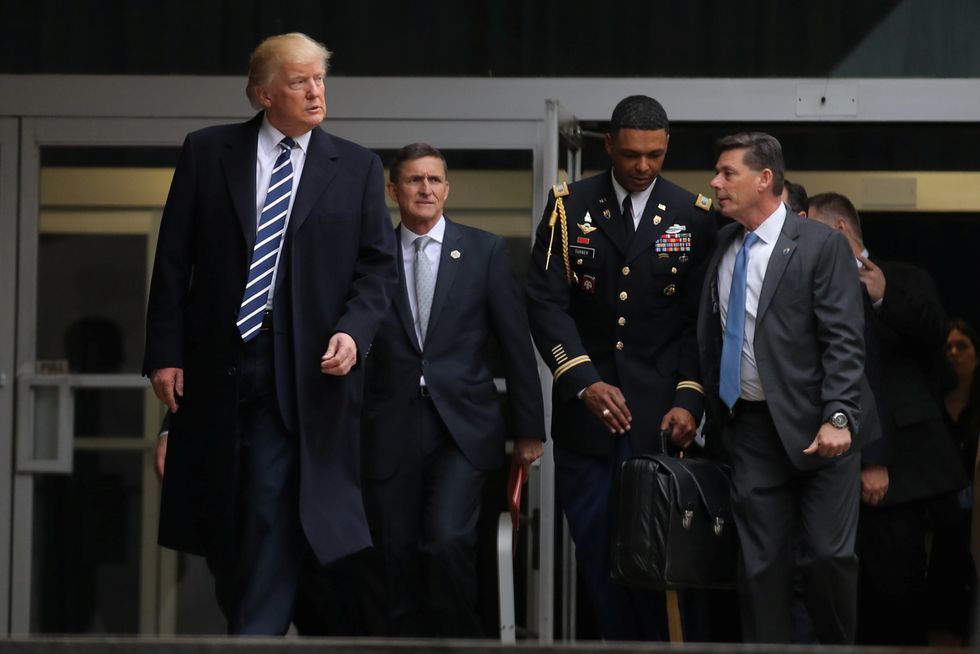 Trump complained that he wasn't warned about former National Security Adviser Michael Flynn before bringing him on to his administration, but Trump was advised not to hire him by President Barack Obama.
Trump's recent outburst appeared to be in response to a story released Thursday night relaying testimony from Flynn that officials connected to Trump tried to impede the Russia investigation.
"It now seems the General Flynn was under investigation long before was common knowledge," Trump tweeted on Friday morning. "It would have been impossible for me to know this but, if that was the case, and with me being one of two people who would become president, why was I not told so that I could make a change?"
This is a lie.
Less than 48 hours after the 2016 election, Obama spoke to Trump in the Oval Office. In that meeting, Obama advised Trump against hiring Flynn. At the time, the retired general was a part of Trump's campaign and led a "lock her up chant" at the Republican convention earlier that summer.
"Flynn's name kept popping up" in relation to the ongoing investigation into Russian election interference in the presidential election, a senior Obama administration source told CNN in 2017. This information helped to inform Obama's opposition to his hiring.
The Trump White House admitted that Obama warned them.
"It's true President Obama made it known he wasn't exactly a fan of Gen. Flynn's," then-White House press secretary Sean Spicer said in 2017.
There were also other warnings Trump ignored about Flynn.
During the transition from Obama to Trump, the vetting team led by Mike Pence was told about Flynn's financial ties to foreign governments. The team gave him a pass anyway.
In 2017, acting Attorney General Sally Yates told then-White House counsel Don McGahn that Flynn had been deceptive about his financial entanglements with Russia and that he was possibly compromised. Her warnings were ignored.
Despite all these red flags, Trump gave Flynn access to some of America's most important military secrets. Later, he was removed from his position and became the first of many Trump-related figures to be convicted of federal criminal charges.
Trump has repeatedly praised Flynn and offered public sympathy for his prosecution.
Trump whined that Flynn's life had been "totally destroyed,"  said prosecutors "were embarrassed by the way he was treated" and wished him "good luck today in court."
Now despite his track record of ignorance, cheerleading, and incompetence, Trump wants to blame everybody else for the disastrous decision he made on his own.
Published with permission of The American Independent.
IMAGE: President Donald Trump leaves the Central Intelligence Agency (CIA) headquarters accompanied by National Security Adviser General Michael Flynn (2nd L) after delivering remarks during a visit in Langley, Virginia U.S., January 21, 2017. REUTERS/Carlos Barria