Trump Scorns Probe Into FBI Pre-Election Handling Of Clinton Emails
@reuters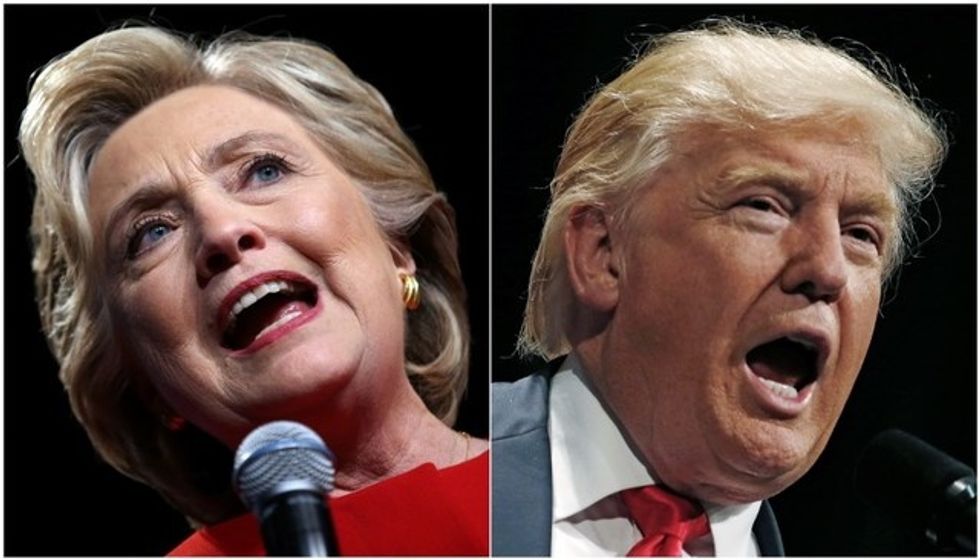 (Reuters) – Donald Trump responded with derision on Friday to news of an investigation into the FBI decision to make public an inquiry into Hillary Clinton's emails days before the Nov. 8 presidential election, a decision that Clinton said was a factor in her defeat.
The Justice Department said on Thursday it would investigate the FBI actions.
FBI Director James Comey said on Oct. 28 the agency was reviewing emails that might be relevant to a previous inquiry into Clinton's use of a private email server while she was secretary of state, then announced on Nov. 6 that the fresh review had yielded nothing to change the agency's finding that she was not guilty of criminal wrongdoing.
"What are Hillary Clinton's people complaining about with respect to the F.B.I. Based on the information they had, she should never have been allowed to run – guilty as hell," Trump wrote on Twitter on Friday.
"They were VERY nice to her. She lost because she campaigned in the wrong states – no enthusiasm!" added the Republican president-elect, who is due to enter the White House in a week.
Democrats said Comey's announcement of the new inquiry into the emails in October damaged her standing with voters right before the election, and he faced complaints that his moves were politically motivated. Announcing its inquiry on Thursday, the Justice Department's Office of Inspector General said it was looking into decisions leading up to Comey's public statements and whether they may have been based on "improper considerations."
Trump assailed Clinton over the email issue throughout the 2016 election campaign, and crowds at his rallies often chanted "lock her up!" In a debate in October, Trump vowed Clinton would "be in jail" over the matter if he became president, although in a New York Times interview soon after the election he indicated that he would not pursue prosecution.
After a year-long probe into whether Clinton mishandled classified information with her email practices, Comey said in July that while Clinton and her staff had been extremely careless, the agency recommended no charges be brought.
Brian Fallon, Clinton's spokesman, told MSNBC on Thursday that Comey's actions before the election "cried out for an independent review." Referring to Trump's reaction, Fallon said on CNN on Friday: "Those tweets are just the latest indication that Donald Trump is someone who is very insecure in his victory."
Senator Dick Durbin, the No. 2 Democrat in the U.S. Senate said Comey's statements were not "fair, professional or consistent with the policies of the Federal Bureau of Investigation."
Comey said on Thursday the FBI would cooperate fully with the investigation.
Trump will not have the power to dismiss the investigation. Federal law permits U.S. presidents to dismiss inspectors general for federal agencies, as long as the president provides Congress a written justification for the removal 30 days in advance.
(Reporting by Washington Newsroom; Writing by Frances Kerry; Editing by Howard Goller)
IMAGE: U.S. presidential candidates Hillary Clinton and Donald Trump  (R) speak at campaign rallies in Westbury, New York, U.S., September 26, 2016 and Toledo, Ohio, U.S. September 21, 2016 in a combination of file photos. REUTERS/Carlos Barria/Jonathan Ernst/Files