Trump Denies Secret Service Meeting Over 2A Comments: Another Lie?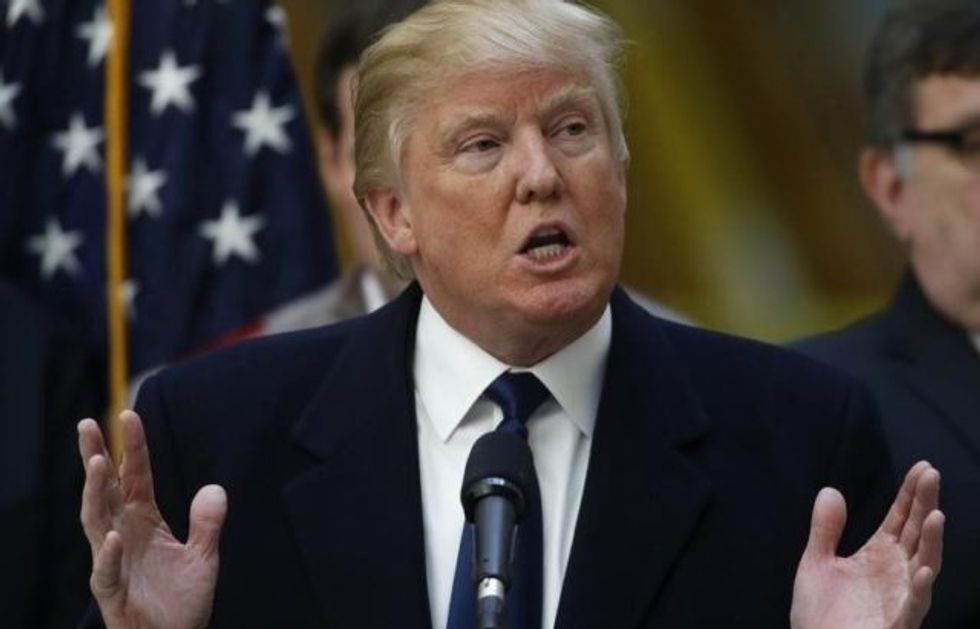 Yesterday, after an onslaught of criticism directed towards GOP nominee Donald Trump for his comments that "Second Amendment people" might be able to "do" something about Hillary Clinton, CNN began reporting that the Secret Service had met with the Trump campaign. According to the CNN website, a "U.S Secret Service official confirm[ed] to CNN that the the USSS has spoken to the Trump campaign regarding his Second Amendment comments."
CNN claimed the official stated that there had been "more than one conversation" about the comments and that the campaign had responded that Trump had not intended to incite violence.
This came a day after the Secret Service itself Tweeted about its knowledge of the Trump comments:
The Secret Service is aware of the comments made earlier this afternoon.

— U.S. Secret Service (@SecretService) August 9, 2016
Shortly after CNN's piece was published, Trump himself jumped back into the controversy and Tweeted out the following:
No such meeting or conversation ever happened – a made up story by "low ratings" @CNN.

— Donald J. Trump (@realDonaldTrump) August 10, 2016
CNN, for its part, did state, "the Secret Service's communications director Cathy Milhoan has not confirmed the conversations between the campaign and the Secret Service, but said in a statement Tuesday that 'the U.S. Secret Service is aware of Mr. Trump's comments.'"
Shortly after Trump's comment, Reuters released a report which seemed to contradict CNN: "A federal official on Wednesday said the U.S. Secret Service had not formally spoken with Republican Donald Trump's presidential campaign regarding his suggestion a day earlier that gun rights activists could stop Democratic rival Hillary Clinton from curtailing their access to firearms."
Trump then hit back at CNN again on Twitter, but mis-characterized the text of the Reuters article:
Reuters just announced that Secret Service never spoke to me or my campaign. Made up story by @CNN is a hoax. Totally dishonest.

— Donald J. Trump (@realDonaldTrump) August 10, 2016
However, the Reuters article does not directly contradict CNN, nor was it written as characterized by Trump: It doesn't state that no conversations ever happened, just that there had not been "formal" talks.
Interestingly, CNN added a clarifying line to their initial article about the events. An archive.org shot of the CNN piece shows it as it was first written. The current version of the article, however, includes the line, "But it's unclear at what level in the campaign structure the conversations occurred."
So did the Secret Service discuss the violent comments with Trump's campaign? By all accounts, except Trump's own, it seems likely that they did. Reuters only indicated that no formal discussions had taken place, not that no discussions had taken place at all. Further, CNN appears to be standing by their story with only a clarification that the structure of the communications and campaign was unclear.
This is also not the first time the GOP nominee would have lied about something critical to his public persona. Trump recently lied to ABC's George Stephanopoulos about his relationship with Vladimir Putin. Despite acknowledging on numerous occasions they knew each other and had spoken, Trump claimed he had "no relationship" with the Russian leader, except that Putin had "said very nice things" about him. Politifact rated the claim to Stephanopoulos a "full flop."
Trump also claimed at one time that he received a letter from the NFL complaining about the presidential debate schedule. The NFL completely denied Trump's claim.
Trump's lies are so famous that they have even been exhaustively cataloged, so it does not seem unlikely that he is lying about this, as well.
Photo: Republican U.S. presidential candidate Donald Trump speaks to the media during a news conference at the construction site of the Trump International Hotel at the Old Post Office Building in Washington, March 21, 2016.   REUTERS/Jim Bourg