Trump Set For More GOP Victories On Saturday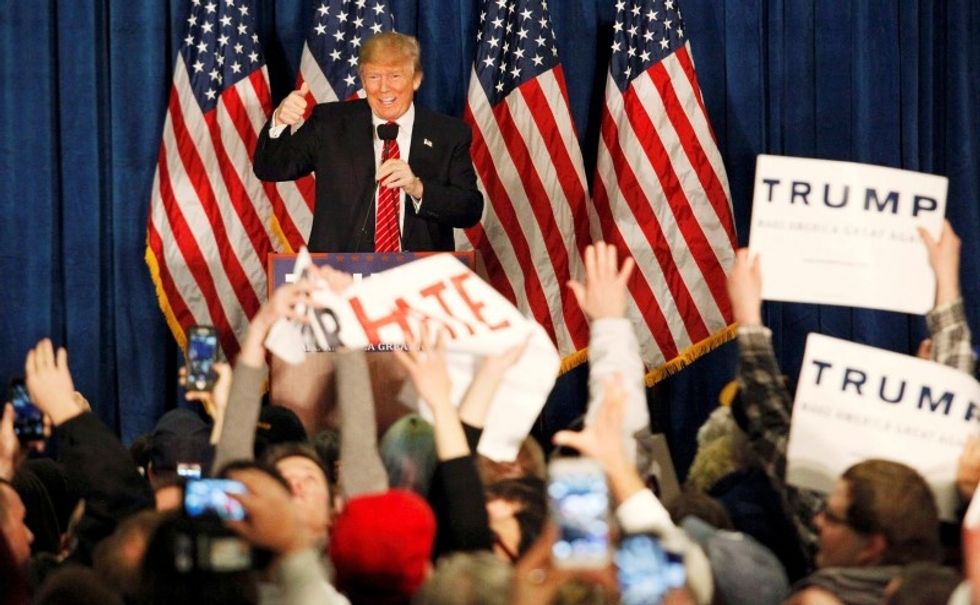 Republicans are voting in four more states on Saturday — and Donald Trump is poised for another round of victories.
One caveat, though: GOP contests at this point in the race are still allocating delegates on a proportional basis, with the winner-take-all races not beginning until the big date of March 15. Thus, while The Donald is likely to emerge as the winner of these contests, he will likely not gain an outright majority of delegates against a field that is still working to take him down.
However, these victories could still net him some public momentum, and boost his campaign as he heads into those make-or-break contests in Marco Rubio home state of Florida, John Kasich's home of Ohio, and others voting in two weeks.
The latest results are:
In the Kansas caucuses, a poll from the Republican-aligned Trafalgar Group has Trump at 35 percent, Cruz 29 percent, Rubio 16 percent, and Kasich 12 percent.
In the Kentucky caucuses, a Western Kentucky University poll has Trump at 35 percent, Rubio 22 percent, Cruz 15 percent, Carson (who was still in the race when the poll was conducted) at 7 percent, and John Kasich 6 percent.
And in the Louisiana primary, a University of New Orleans poll has Trump at 38 percent, Cruz 26 percent, Rubio 11 percent, and Kasich 5 percent.
There has not been any polling of the fourth Saturday contest, the caucuses in Maine. However, Trump is benefitting here from the endorsement by Gov. Paul LePage, and he has already won victories in the three other New England states of New Hampshire, Massachusetts and Vermont. He should be considered the favorite here, too.
Photo: Republican U.S. presidential candidate Donald Trump gives a thumbs up as his supporters rip apart a sign being held up by protestors in front of the candidate that read "No Place for Hate in Maine" during a campaign rally in Portland, Maine, March 3, 2016. REUTERS/Joel Page