Trump Team, RNC To Hold 'Come To Jesus' Meeting: Report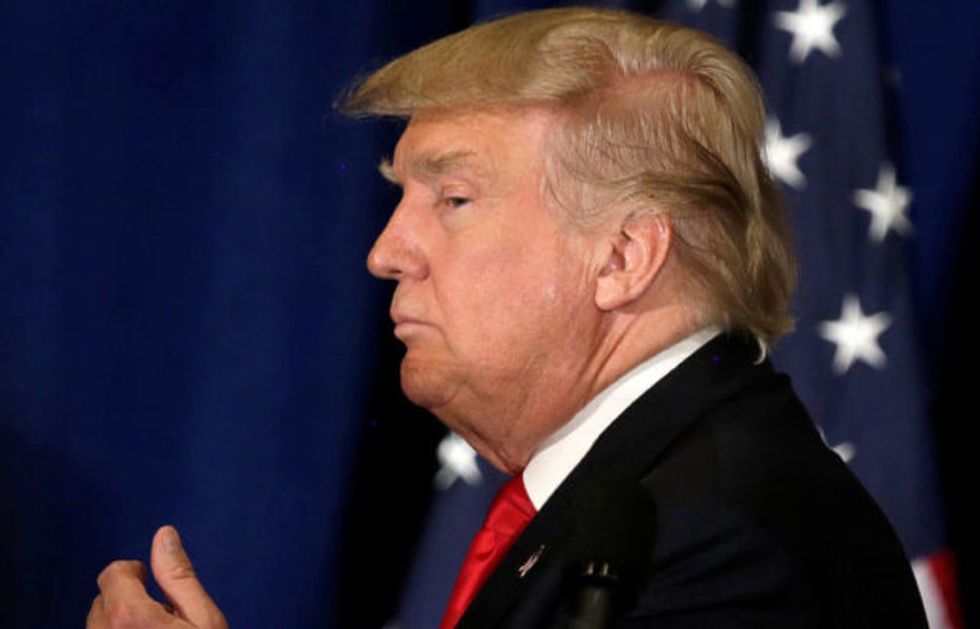 Donald Trump's team is set to meet with Republican officials today in what sources are calling a "come to Jesus" meeting to discuss the GOP nominee's train wreck of a campaign. The meeting will be held in Orlando, FL and at least one source, according to Politico, has called it an "emergency" meeting.
Trump has faced a historically bad few weeks, including receiving much push-back on disparaging comments he made about a Muslim American Gold Star Family, kicking a baby out of one of his rallies, calling for "Second Amendment people" to "do" something about Hillary Clinton, and finally, wrapping up his awful candidacy tour with a statement that Clinton and President Obama are the "co-founders" of ISIS.
Several Republicans have denounced Trump and expressed their support for Clinton, and several more, such as Sen. John McCain (R-AZ) are facing mounting pressure to pull their endorsements.
The RNC, as well, has been dealing with calls to send party funds down ballot to congressional Republicans and abandon Trump's campaign.
According to Politico, Trump's camp requested the meeting, and RNC officials are viewing this as a good sign, perhaps that the campaign realizes it is struggling.
"They want to patch up a rift that just keeps unfolding," a source told Politico. "They finally realize they need the RNC for their campaign because, let's face it, there is no campaign."
Another source expressed irritation among staffers at Trump's on-going faux pas: "What's bothering people on the campaign is that they feel like they're doing all the right things, but they're losing every news cycle to Hillary and there's nothing they can do about it."
Apparently, Trump himself will not attend the meeting, but a senior official in the campaign, Karen Giorno, will. It's unclear how much can be discussed and agreed upon without Trump, who himself is singlehandedly responsible for the racism, hatred, and violence he expresses every day.
According to Giorno: "This is a typical meeting. There's no consternation. These are meetings we're having in the battleground states to get it all going. We keep seeing these reports that there's a rift between Reince [Priebus] and the boss and it's just false."
Giorno was referring to an open letter signed by more than 70 Republicans asking Priebus to cease spending money on Trump.
Trump, for his part, has heard these rumors and responded to them as follows: "I'm the one raising that's funding, I'm the one that's raising the money and other people are getting to use the money that I raised."
Apparently, the Trump campaign is falling apart at the seams, with another source telling Politico that there is "major tumult in the building and staff problems and disagreements and RNC staff on the edge of mutiny."
Photo: Then-presumptive Republican presidential nominee Donald Trump leaves the podium after a speech in Virginia Beach, Virginia U.S. July 11, 2016.  REUTERS/Gary Cameron