Trump Threatens To Ditch Debate: 'I'm Not A Fan Of Megyn Kelly'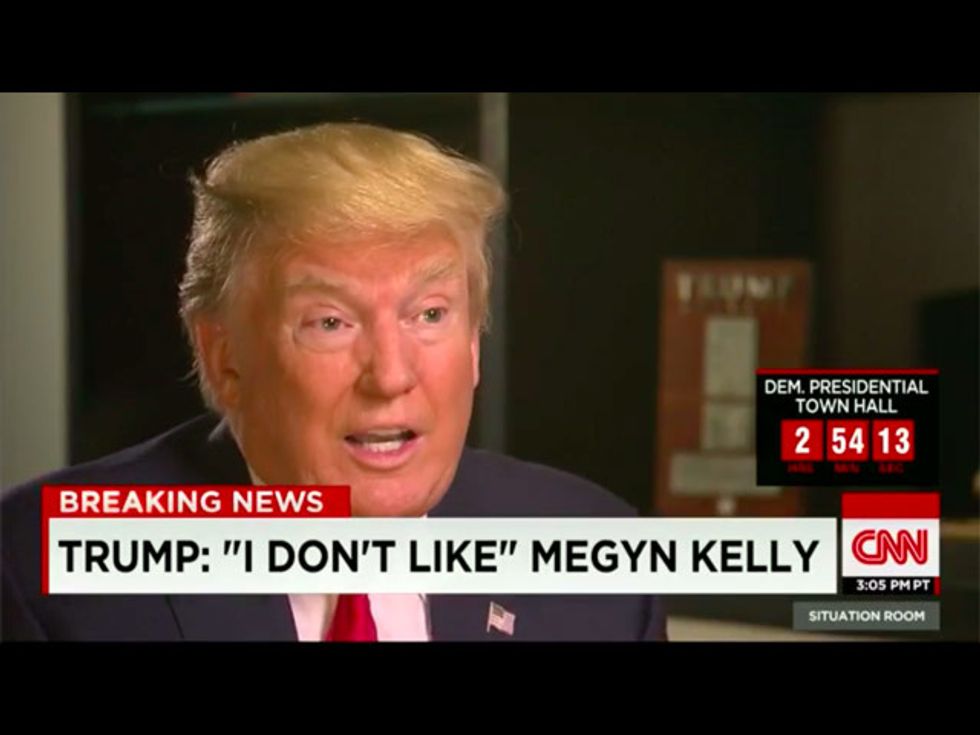 Donald Trump is now threatening that he might not show up at Thursday's Republican debate on Fox News, as a result of Fox anchor and debate co-moderator Megyn Kelly allegedly being nasty to him. And in the true fashion of a pro-wrestling "heel" character, he is doing this with a series of vicious personal attacks on Kelly herself — which itself seems like a hint that he might simply be drumming up more ratings for a debate he will indeed attend.
Notably, Trump made this threat in an interview on one of Fox's competitors — CNN, where he sat down with Wolf Blitzer.
"I mean, I don't like her. She doesn't treat me fairly, I'm not a big fan of hers at all. I don't care, she probably was — I might be the best thing that ever happened to her. Whoever even heard of her before the last debate? But I thought she was very unfair in the last debate. A lot of people said I won that debate — everybody said I won the last debate.
He added: "But I'm not a fan of Megyn Kelly, I don't like her — she probably doesn't like me, and that's okay. But she better be fair. I'd like to go to the debate; I enjoy the debates; I've done well in the debates. Every single poll has said I've won every debate. But we're gonna see what happens — gonna be exciting."
Blitzer also asked The Donald whether he had decided "100 percent" to actually go to the debate.
"They'll see, if I think I'm going to be treated unfairly, I'll do something else," Trump responded. "But I don't think she can treat me fairly actually. I think she's very biased and I don't think she can treat me fairly."
At the very first Republican debate this past August, Kelly asked Trump about previous offensive comments he had publicly made about women who were adversaries of his, such as calling them "fat pigs," "dogs," "slobs," and "disgusting animals."
Soon after the debate, Trump later commented in the press about Kelly: "You could see there was blood coming out of her eyes, blood coming out of her — wherever." The remark was widely interpreted as a remark about her menstrual cycle — a charge that he has denied. He also said during the ensuing controversy, "she asked me a very inappropriate question. She should really be apologizing to me, you want to know the truth."