How Trump And Tillerson Trashed The State Department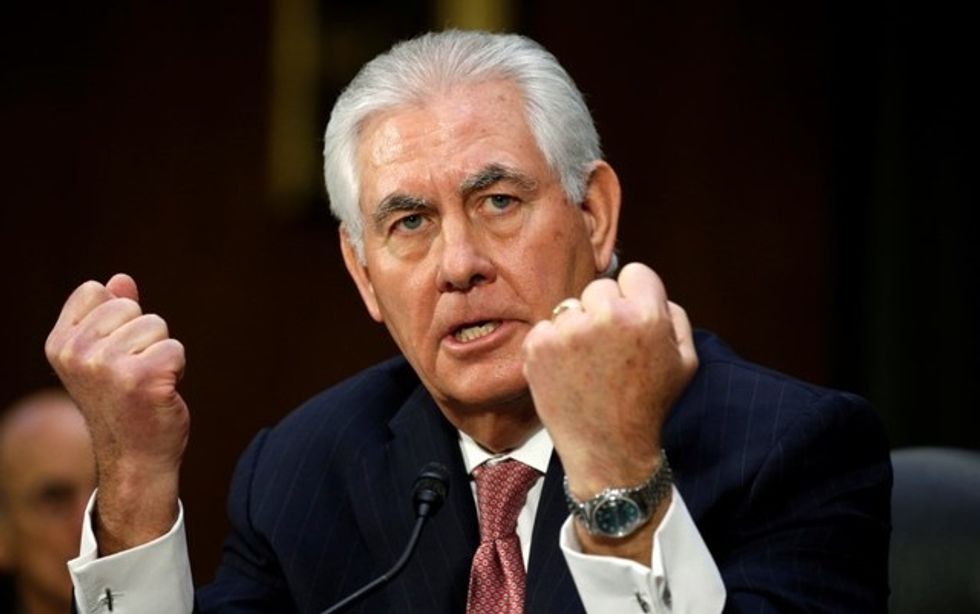 Reprinted with permission fromAlterNet.

Rex Tillerson, fossil fuel magnate-turned-diplomat, has proved a bust in his first—and last—year as Secretary of State. It is true that the former Exxon CEO has the burden of working for a man he once described as a "moron" (make that a "f**king moron") in the White House. But Donald Trump is no excuse for Tillerson's vandalism of the U.S. State Department.
Whether acting at Trump's behest or not, Tillerson's tenure has demoralized and embittered America's diplomatic corps while crippling the U.S. government's ability to respond to life-and-death situations. When one critic called him the "worst secretary of state in modern memory," no one bothered to dispute the point.
The damage Tillerson has done is visible around the world. As the New York Timesnotes, the United States has no ambassadors to Saudi Arabia, Germany or France, let alone representatives to the European Union or the International Atomic Energy Agency. If the administration has a plan for the ongoing humanitarian crisis in war-ravaged Syria, there is no sign of it. There is still no American ambassador in South Korea, where the failure of diplomacy could unleash a catastrophic war in a country where 100,000 Americans live.
The government's non-military expertise is wasting. Since January, more than 100 senior foreign service officers have left the state department, depleting the ranks of career ambassadors, the diplomatic equivalent of four-star generals, by 60 percent, while the number of career ministers (akin to three-star generals) is down 42 percent.
The Washington Post reports one senior U.S. official said that, "foreign diplomats and leaders often ask if Tillerson is speaking for the administration and when he will depart. Another White House aide said White House officials, diplomats and other Cabinet secretaries largely deem the former ExxonMobil chief executive 'irrelevant.'"
This week Tillerson finally prevailed on Trump, over objections of a private citizen named Steve Bannon, to nominate a top diplomat for Asia. One reporter, fanning the faint embers of Tillerson's fast-expiring career, called it a "major personnel victory."
If so, it will probably be his last. Trump has (or had) a plan to defenestrate Tillerson. The president reportedly wanted to bring CIA director Mike Pompeo to take over the state department, and appoint Sen. Tom Cotton (R-Ark.) to be CIA director. When the press reported the plan, Trump denied it. The latest reports are the attention-deficit challenged chief executive has changed his mindabout Pompeo and Cotton—but not about Tillerson.
From the Post:"Tillerson, one White House official said, 'had not learned his lesson from the last time,' when Trump publicly rebuked his top diplomat on Twitter over the wisdom of talking to North Korea."
So Tillerson stays on, humiliated but unabashed in his clueless way. Like Attorney General Jeff Sessions, he prefers having a job to having self-respect. The crowdsourcing site PredictIt, now has Tillerson pegged as the most likely Trump cabinet member to resign.
'Particularly Dangerous'
The sheer variety of Tillerson's bad decisions is impressive. In May, he targeted the department's diversity fellowship program for immediate elimination, reneging on a commitment to give participants full-time jobs. Tillerson backed down after protest.
In October, he nominated Stephen Akard, an associate of Vice President Mike Pence, to be director general of the foreign service, a position that oversees diplomatic appointments and is usually reserved for a senior career diplomat.
"While Mr. Akard is technically eligible for the position, to confirm someone who had less than a decade in the Foreign Service would be like making a former Army Captain the Chief of Staff of the Army, the equivalent of a four-star general," said the American Academy of Diplomacy.
The dismay is bipartisan. Nicholas Burns, a former undersecretary of state who enjoyed the confidence of President Obama, and Ryan C. Crocker, a former ambassador to Iraq and Afghanistan who was close to President Bush, jointly denounced Tillerson's plan to cut the agency's $37.6 billion budget by 31 percent (while the Pentagon gets a 15 percent increase).
Tillerson's decision to downsize the Foreign Service by up to 8 percent of the entire officer corps is "particularly dangerous," they said.
"The Foreign Service, which has about 8,000 officers who do core diplomatic work, is a fraction of the size of the military. The service is already overwhelmed by the growing challenges to the United States on every continent. "
In 2010, Elizabeth Shackleford left a job in the corporate world to join the Foreign Service. She worked in Poland, Somalia and South Sudan when a brutal civil war suddenly erupted. She helped 1,000 people, including 440 Americans, many of whom had seen horrific violence, flee to safety. In June, she wrote to Tillerson saying she was quitting because she had no faith in the future of the State Department.
Shackleford urged Tillerson to "stem the bleeding by showing leadership and a commitment to our people, our mission and our mandate as the foreign policy arm of the government. If you are unable to do so effectively in this Administration, I would humbly recommend you follow me out the door."
He can't—and he will.